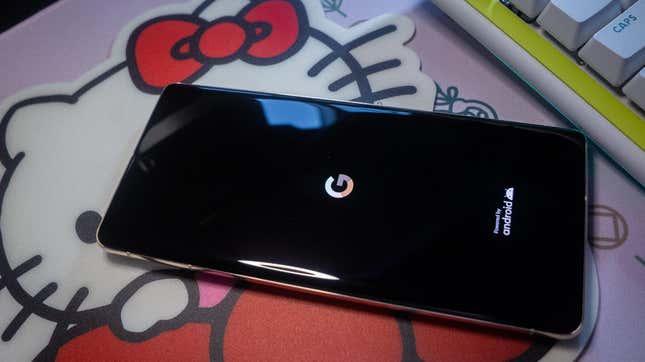 There's a odd bug pervading the ducts of Google Pixel devices, and it's somehow related to sci-fi's most famous insectoid alien horror.

For some strange reason, this one YouTube clip of Ridley Scott's famous sci-fi/horror masterpiece Alien is crashing the latest Google Pixel phone. Reddit users on the r/GooglePixel subreddit were the first to notice the strange phenomenon, as phones only crash when watching this one specific video, and only when using the official YouTube app.
According to users, the crash happens on both the Google Pixel 7 and 7 Pro. Other users noted that it also happened on a Pixel 6, 6 Pro and 6a. It's unclear if earlier Pixels suffer the same fate.
The video did not crash my Pixel 3, though in other tests from Gizmodo staffers, we found that an 8GB Pixel 7, Pixel 7 Pro, and Pixel 6 Pro all immediately jumped to a black screen and then rebooted.
Some users described a quick reboot, while others claimed it caused other issues leading to a loss in cellular connection, requiring another restart. In our own tests, we found that the restarted phones successfully relaunched without any apparent issues.
For those who can't see the clip because of the bug, the clip involves the Alien scene where Dallas crawls through the ductways of the Nostromo with nothing but a flashlight and flamethrower to light the way. All the while, the remnants of the ship crew track his and, to the crew's horror, the alien's movements. The YouTube video's top comments now refer to users saying whether or not the Aliens scene knocks out their phones. The top comment reads: "Pixel phone users, get out of here!"
The news was first noticed by tech journalist Mishaal Rahman, and the problem has been ongoing through the weekend into Monday. Rahman noted it could be an issue if users are on the Android 13 QPR2 beta. Some Pixel 7 users did claim they didn't have any issues, and it remains unclear what is causing the issue.
Gizmodo reached out to Google for comment and to know if there's any hint as to what's causing the issue, but we did not immediately hear back.
Earlier versions of Pixel phones have experienced weird crashes in the past. Over five years ago, users reported certain wallpapers using the Google Wallpapers app put Pixel 2 devices into a perpetual crash loop. The company took its sweet time coming up with a response to the issue, perhaps because it's such a niche issue.
Of course, my own theory is that all these phones are now inhabited by a digitized version of the eponymous "alien." Just don't be too surprised if you wake up and find your phone has been drooling acidic saliva, or if a little digital chestburster pops out while you're texting coworkers on your Sla… aaaa… aaaaaaaaaaaaaaaaack.

[End Transmission]