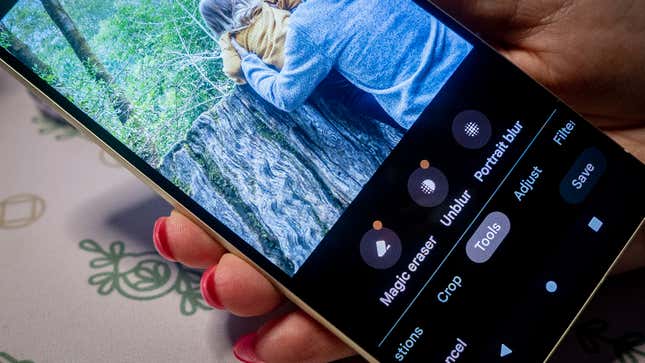 Google is bringing some of Pixel's until now exclusive AI photo editing features to more Android devices, but also the iPhone. The caveat is that you must subscribe to Google One to access capabilities previously limited to Pixel 6/7 owners.

Beginning today—and as soon as it rolls out to your device—Google One members will have access to Magic Eraser within Google Photos, which allows you to remove people, animals, and random objects from the background of photos. In addition, those users will have access to a new HDR video effect, which Google says will "enhance the brightness and contrast" of your videos, plus new collage styles, which the company helps curate for you as you upload images to your account. (I tend to save every one of these collages of my kid, even if Google's only managed to pluck out the worst shots.) And with this latest update, Google One members will get free shipping on print orders for things like photo books.
Features like Magic Eraser will be available to devices running Android 8.0+ and iOS 15+, so long as they have at least 3GB of RAM. The new abilities won't require an internet connection, though they're only available through the Google Photos mobile app and won't be accessible through the web version. Current Pixel users will also get the new features without paying extra. They will start to roll out to Pixel 5a and earlier devices starting today.
This isn't the first time Google has released new features through its subscription services. It started offering photo editing tools for Pixel users exclusively to those paying for Google One a few years back.
I forget that the Magic Eraser is something my Pixel 7 can do, as I only ever use it when writing about it. Otherwise, I've learned how to zoom in on a shot of my kid without including too much of the background. Of course, there's always that one time you wish you had the tool available to scrub out something vile, and that's why Google is hoping you'll pay for it.
As an Android and Pixel user, I find Google One to be an essential part of the "experience," as it includes more cloud storage for photos and backups for all my review units, plus unfettered access to Google's VPN. It also unlocks extra photo editing features on my Pixel 7, like Portrait light and Smart Suggestions. However, paying an additional $2-$150/month for these features is a bummer for any user, even with everything else that comes with it. But this seems to be a part of Google's business model now: free access to new features for Pixel users, which then become available to others at a price later on. As I mentioned, you must be seriously committed to the "experience" to find Google One worth the price.