Porn is back on Blogger, Ericsson wants to stop all U.S. iPhone sales, and the Pebble Time crushes its own Kickstarter record. All this and more in today's BitStream.
Earlier this week, Google took a strangely conservative take on scrubbing porn from its blogging platform, Blogger. It was an especially weird move considering it use to let members mark websites as "adult" and even mentioned that limiting such rules would hamper "freedom of expression." Now, Google is backtracking after hearing overwhelming negative feedback from users. Google will still take a hard stance on commercial porn on Blogger, but you can still post all the porny porn your porn-filled heart desires. Don't tread on my porn. [Google]
Ericsson is suing Apple for 41 patents, and even asking for an injunction on the sale of iPhones in the U.S. [Wall Street Journal]
New music albums will now drop universally on Friday, instead of the Monday in UK and Tuesday in the U.S. model. Why? Online piracy, of course. [IFPI]
Samsung's made a real debacle out of its SmartTV's and now privacy advocates want the FTC to weigh in. [The New York Times]
G/O Media may get a commission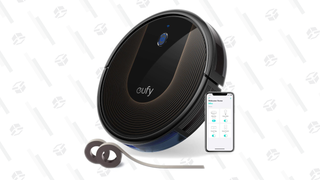 48% Off
Eufy BoostIQ RoboVac
Twitch, a site reserved just for gaming, just added poker to its library of live events. [Wall Street Journal]
Apps and Devices
Smartwatches are truly going global. The Omate smartwatch is the first to ever be assembled in Africa. [Engadget]
Google just paid $25 million for the top-level .app web domain. Google <3 apps. [Business Insider]
Dating with a strange fetish can be weird, but the new app Whiplr makes it less so. [Whiplr]
The Pebble Time has already passed its predecessor's Kickstarter record—in just two days. [Kickstarter]
Rumors!
Verizon is still waiting for its Nexus 6, but new reports say that it could arrive march 12 and with something extra—Voice over LTE. [Phandroid]
Looks like that upcoming Z4 tablet is most definitely a sure thing. [Sony Xperia]
File this under hiiiiiighly unlikely, but Weibo is saying that a Chinese smartphone maker will be the brains behind Google's new Nexus. [Weibo]
What You May Have Missed on Gizmodo
The Golden Age of Jailbreaking Is Over
Why Cotton Kills, A Technical Explanation
Net Neutrality Wins: What's Next?
What to Expect From Apple's Big Watch Event on March 9th