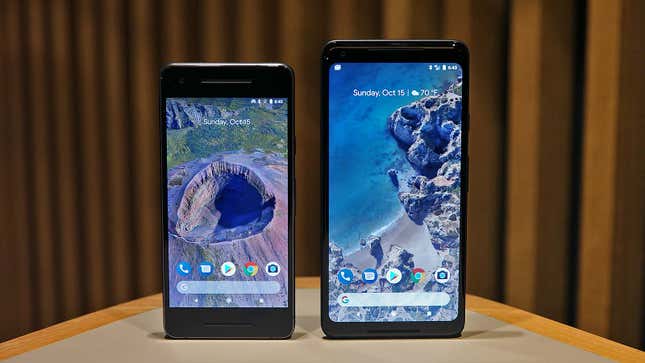 Google's brand new flagship phones are off to a rocky start. From reports of faint clicking sounds coming from the Pixel 2's earpiece to a number of issues with the Pixel 2 XL's POLED display, it seems Google still has some room for improvement as a hardware manufacturer, even after two years.
Vizio's Latest TVs Go All Quantum
Still, Google is standing by its products, and today in the Pixel User Community forum, Google Hardware VP Mario Queiroz posted "We're very confident that the Pixel 2 delivers an exceptional smartphone experience, and to give users peace of mind, every Pixel 2 and Pixel 2 XL will now come with a 2-year warranty worldwide."
Queiroz then continued by commenting on customer complaints regarding the Pixel 2 XL's "dull" colors, saying Google's intention was to render more natural and accurate colors. However, he also added that Google acknowledges that a lot of people are looking for the vivid colors you see on other phones (like on displays made by Samsung), and that Google is working on a update due out in a few weeks that will include a new mode that will make colors from the Pixel 2 XL's display look even more saturated.

On the topic of burn-in on the Pixel 2 XL's display, Queiroz said that Google's current investigation has confirmed that the Pixel 2 XL's screen performs similarly to OLED panels in comparable products, and that any issues should not affect the normal day-to-day experience of Pixel 2 XL owners. That said, he concluded by saying that Google will release more updates soon to further optimize or prevent burn-in or the effects of differential aging.
I don't know about you, but it seems like Google is working on a lot of updates for phones that it claims are just fine, and Google still hasn't commented on the Pixel 2 XL's blue tint when viewed off axis.

However, extending the Pixel 2's standard warranty from one year to two is hard to complain about, and might make people feel a little bit better about the Pixel 2's big bezels or the 2 XL's high price.
[Google]