On October 3rd, the founders of the GIF search engine Giphy were riding high. A cover story in Fast Company chronicled the company's rise to power and execs were spouting off about their dominance. One claimed that Giphy's hold on search results is so strong "we own happy birthday now." The next day, the company's search traffic fell off a cliff.
The Fast Company profile is a typical Silicon Valley success story. Some bros recall the days they were slumming it in "an Airbnb that wasn't that great," while they went around Hollywood cutting deals with media companies to have the most complete set of reaction GIFs on the web. Giphy executives Alex Chung and Adam Leibsohn speak breathlessly about their exploding metrics, making billions, and being "disruptive." And at the end of the piece, this exchange occurs:
"We're synonymous with the content," Chung says. "If you search for GIF, we're No. 1."

"Forget that," Leibsohn replies. "You search 'Happy birthday,' we're No. 1." (This is true!)

"Yeah, we own happy birthday now," Chung says.
But "now" didn't last for long. You'll have to click over to page two to find a result for Giphy when you Google "happy birthday" now. Glenn Gabe, a digital marketing consultant at G-Squared Interactive, soon noted on that Giphy was getting "hammered" by Google. Indeed, data from search tracking services SEMRush and SearchMetrics show a huge drop off immediately after the article's publication. On October 3rd, Google referrals were around 30.7 million. On October 10th, they've fallen to 19.5 million.
Here's Giphy's traffic from Google search for the last month:
G/O Media may get a commission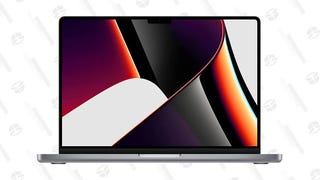 Save $300
2021 14" 1TB MacBook Pro
And to really get an idea of the change, here's Giphy's traffic from Google search over the course of its life:
The big gains that Giphy made this year have virtually been wiped out. In an email to Gizmodo, Gabe emphasized that "it's not just 'happy birthday' that dropped," many keywords fell off. We reached out to Giphy to ask if it noticed the difference and have yet to receive a reply.

When we asked Google about the strange timing of this decline in traffic to Giphy, a spokesperson wrote to us:
We have never re-ranked search results to manipulate internal, business or political sentiment. A site's ranking on Google Search is determined using hundreds of factors to calculate a page's relevance to a given query. Search is an incredibly dynamic platform, and no site is guaranteed stable ranking. It's fluid and constantly changing.
To be fair, Gabe told us, "there seemed to be a broader algorithm update by Google, so I'm not sure giphy.com was specifically targeted." But he still notes that "it's very interesting timing considering the Fast Company article." Be it just coincidence, karma, malice, or bad luck, it's a sobering reminder that fortunes swing on the whims of Google.
There's something about "Happy Birthday" that almost seems cursed. For 80 years various people were blindsided with copyright claims from the various owners of the "Happy Birthday" song. In 2016, Warner Music was the last party to pay out for the celebratory tune when it settled a lawsuit for $14 million that challenged its ownership of the song and now everyone can sing it without fear. But maybe don't go around saying that you "own" Google searches for "happy birthday" because only one company owns Google searches. Or to rephrase that in a GIF: