This holiday season, there's a good chance you'll wind up going through dusty old printed photos with friends and family—photos you can't see anywhere on the web. That's because these old photos are usually confined to a shoe box or binder hidden in the basement or storage closet. You might flip through them occasionally, but that's it. They go right back to their storage place. Google wants to change that by making it easier to make digital backups of these old photos, so you can share them online.

The Photo Scan app launched by Google today for iOS and Android lets you scan printed photos in just a couple of seconds, using machine learning to correct imperfections in the capture process that they look great every time.

Here's how it works: Download the app, and open it up. You'll see a viewfinder. Hold your phone over the printed photo you want to make a digital copy of, and make sure it fits entirely in the frame. Tap the shutter button once.
Next, four white dots will appear on the screen in each corner of the photo you're backing up. You connect the dots by moving your phone over the dots until they turn blue. After you've scanned each individual dot, the photo will be saved within the Photo Scan app and can be saved to your Google Photos library with the push of a button.
G/O Media may get a commission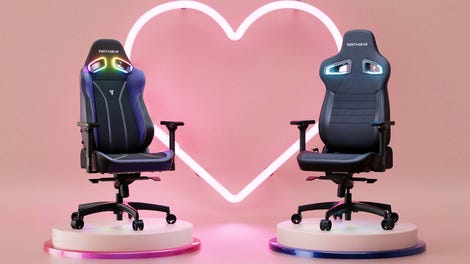 Up to $150 off
Vertagear Gaming Chairs
The scanning process is comparable to any flatbed scanner you'd buy at Walmart or Best Buy, and is good enough so that you can print out backup versions of your old photos without any distortion. What the app is doing behind the scenes is essentially taking four images of the printed photo and stacking them all on top of each other. The app automatically removes bright white pixels caused by glares. It identifies glares by looking at pixels that move between each scan. The app automatically applies some other image correction including tweaks to color and exposure. You can also edit those settings yourself.

In essence, this just made it a hell of a lot easier to backup your photos. It works in tandem with Google Photos, which stores your images in the cloud and makes them searchable using image recognition technology. By using the new Photo Scan app, you'll basically be feeding the company's creepy image recognition software photos from your past, but that's okay. It's totally worth the tiny sacrifice in privacy. The convenience that the Photo Scan app brings is unparalleled, and it's by far the easiest way to backup printed photos from the past.
For anyone that's ever tried using a flatbed scanner, you know that it takes hours and can be a huge pain in the ass to setup. Worst of all, the process of scanning is ridiculously slow. The Photo Scan app isn't at all like that. I tried scanning a few photos during a demonstration with Google representatives, and I was able to capture five photos in about two minutes. It's ridiculously fast—and that's why I'll probably spend most of my time during the holidays helping my parents backup old photos and saving them to the Google Photos library.