Admittedly, I was a little disappointed to discover the G2's new Snapdragon processor is only clocked at 800MHz, but according to leaked figures from GLBenchmarks, the graphics should run at the same speed as Motorola's Droid X and 2.
To dig further into the G2's innards, it's got one of Qualcomm's new 45nm MSM7230 processors, which has not been seen in any other phone until now—though is rumored to be making an appearance in Dell's next tablets, the Smoke and Flash. It's clocked at the minimum speed of 800MHz, presumably because the battery's not that great, at 1300mAh, and is coupled with an Adreno 205 graphics chip—supposedly able to offer four times the performance of the Adreno 200, seen in the last crop of Snapdragons.
G/O Media may get a commission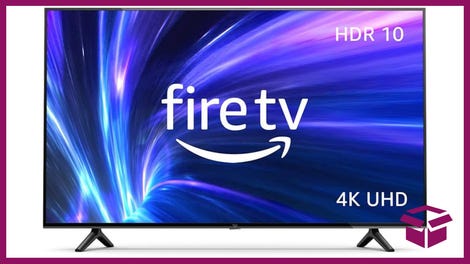 42% Off
Amazon Fire TV 50" 4K Smart TV
You can see in the graph above that the G2 (labeled as the HTC Vision, on top) is only just behind Motorola's Droid X and 2, and the myTouch Slide, which came out in May as an exclusive T-Mobile slider.
While our review of the Droid X showed a few issues with speed ("watching this phone sputter...It's brain-stabbingly maddening if you actually know what's inside of all that"), it's likely down to Motorola and Verizon's non-production build that we were using. At least, I'm hoping so—there's no way I could cope with chugging speeds on the G2, after the agonizing two years I spent with the G1. [GLBenchmark via AndroidAndMe]
UPDATE: Commenters have asked about Samsung's Galaxy S, which was said to have the fastest graphics around (its 1GHz Hummingbird chip is meant to process graphics 3x faster than a Snapdragon). GLBenchmarks has it on the graph above as the Captivate, which is AT&T's name for it. Either that particular flavor underperforms, or it's not quite accurate.