Introduce your munchkin to the world of science and technology. Nerding out kids starts early!
All Ages
1. LEGOs (Assorted prices):
You know what these are. Not recommended for children with large mouths, large appetites or poor decision-making abilities. [Amazon; LEGO Shop]



G/O Media may get a commission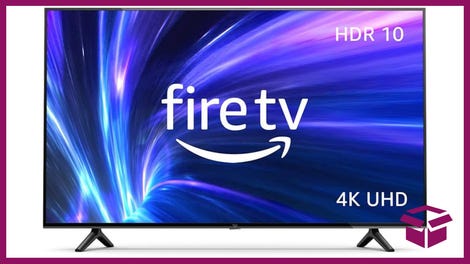 42% Off
Amazon Fire TV 50" 4K Smart TV
2. Huey, the Color Copying Chameleon Lamp ($30): This chameleon lamp outshines the traditional night light. Using an embedded optical sensor, it "sees" the color it's resting on and glows the appropriate shade to match. [Think Geek]



3. Nerf N-Strike Stampede ECS ($39): It's the first fully automatic Nerf Clip System blaster, and it has a removable shield for attack mode. Let the Nerf battles commence. [Amazon]


Age 0-3
4. Scoop High Chair (£250 ~$395): The Scoop High Chair features 360 degree rotation, barbershop-style pneumatic-powered height adjustment, and a removable booster seat and table. A proper geek throne for kids in a generation that may have their own mecha suits one day. [Kiddicare; Brother Max]



5. Lift-Off Rocket ($40):
A little toy rocket with light-up rocket boosters and sound effects. Set down on alien worlds with the included lunar buggy. Explore where no kid has explored before! [Discover Store]


Age 4-8
6. Barbie Video Girl Doll ($50):
For the budding filmmaker, a doll with an embedded camera. The hole in Barbie's sternum conceals a small camera which records a dolls-eye-view of the world, available for viewing on her embedded LCD screen or upload to a computer. Give your young Sofia Coppola a nudge in the right direction (at least until she's old enough for a real video camera). [Mattel]



7. MobiGo Touch Learning System ($55):
If you're too cheap to get your kid an iPod touch, the MobiGo has little educational games focused around things like shapes, colors, and spelling. The system includes one game and others can be purchased for $20. I might say the iPod, with the greater library of apps and kids books, is still a better value. [VTech Kids]



8. Mathstronaut iPhone App ($4):
Math + Outer Space = Win. This iOS app, based on the successful Australian school curriculum, combines fun animations with intriguing puzzles to teach basic arithmetic. [iTunes]



9. Drawing Pad iPad App ($2): There's nothing like drawing to get the creative juices flowing. This top-rated iPad app should do just the trick. [iTunes]



10. Equation Genius iPhone App (Free): For slightly more advanced math, like basic algebra, a more advanced app to help visualize and solve equations. I wish I had this when homework started getting tough. [iTunes]


Age 9-12
11. Ice Cream Sandwich Bench ($950):
This quirky ice cream bench is a delightful way to update the game room, once your kids have passed the spilling, pooping, and throwing-up everywhere phase of childhood (and not yet reached the spilling, pooping and throwing-up everywhere phase of college). [Jellio]



12. Microscope Kit and Book ($80):
Let your little scientist go mad with this cordless microscope. Featuring 40x, 100x and 400x magnification, it includes a 50-piece accessory kit and 144-page illustrated guide detailing 40 different experiments. Your kids will never look at pond water the same way again. [MindWare]



13. Getting Started with Arduino Kit v2.0 ($75):
You know the day is coming. The day when you child looks up at you and asks the five words most dreaded by parents, "Where do phones come from?" Don't get blindsided, introduce your kids to the world of electronics early with the Arduino Kit 2.0. It includes the necessary tools and supplies young electrical engineers require as well as Getting Started with Arduino, written by Massimo Banzi, a co-founder of Arduino. [MakerShed]


The burning sensation that comes from holiday shopping isn't from rubbing against the unwashed masses at malls: It's trying to pick out presents for everybody on your list. Gizmodo's daily gift guides and best gadgets list are the all-natural, non-smelly cure.