Tesla-owner Antony Kennedy claims he caught some remarkable footage of car thieves hacking their way into his Tesla Model S. The heist would've been pretty slick if the thieves simply understood how a Tesla's charging cable works.
Tesla is not the only company to find that some of its key fobs are vulnerable to determined thieves with a little bit of tech savvy, but there have been several recent thefts in Europe that led Tesla to issue a set of tips to owners in order to increase security. In September, researchers showed off how to unlock and turn on the engine of a Model S through a spoofing hack on its keyless entry system and that appears to be what happened in this case.

Over the weekend, Kennedy, a resident of Essex, England, uploaded a video of the alleged thieves stealing his Model S to YouTube. It appears they were following the playbook outlined last month. One man looks to be using a device to listen out for the radio ID that's constantly broadcasted by the car to the key fob. In this case, the car was in Kennedy's driveway and the fob was inside the house. Once a thief tunes into that signal they then have to intercept two return-broadcasts coming from the fob. They can run those two samples through a six-terabyte database and determine the encryption keys to trick the Tesla into giving them access.
In the video, the first man's accomplice waits by the door of the Tesla and may be using his phone for relaying or boosting the signal. It takes about 48 seconds for the entry lights to flash and the door to be open. But it takes twice that amount of time for the men to figure out how to unplug the cable that's charging the Tesla's battery. One of the men must have Googled the instructions because he eventually walks up and hits the necessary button to discharge the plug and they take off.
Tesla has already issued a couple of fixes for this problem, but not all owners are necessary aware of it. In September, the company pushed out an update that enables owners to require a PIN number be entered in addition to the fob being present in order to start the engine. It also made new key fobs available that utilize more complex encryption. Anyone who bought a Model S that shipped after June of this year should already have the new fob, but a Tesla spokesperson told us that other owners can purchase the hardened device for $150.

G/O Media may get a commission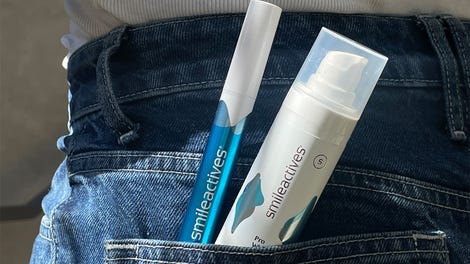 58% off
Whitening Powerhouse Pen & Gel Duo
Police in Essex did not immediately respond to a request for comment.
A spokesperson for Tesla told Gizmodo that the company has nothing to add about the incident aside from a comment from Tesla founder and CEO Elon Musk on Twitter. Responding to a tweet by Kennedy, Musk appeared to recommend the two-factor process with a PIN number. "Turn on enhanced security via the settings page. This will require entering a passcode to use the car," he tweeted. Of course, Kennedy needs his car back in order to change those settings. But all hope isn't lost. If it hasn't been chopped for parts yet, a Tesla is still an extremely conspicuous car. As of August, 112 out of the 115 Teslas reported stolen in the US had been recovered.
[Antony Kennedy via Engadget]