Netflix bingers received a weekend surprise when they woke up this morning to find the first ten episodes of the new season of Orange Is the New Black have allegedly been leaked to torrent networks. A hacker group has claimed responsibility and they say it only occurred because Netflix refused to pay a ransom. The group also claims to have more shows from other networks.

TheDarkOverlord has claimed responsibility for the leak. Speaking with TorrentFreak, the hacking group claims that a post-production company engaged in negotiations to prevent the release of one of its most high-profile shows months ahead of schedule. Payment never materialized and the group made good on its threats.
According to TorrentFreak:
In information sent to TF, the group says that sometime during the closing months of 2016, it gained access to the systems of Larson Studios, an ADR (additional dialogue recorded) studio, based in Hollywood

...

"After we had a copy of their data safely in our possession, we asked that we be paid a small fee in exchange for non-disclosure. We approached them on the Eve of their Christmas," a member of the group previously told us over an encrypted channel.
G/O Media may get a commission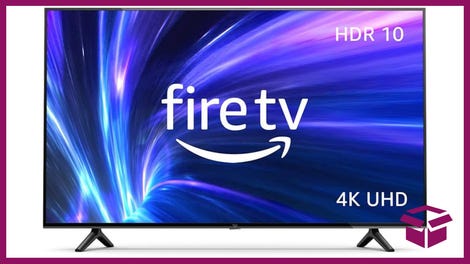 42% Off
Amazon Fire TV 50" 4K Smart TV
TDO reportedly showed off a copy of the contract that Larson Studios signed but they say a payment of 50 bitcoins (about $68,000) was never received. "A late fee was levied and they still didn't hold up their end of the agreement," TDO claims. First, the group tweeted a warning. Then it tweeted a link to the first episode. Just after 2am this morning, it tweeted a link to the rest of the dump. It's unclear if there are more episodes that TDO may be hanging onto in order to demand more money now that they have Netflix's attention. But the group insists it has more content from other networks and if that's true, negotiations might go fairly easy.
Larson Studios, the company that was allegedly hacked, works on some big name shows. Looking at its website, projects include New Girl, Documentary Now, Fargo, and It's Always Sunny in Philadelphia. An unnamed source tells Variety that one of the programs that could be leaked is the second season of Ron Howard's Nat Geo show, Breakthrough.
Depending on what other properties the hackers have their hands on, this could turn into one of the biggest hacks Hollywood has ever faced. A show like Breakthrough may not be particularly harmed by a torrent leak but Orange Is the New Black tends to attract a younger, web-savvy crowd. If they want to torrent the new season, many will do so without blinking an eye. That's a big problem for Netflix considering that just a couple of weeks ago, the streaming giant told shareholders that it didn't meet its growth projections because it didn't have any major original content releases. With new seasons of House of Cards and Orange Is the New Black lined up for this quarter, growth was expected to level out.
The Associated Press notes that rumors about the hack have been swirling for months and reporters spoke with TDO back in February. A spokesperson reportedly told the AP that they had decided not to release the material because "no one really (cares) about unreleased movies and TV show episodes." That may have been a tongue-in-cheek response or maybe they thought they were getting paid at the time.
Gizmodo reached out to Netflix and here's its official statement:
We are aware of the situation. A production vendor used by several major TV studios had its security compromised and the appropriate law enforcement authorities are involved.
If TheDarkOverlord gets busted, the Orange Is the New Black-related headlines will write themselves.