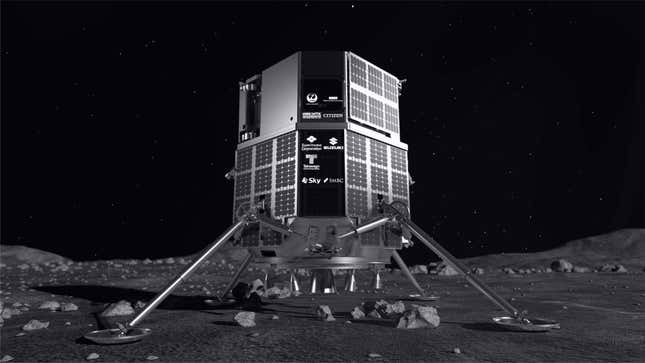 The Hakuto-R spacecraft won't land on the Moon until April, but the private mission is already in the record books.
Tokyo-based company ispace developed the lunar spacecraft and lander with the aim of becoming the first private mission to successfully land on the Moon. During its long journey to the Moon, Hakuto-R got as far as 855,000 miles (1.376 million kilometers) away from Earth on January 20. That distance made the Japanese lunar spacecraft the "farthest privately funded, commercially operating spacecraft to travel into space," the company said in its statement.

The lunar probe CAPSTONE, which is operated by private company Advanced Space, reached a further distance of 951,908 miles (1,531,948 km) from Earth on its way to the Moon, according to Space.com. However, the spacecraft was funded by NASA so it does not qualify as a purely commercial effort.
The Japanese lunar mission launched on board SpaceX's Falcon 9 rocket on December 11 from Cape Canaveral Space Force Station in Florida. Since then, the spacecraft has taken a loopy, energy-efficient route to the Moon and is expected to finally reach the lunar surface in April.
The Mission 1 lander (M1) is the inaugural mission of ispace's lunar exploration program, Hakuto-R. M1 will attempt to land on the lunar surface and, if successful, become the first private mission to achieve such a feat. In 2019, Israel's Beresheet lunar lander was the first attempt by a private company to land on the Moon. However, computer glitches and communication problems caused it to crash on the surface.
With its upcoming attempted landing, ispace wants to usher in a new era of commercial drop-offs on the surface of the Moon. The M1 lander is packed with both government and commercial payloads, including the 22-pound (10-kilogram) Rashid rover built by the United Arab Emirates and a transformable ball-like robot, named SORA-Q, developed by the Japan Aerospace Exploration Agency (JAXA) and the TOMY toy company.
It's certainly a big task for the Japanese company's first attempt to reach the Moon. But Hakuto-R seems to be in good shape thus far, even snapping a farewell photo of its home planet while en route to the Moon. The spacecraft has already broken a record before arriving at the lunar surface, let's see if it can make history by sticking the landing.