If you were in the market for a premium Android smartphone six months ago, you might have picked a new Samsung handset, a Moto X, or maybe a Nexus 5. But HTC's One M8 crashed the party in March with improvements on its stunning premium design. And now it's coming to Windows Phone.
Now that the M8 and the subsequently launched Mini 2 are an acceptable baseline for what "premium" means for Android, HTC hopes they'll find similar success in the Microsoft camp when it launches today on Verizon. The once-rumored HTC One M8 for Windows (let's say W8 for brevity) sticks with an old adage: If it isn't broken, don't fix it.
From a hardware perspective, the W8 and the M8 are the Same. Exact. Phone. There's almost no discernible difference to their curvy metal chassis at all. Except for some requisite branding (a small Windows Phone banner running under the HTC logo on the back) and the garish Verizon signage that marks the phone as EXCLUSIVE, the Windows Phone variant is a perfect clone. Snapdragon 801 processor? Check. Duo Camera with the weird UltraPixel tech? Yes sir. A 5-inch, 1080p LCD screen at 441 pixels-per-inch? You betcha. BoomSound front-firing speakers? Duh. Dot View Case compatibility, IR blaster, 32GB with expandable storage up to 128GB? Yes, yes, and yes.
But once you turn it on, the W8 is one sharply dressed Windows smartphone. "It's basically an HTC body with a Windows Phone soul," says HTC senior global communications manager Jeff Gordon.
G/O Media may get a commission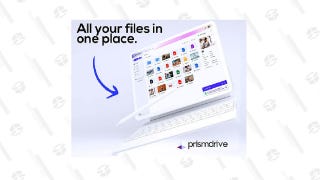 Save 97%
Prism Drive Secure Cloud Storage: Lifetime Subscription
Not only does the phone come with the very latest version of Microsoft's mobile operating system, Windows Phone 8.1 Update 1 (8.1.1), but a whole variety of new tweaks on top of Windows Phone as well. For instance, HTC worked closely with Microsoft engineers to introduce the previously-unsupported Duo Camera, which captures a variety of fancy images, and the company has redesigned proprietary apps like Sense TV, the camera app, and Blinkfeed.
The camera app underwent the most change. HTC drops the Android-exclusive Zoe function, which takes several pictures and video in three-second bursts, and the "Seasons" affect that let you put animated snow and leaves in your photos for whatever reason. The app's iconography also gets a subtle overhaul to se amlessly blend in with the Windows Phone UX. The rest of the app functions much like its Android sibling, including in-depth photo controls and the ability to save different lens settings.
But with the same hardware comes the same sluggish performance we noted in our Android review. The HTC One has a quick capture speed but noise compression issues, especially in low light, and delivers middle-of-the-road camera performance compared to other Android devices.
Blinkfeed feels much more comfortable in Windows Phone, due in part to its Live Tile-ish design. Transitioning from any Android launcher into this baked-in news reader was a little jarring on last year's M7, and subsequently the M8, but on Windows Phone the application seems much more natural. You could even consider it a welcome addition.
The HTC One for Windows launches as a Verizon exclusive today and will be available online starting at 12pm ET for a limited time offer of $100 with a two year contract. You can also finance the phone through Verizon's Edge program for $30 a month. The device will also be available in Verizon and Microsoft stores beginning tomorrow.
The W8 adds another premium, high-spec'd smartphone option outside of Microsoft's Nokia line and brings Android's most stunning handset to a completely new ecosystem. When we spoke with HTC about future Microsoft devices to come, they couldn't divulge specifics—but we shouldn't expect the HTC One M8 to be a Windows Phone one-hit wonder.
Update 1: AT&T has announced that the One M8 will be available for its customers as well.
Update 2: T-Mobile has also said the phone will be coming to its customers as well starting in the fall.