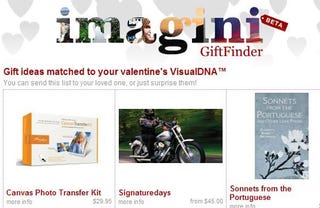 Still wondering what to get that special someone for Valentine's Day? The Imagini GiftFinder can help. Invite that major squeeze to take a little test on the free Imagini site, and then you're emailed back a list of 16 gifts that supposedly will be just what your baby wanted.
I tested it out on my beloved and sexy wife, and it picked one especially erotic and pleasing gift that she really liked (and so did I), but the other results were mixed. Let's take a look:


Her favorite selection was a candy bra and G-string, a little edible getup that will satisfy one's hunger in more ways than one. And the price is right, too, at $8.95 for each piece.
She also liked the classic silk satin pajamas ($320) and a subscription to O magazine, but the rest of the items were clearly not something she even remotely wanted.
So overall, the site didn't do too well: she only liked three of the 15 items selected for her. But then, she's really picky, so perhaps your luck will be better.
Even if it's not entirely accurate, it's still fun to take the test where you're presented with sets of pictures from which you pick the one from each that's most appealing to you. After you've gone through the half-dozen screens, it gives you a description of yourself that's akin to a horoscope, but we found that description to be somewhat accurate. Fun stuff. It's just the gift selections that missed the mark.
Anyway, what's up with retailers trying to turn Valentine's Day into another Christmas? Some of these gifts cost in the hundreds of dollars, and one of the selections, a Costa Rica seven-day adventure, was $3990. Nearly four grand, for Valentine's Day?
What a great retailing trick! Convince people that if they don't spend lots of money on their significant others, it's not true love. That's extortion. Anything to keep the bustling American consumer economy rolling right along.
Imagini Valentine GiftFinder [magini Holdings Ltd.]