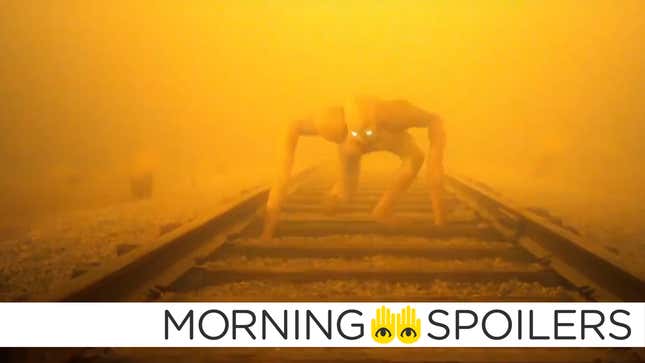 The Uncharted movie loses its release date. Get new glimpses at Jumanji and Beauty and the Beast. Legends of Tomorrow reveals its Stargirl. Plus, behind the scenes on Spider-Man: Homecoming, what's to come on Ash vs. Evil Dead, and a creepy new Westworld poster. To me, my spoilers!
Caleb McLaughlin Wants to Play Static Shock

Uncharted
Unsurprising given the film only just got a new writer, but Sony has removed Uncharted from its previously scheduled release in June 2017.[Coming Soon]
---
Spider-Man: Homecoming
Peter Parker hides in the shadows in this set picture shared by Tom Holland.
---
Jumanji
The Rock has shared concept art of his character from the film, Doctor Bravestone.
---
Beauty and the Beast
Get the briefest of dialogue snippets from the film's table read in this sneak preview teaser.
---
American Horror Story
The nebulous marketing for the next season of the show has been annoying at best, but it seems like the "theme" for the new season has finally emerged.
Fans have spotted TV listings in the latest print issue of TV Guide describing the show as American Horror Story: The Mist, the title of one of the many promos released ahead of the show's return that revealed a Gollum-esque monster crawling out of mysterious mists (hence the title!). Whether that teaser, despite the shared name, actually has anything to do with the new season, still remains to be seen. [EW]
---
Game of Thrones
Production on the next season has now officially begun—delayed by only a month compared to usual, thanks to the wait for colder weather. [EW]
---
Killjoys/Dark Matter
Good news! Both shows have been renewed for third seasons by Syfy. [Comicbook.com]
---
Unidentified
Zachary Levi's Middle Man Productions is developing a new sci-fi thriller for NBC which focuses on a CIA agent trying to protect his family from a mysterious secret. [Deadline]
---
Ash vs Evil Dead

Synopses for the first two episodes of season two have been released. Here's episode one, "Home":
The Party in Jacksonville is over when Ash, Pablo and Kelly are summoned by Ruby back to Ash's hometown to form an unlikely alliance. Ash's dad Brock, and the local pub rats give a chilly welcome to the man who's come to save them from the evil.
And here's episode two, "The Morgue":

Pablo's grasp on reality is tested when Ruby reveals the Necronomicon has gifted him with premonitions. Meanwhile, in the morgue, Ash and Kelly discover Brock's date might not be the warm body he's banking on.
---
Legends of Tomorrow
A new TV spot features a blink-and-you'll-miss-it glimpse of Stargirl in action.
---
Westworld
Finally, here's a new poster for the show. [/Film]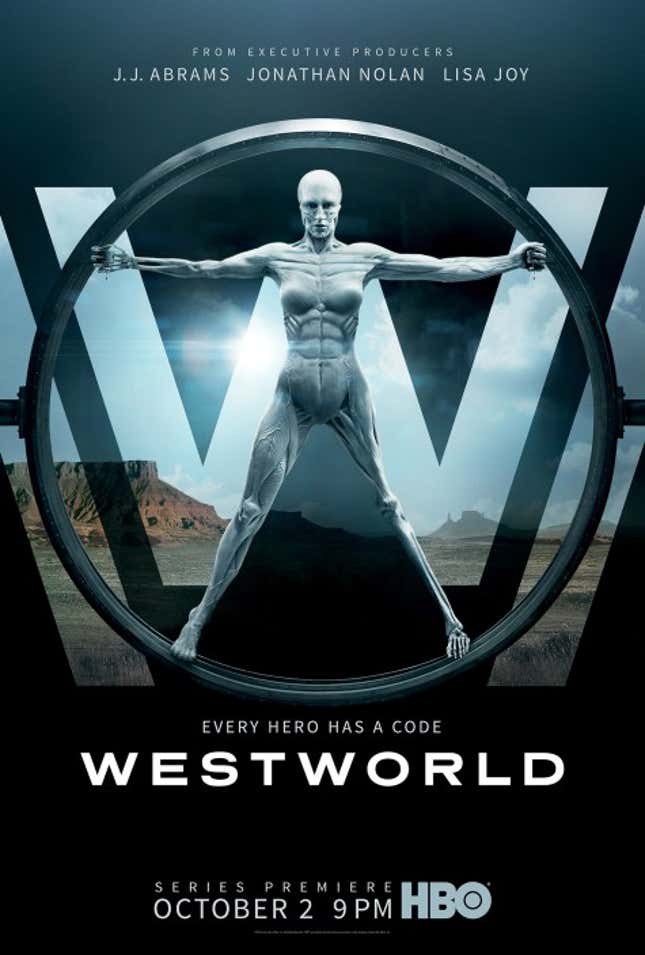 ---
Additional reporting by Gordon Jackson. Banner art by Jim Cooke.