In an interview with Japan's Cut Magazine, Hayao Miyazaki admitted that he's planning a sequel to his 1992 porcine sky ace film Porco Rosso, and that Studio Ghibli's future depends on the success of its next film, The Borrower Arrietty.
Here are the highlights from the interview in Cut as translated by Nausicaa.Net. It's not exactly clear when Porco Rosso: The Last Sortie will see release or how well The Borrower Arrietty must do in the box office. But hey, the promise of another Porco Rosso flick is just enough to brighten my Sunday:
"[We're] making a dissolution program for Ghibli. No joke, we talked about it the other day." This dissolution program changes if Arrietty succeeds.
[...]
"For example, Ghibli should be able to continue with about five staff members as a copyright management company even if we smash the studio. So, Ghibli can say 'We stop film production. Goodbye'. I do not have to be there."
[...]
Miyazaki is always thinking about a tragic story of a boy. However, he wants to escape to "Porco Rosso: The Last Sortie" because a tragic boy's story is very difficult. Miyazaki says, "But it (Porco) is not connected in the future."
[...]
"I think that I must think about only a movie of a boy."
"I do not need to make a movie if it is not a tragic story of a boy."
"So I want to escape to "Porco Rosso: The Last Sortie". I have all its materials."
"It should be interesting."
"It is set for Spanish Civil War."
Here's an absolutely lovely scene from the original. Miyazaki, make it happen.
[Via /film]
G/O Media may get a commission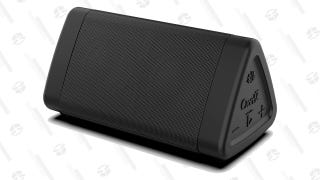 Save 31%
Oontz Angle 3 Portable Bluetooth Speaker