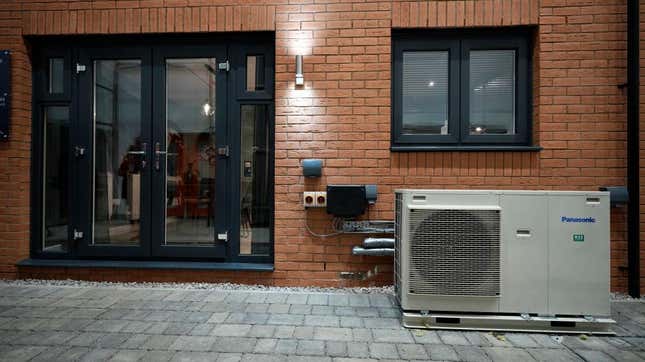 Heating and cooling homes can be expensive, but thankfully, there are heat pumps. And these electric home coolers and heaters are efficient home systems even in extremely cold temperatures, new research has found.
This Summer's Hottest Umbrella
In a recently published report in the energy research journal Joule, a team of researchers from Oxford University and the Regulatory Assistance Project outline how incredibly efficient heat pumps are at warming up homes, even in the depths of the most bitterly cold weather.
Heat pumps are home heating and cooling systems that are installed outside of the home. During cold weather, a heat pump system extracts hotter air from nearby sources, like heat that's trapped underground. It amplifies and transfers that heat to a home, and because the heat is from an already existing source versus being generated, these systems are more energy efficient than fossil fuel systems, according to the International Energy Agency. Supporters of older gas heating systems have claimed that heating pumps weren't as efficient as gas-powered systems in really cold temperatures. But the researchers were able to find that electric-powered heat pumps can work in low temperatures as well. They compiled data from seven field studies conducted across countries in Asia, Europe, and North America.
When temperatures outside were between 5 degrees Celsius (41 Fahrenheit) and −10 degrees Celsius (14 Fahrenheit), the researchers saw that heat pumps were about 2.7 more efficient in heat produced for the energy used than fossil fuel systems. The heat pumps even outperformed fossil fuel-powered systems when temperatures outside were almost -30 degrees Celsius (-22 Fahrenheit). "Even though heat pump efficiency declines during the extreme cold and back-up heating may be required, air-source heat pumps can still provide significant energy system efficiency benefits on an instantaneous and annual basis compared with alternatives," researchers wrote in the report.
The researchers behind the report did mention that more analysis is needed to continue learning about the conditions in which these systems are less efficient. "Performance may suffer during milder temperatures," researchers noted. "This is because the cold-climate systems are designed more specifically for frigid temperatures and higher heating demands. Physical components such as the expansion valve and compressor may struggle to operate at lower outputs."
Officials throughout the U.S. are pushing for building codes that include the use of heat pumps in new homes and new commercial buildings depending on the size of the building. This May, New York Governor Kathy Hochul passed the state budget for the coming year, which included a policy known as the All Electric Buildings Act. This made New York state the first in the country to ban gas hook-ups in new buildings. This also means that new construction projects throughout the state would have to be electric, as in no gas-powered appliances including furnaces.
"Last year, more heat pumps were sold than natural gas furnaces in the U.S. for the first time," Jan Rosenow, the director of European programs for the Regulatory Assistance Project, told CleanTechnica. "Incentives in the Inflation Reduction Act will help continue this trend but even more sales are needed to meet the American climate targets.
In April 2022, the Washington State Building Code Council voted on the building codes that mandated heat pumps in new developments with four or more stories. But there have been some setbacks. Just this year, state building code officials voted to delay the first statewide mandate for electric heat pumps in new buildings.
Want more climate and environment stories? Check out Earther's guides to decarbonizing your home, divesting from fossil fuels, packing a disaster go bag, and overcoming climate dread. And don't miss our coverage of the latest IPCC climate report, the future of carbon dioxide removal, and the un-greenwashed facts on bioplastics and plastic recycling.