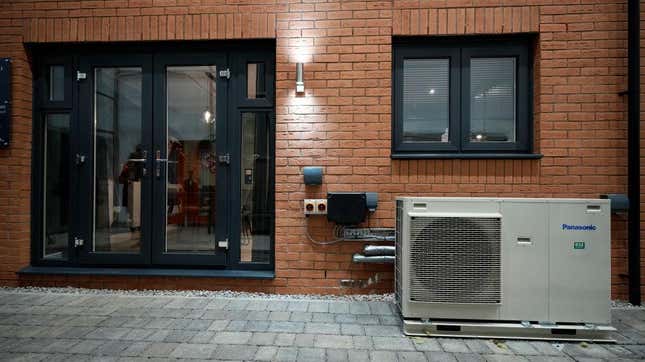 Washington state building code officials voted Wednesday to delay the first statewide mandate for electric heat pumps in new buildings, dealing a significant blow to restrictions on natural gas.
What Is Carbon Capture? With Gizmodo's Molly Taft | Techmodo
The Washington State Building Code Council voted 8-2 to delay the statewide building codes for 120 days, E&E News reported. The council also approved a motion to begin revising the codes to ensure that they won't easily be overturned in the future.
This came after the 9th U.S. Circuit Court of Appeals, overturned the nation's first natural gas ban for new buildings in Berkeley, California last month. The federal court ruled that the ban went against the federal Energy Policy and Conservation Act. This prompted Washington officials to delay and revise the building codes that they had previously voted on.
"While we do not agree with the court's opinion, and this decision may not be final, we further understand that the council intends to take swift action to ensure that these codes comply with the court's decision and simultaneously achieve the policy goals of reducing carbon emissions to meet the state's targets," Mike Faulk, a Washington state press secretary, told the Washington State Standard.
The Washington State Building Code Council originally voted on the building codes that mandated heat pumps back in April 2022. Despite the name, heat pumps can both heat or cool a space by moving air across temperature gradients. They're connected to the grid, and not to natural gas lines like other heating systems are. And yes, they can technically run on fossil fuels depending on how a region's grid is powered. But Washington has one of the greenest energy grids in the nation because it's largely powered by hydroelectric dams. The codes effectively banned traditional furnaces that use natural gas in new homes and new commercial buildings with four or more stories. However, the building codes did include some exceptions for supplemental heating for the coldest parts of Washington state. Had there been no vote to delay this week, the building codes would have gone into effect at the beginning of July, E&E News reported. And now the building codes won't go into effect until this October.
The 2022 vote was celebrated as a win for building decarbonization. It was one of several strategies implemented by the state to help officials meet their goal of reducing building energy to 70% of 2006 levels by 2031.
But the recent ruling in California has emboldened natural gas advocates to fight against efforts to phase out fossil fuels in new buildings. A coalition of utility companies that provide natural gas, and labor unions recently joined and sued the Washington State Building Code Council. The group filed the lawsuit in U.S. District Court for the Eastern District of Washington this Monday. "The Washington State Energy Code interferes with commercial and consumer energy choice; jeopardizes jobs; impairs commerce; and increases building and energy costs for Washington residents and businesses," the filing said.
Meanwhile, other states have made some strides in lowering natural gas usage. Earlier this month, New York Governor Kathy Hochul passed the state budget for next year. It included a policy known as the All Electric Buildings Act. This made New York state the first in the nation to ban gas hook-ups in new buildings. New construction projects throughout the state would have to be electric—so no gas-powered appliances including furnaces, water heaters, or stoves. In 2026, new buildings smaller than seven stories high will not be able to include fossil fuel lines for those appliances. And by 2029, the rule will also apply to larger buildings in the state. Though Berkeley's ​​2019 policy barring gas lines in new buildings was overturned, it's likely that New York's ban will hold, for now.
Want more climate and environment stories? Check out Earther's guides to decarbonizing your home, divesting from fossil fuels, packing a disaster go bag, and overcoming climate dread. And don't miss our coverage of the latest IPCC climate report, the future of carbon dioxide removal, and the un-greenwashed facts on bioplastics and plastic recycling.