The Grey Lady has pulled some reprehensible stunts over the years, including writing puff pieces on neo-Nazis, helping lead the United States into a deadly war in the Middle East, and even employing Bret Stevens. But today it finally burned its most dedicated customers: those of us who pay the paper of record $6.99 a month to play its once-vaunted crossword on our phones.
Each day, the Times crossword app provides digital subscribers with a "Mini," a small puzzle usually solved in under a minute that serves as a sort of pre-crossword snack. Today's Mini, however, abandoned the traditional parameters of what a crossword even is, to the grave disappointment of myself and about a dozen other people on Twitter. Is that a lot? No. It's actually very, very few people. But it's about the principle of the thing.
Solve this quick: "Easy as ___."
Pie, right? A pretty simple fill-in-the-blank question with a common idiomatic answer, especially given that, for over 75 years, the answers to the New York Times crossword have almost all been composed of letters, or at the very least a series of letters.
Well, take your expectations and throw them down a hole: The answer is "123." As in numbers. As in math. As in, "Hey, I thought I was playing a goddamn crossword, not a KenKen or Sudoku or doing my taxes for fun." The answer branches down to the solutions "1am," "2pac," and "3hole"—as in "a three-hole punch"—a phrase no one in the world writes that way!

G/O Media may get a commission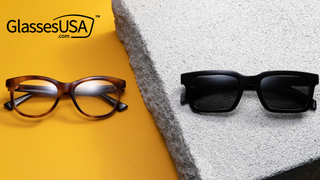 60% off frames
GlassesUSA.com Back to School Sales
One of the Times' Twitter accounts even made light of the ire this clue had inspired, seemingly blaming today's date, 1/23, though the clue had nothing to do with that. You must feel very clever, Tuesday Mini. Rebellious. Superior, even.
Amid the terrifying flood of near-apocalyptic notifications rumbling across my phone each day, the Times crossword has served as a place of safety installed on that very same phone. During commutes, it's been a distraction from the unfixed, century-old infrastructure around my subway car, as well as the plutocrats who sucked the public coffers dry. Mostly, it was a bond of trust. And today, that trust was broken—for both myself and something in the neighborhood of 12 other people. C'mon, New York Times. We just wish you were better.