I pretty much never ever want to hear the edited version of any album. But for some reason, that 's exactly what Spotify wants me to hear. Or it least that's the way it seems. In most cases, the cleaned up version is what Spotify shows you by default, and you have to do extra work to find the real deal. C'mon, Spotify, why?
So here's what happens when you go to Drake's Spotify page. You see the most popular tracks, with explicit versions listed. But when you scroll down to the full albums, you only see the clean versions:
If you just want to hear hell yeah fuckin' right with the F-words and other expletives intact—the way Drake intended you to hear it—you have to take an absurdly circuitous route. You can either search the artist or search for a specific song on the album, and Spotify will show you the explicit version. To get to the uncensored album, you then you have to click on the album name associated with the explicit song. Just don't click on the profile page for Drake Spotify has so conveniently listed at the top of the player. Because the whole, uncensored album isn't listed on Drake's profile page—it's hidden.
G/O Media may get a commission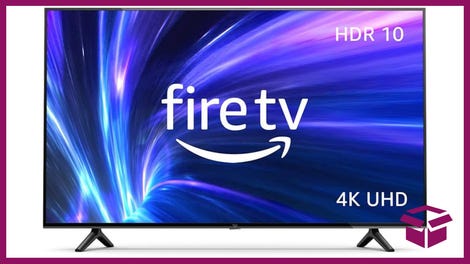 42% Off
Amazon Fire TV 50" 4K Smart TV
The same goes for many other artists. Here's Rick Ross's Spotify page:
Want to hear God Forgives, I Don't with the cusses? Gotta ask mom! I mean, again, search a specific song.
The app is just as bad; almost any album or artist search floats the sanitized tracks to the top.
Sure, you can understand that Spotify is trying to maintain a sort of family friendly appearance. So why not add an age gate? Or even, make stronger parental controls? But don't default to some cleaned-up crap most users don't want to hear in the first place. Please, Spotify. Can you fix this?