As the Arctic's mantle of protective sea ice grows smaller and sadder by the year, new waters are opening up, setting the stage for industry and tourism to take off. But a vast swath of those chilly seas will soon be off-limits to at least one human enterprise: commercial-scale fishing.

On Wednesday, nine nations and the European Union signed an agreement to place a moratorium on unregulated commercial fishing across 1.1 million square miles of the central Arctic Ocean. These waters are becoming increasingly accessible as Arctic sea ice melts, and conservationists have been pushing for more protections so that exposed and potentially fragile ecosystems can be properly studied before we screw them up beyond repair.
Apparently, Arctic nations and those looking to exploit the ocean's riches in the future—a list that includes the U.S., Russia, Canada, China, and Japan—are listening. The moratorium, which builds off protections the U.S. put in place in 2009, will be in effect for 16 years unless a science-based management plan can be established sooner, according to a press release from Pew Charitable Trusts. There's also the potential to extend the fishing ban for additional five year increments depending on the results of a new research and monitoring program, which will focus on how the central Arctic Ocean ecosystem is changing and how best to manage any emerging fisheries.
"With this agreement in place, the Central Arctic Ocean is now the largest marine area where commercial fishing has been proactively placed off-limits in the interest of precaution," Steve Ganey, senior director for lands and ocean programs at Pew, said in a statement.
G/O Media may get a commission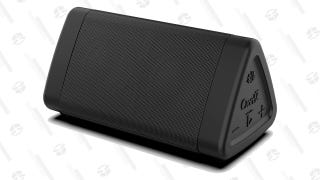 Save 31%
Oontz Angle 3 Portable Bluetooth Speaker
Susan Murray, a deputy vice president at Oceana, applauded the signatory nations for taking what she called a "historic" conservation measure.

"Usually we go to some place, we alter it, and then we try to fix it," Murray told Earther. "It's unusual to do an approach of 'know before you go.'"
Right now, much of the central Arctic Ocean isn't accessible to ships. But as sea ice continues its downward death spiral—the ice bottomed out for the year last week at its sixth lowest level on record—that could change. At this point, scientists aren't sure how fish and other marine life living on the frigid high seas will respond to the loss of ice or the rapid warming driving it. Whether commercially-fishable stocks are even present in the region, or whether species like cod will migrate north as warmer Atlantic waters invade, also remains to be seen.
"We have an ecosystem that's developed to be ice dependent," Murray said. "What happens when there's less or no ice is a big question mark."
At least now there's a plan in place to find some answers before the next gold rush gets underway.