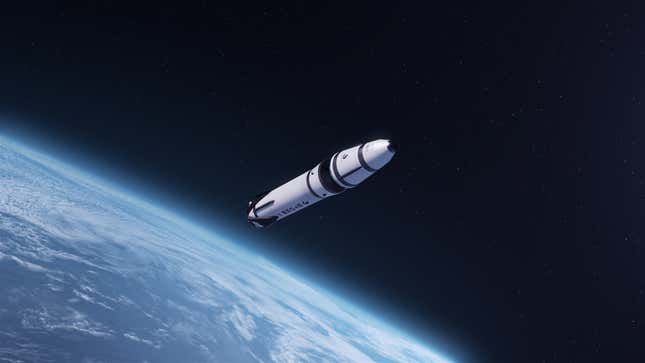 In 1962, John Glenn became the first U.S. citizen to orbit the Earth, riding into space on board the Friendship 7 capsule, which took off from Cape Canaveral's Launch Complex 14. More than 60 years later, that same old launchpad will be put to new use after being assigned to a private space venture to launch its reusable rocket.
Astronomers Could Soon Get Warnings When SpaceX Satellites Threaten Their View
Stoke Space was granted the use of Launch Complex 14 at Cape Canaveral Space Force Station in Florida by Space Launch Delta 45, the company announced in a statement on Tuesday.
"We are over the Moon excited by this opportunity," Julia Black, director of range operations at Stoke Space, said in the statement. "To be trusted with the reactivation of the historic Launch Complex 14 is an honor, and we look forward to adding to its well distinguished accomplishments for America's space program."
The U.S. Space Force began implementing its new Launch Pad Allocation Strategy, allowing more private space companies to take off from Cape Canaveral. The first round of launch pad allocations included four small companies: ABL Space, Phantom Space, Vaya Space, and Stoke Space. The assigned launch pads have been largely unused for years, and are being reactivated to accommodate the commercial launch vehicles for upcoming launches. In terms of the other pad allocations, Phantom Space and Vaya space both got Launch Complex 13 and ABL space got Launch Complex 15.
Launch Complex 14 was built in 1957 to support the launch of the Atlas rockets. NASA Astronaut Glenn was part of the space agency's Mercury project and launched on board the Friendship 7, after which he spent about five hours in space and performed three orbits around Earth. That first orbital trip for a U.S. astronaut proved that the Mercury spacecraft could in fact work in space.
The space industry has come a long way since then and it continues to grow rapidly with the increasing number of private space companies with orbital ambitions. Stoke Space is one such company, founded in 2019 by two former Blue Origin rocket engineers. By the beginning of 2021, the company had raised $9.1 million in seed funding to develop and build its fully reusable rocket (yes, that's a reusable first and second stage).
The company still has a long road ahead of it to put its design to work, but now it has a launch pad for its future launch vehicle. "We're standing on the shoulders of giants," Andy Lapsa, co-founder and CEO of Stoke Space, said in the company's statement. "As we bring LC-14 back to life and carry its legacy into the future, we will be sure to do so in a way that preserves its existing history and pays homage to those who came before us."
More: Rocket Lab May Bail on Using Helicopters to Catch Falling Rockets