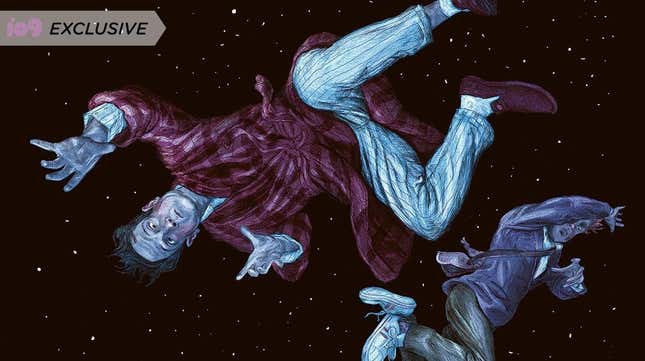 If you've been wanting to pick up a collectible edition of Douglas Adams' Hitchhiker's Guide to the Galaxy, here's your chance just ahead of Towel Day (May 25!)—and if you act early, you just might get your hands on the most prized edition number (fans of the book already know: it's 42).

Tomorrow, the Folio Society is releasing a special edition of Adams' trilogy in five parts, featuring "70 illustrations by Jonathan Burton, 35 unique to these new volumes, and an exclusive preface by inspirational physicist Carol Rovelli."There are just 750 of these sets being created; they'll be hand-numbered and signed by the illustrator "on a limitation tip shining with holographic silver." The binding designs, also created by Burton, are similarly lavish, "blocked in an eye-catching rainbow of foils and, arranged next to each other, they create a pleasing single image. The five volumes are presented in a display box fit for the President of the Galaxy himself, part-bound in glittering blue cloth with an explosion of silver stars on the interior. A transparent window—with DON'T PANIC inscribed in large friendly letters—allows a peek at the foil-blocked spines. Signed by the artist, this splendid edition is completed with a unique print of the Guide itself."
If you order by 1 p.m. UK time on Tuesday, May 23 (one entry per customer; that's 8:00 a.m. ET, by the way), you will be entered into a random drawing to decide who gets sent set number 42. And even if you don't get number 42, as Folio Society aficionados can already guess, the special edition itself is snazzy enough (and pricey enough) to be the only Hitchhiker's Guide version you'll ever need on your shelf. Click through to see some examples of Burton's artwork; the double page spreads and black-and-white illustrations are new, plus you can see a few of the illustrations previously published in earlier Folio Society editions. Depending on where you live, you can order the set through the publisher's U.S. or UK store.