Many architects are inspired by nature, and some look to beehives to inform their designs—with hive-shaped buildings, honeycomb motifs, and undulating walls. When the bee-shaped aliens descend upon the Earth, we will have the proper accommodations.
These traditional Syrian beehive houses, designed to keep the heat out with their mud brick walls and an oculus to move hot air away
G/O Media may get a commission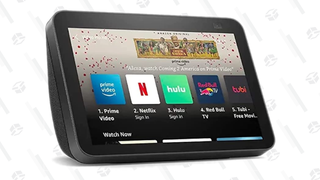 (via Greenprophet, Inaki Martinez de Marigorta Díaz and upyernoz)
The Mother Temple of Europe, Langenhain, Hesse, Germany, a Bahá'í temple designed by Teuto Rocholi, completed in July 1964.
(via Michael Paul Gollmer and Marcus Ertl)
The Ramot Polin apartments, designed by Zvi Hecker in Ramot Polin, East Jerusalem, built by the Ministry of Housing between 1972 and 1975
(via Nehemia G)
The Executive Wing of the New Zealand Parliament Buildings, Wellington, New Zealand, built between 1969 and 1981, designed by Sir Basil Spence.
(via Wikimedia Commons and digitaltrails)
The 49-story Sathorn Unique building in Bangkok, Thailand, never completed, abandoned since 1997.
(via Axel Drainville, Earth-Bound Misfit and Albert Freeman)
Beehive in Calver City, California, by Eric Owen Moss Architects, 2001
(via Eric Owen Moss and Laurie Avocado)
A small dome house, somewhere in Oregon
(via Tomas Quinones)
London City Hall, London, UK, by Norman Foster, 2002
(via Tilemahos Efthimiadis and Wally Gobetz)
Earth One, Eco-Dome and Emergency Village, designed by Nader Khalili from The California Institute of Earth Art and Architecture (Cal-Earth)
Here awesome similar ones, built from plastic bottles and trash:
(via Cal-Earth)
The Simmons Hall at the MIT in Cambridge, Massachusetts, designed by Steven Holl Architects, 2002

(via Steven Holl)
The Warrnambool Campus, Victoria, Australia, designed by Lyons, 2009
(via ArchDaily)
Bonus: A beehive with six 1000-watt lightbulbs inside, on the top of The Metropolitan Tower, Chicago, designed by Graham, Anderson, Probst & White, completed in 1924.
(via Algonquin69 and John W. Iwanski)