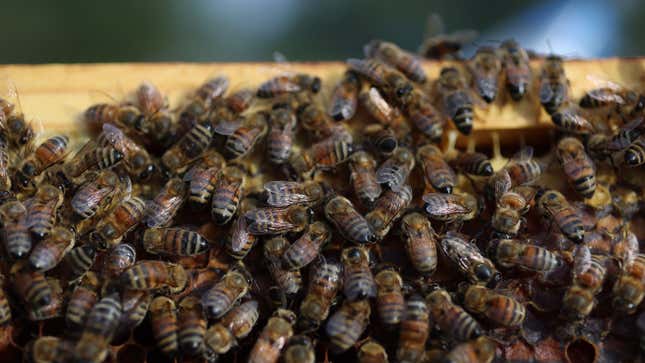 The bees are having a rough go of it, and that's news bad for humans—we need bees to pollinate our crops. Now, the U.S. Department of Agriculture has given the green light to a biotech company to vaccinate honeybees against a fatal infectious disease, one of the major threats to these creatures.

Taylor Lorenz Talks "Extremely Online"
Dalan Animal Health developed the vaccine, which recently received a conditional license from the USDA and is designed to protect honeybees against infections of American foulbrood. American foulbrood is a fatal disease caused by the bacteria Paenibacillus larvae; it can kill honeybees in the pre-pupal or pupal stage of their life cycle. The disease is spread through bacterial spores and can take down an entire colony.
"We are committed to providing innovative solutions to protect our pollinators and promote sustainable agriculture. Global population growth and changing climates will increase the importance of honeybee pollination to secure our food supply," said Dalan Animal Health CEO Anette Kleiser in a press release. "Our vaccine is a breakthrough in protecting honeybees. We are ready to change how we care for insects, impacting food production on a global scale."
It would be a challenge to give shots to baby bees, so a dead version of the bacteria will be added to the food eaten by worker bees. Those bees then pass the vaccine into royal jelly, a milky secretion that is fed to the colony's queen. From there, the vaccine will transfer to the queen's ovaries, granting immunity to developing larvae.
"This is an exciting step forward for beekeepers, as we rely on antibiotic treatment that has limited effectiveness and requires lots of time and energy to apply to our hives," said Trevor Tauzer, a board member of the California State Beekeepers Association, in the company's release.
Honeybees pollinate everything from blueberries to avocados to agave. But bee populations are on the decline, potentially threatening the world's food output and delicate ecosystems.