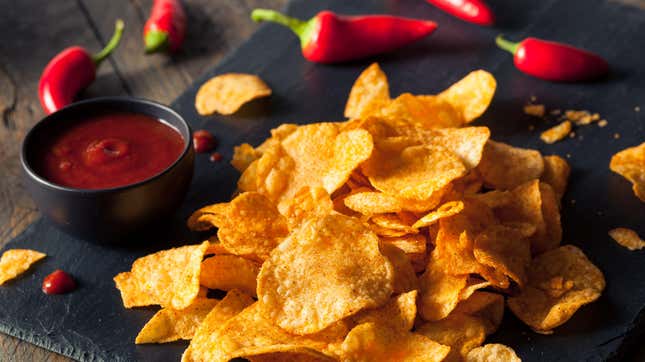 A hot chip challenge might have become deadly for 14-year-old Harris Wolobah in Massachusetts this month. According to his family, the boy felt sick and died mere hours after eating a potato chip made with two of the hottest peppers on record. A final determination into his cause of death has not been released yet, however.
Vizio's Latest TVs Go All Quantum
As first reported by the Boston Globe, Wolobah ate a brand of Paqui chip known as the "One Chip Challenge"—a chip dusted with the Carolina Reaper and the Naga Viper peppers—early on September 1. Soon after, he visited the nurse's office complaining of stomach pain. He was sent home where his condition rapidly worsened. He fell unconscious and stopped breathing. He was then taken to the hospital but to no avail. Wolobah's family believes that the chip contributed to his death.
Paqui chips are made by Amplify Snack Brands, a subsidiary of the Hershey Company. The product in question contains a warning that people who are pregnant, allergic, or sensitive to spicy products, or who have underlying health problems should avoid eating it. The labeling also warns that it's only intended for adults and should be kept out of children's reach.
Prior to Wolobah's death, however, the product was readily available on store shelves for 10 dollars. And while this might be the first death linked to the One Chip Challenge, there have been several reports of children getting hurt after eating it dating back to last year. At least one school district has also banned Paqui chips from their schools.
"We are deeply saddened by the news report and express our condolences to the family," a Paqui spokeswoman, Kim Metcalfe, said in a statement in the New York Times late last week. "It would be inappropriate for us to speculate or comment further."
Without admitting fault in the boy's death, the company has pulled the chip from the shelves for the time being. On its website for the One Chip Challenge, there is now a paragraph stating that the company has seen an increase in teens and other people paying no heed to the product's warnings.
Some research has suggested that the peppers commonly found in these chips, including the Carolina Reaper, can cause serious cardiovascular complications in teens. But for now, it's still not clear if and how the chip might have killed Wolobah. An autopsy of the boy is expected to be completed within 12 weeks.