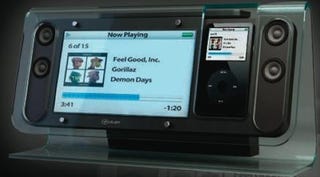 The iA200 Apollo Video by Auvi docks your iPod, plays video on a 7" LCD and features a rear-mounted DECT 6.0 phone for Skype and landline calls.
I don't know about this one. While I didn't see a working model, the larger iPod screen could add incentive to purchasing a dock. But does it really need Skype? Do media and talking on the telephone have anything to do with one another? (And I'm not referring to the iPhone here.)
No pricing yet, look for the Apollo later this year.