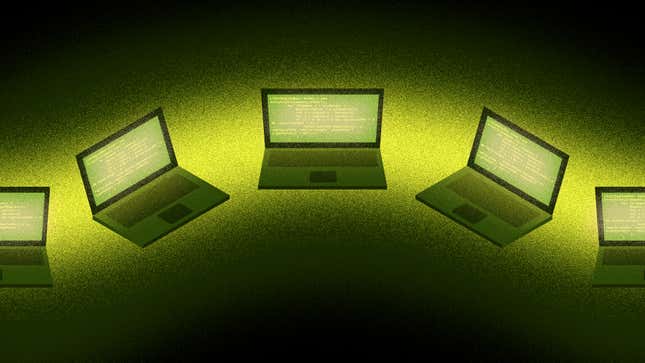 The tech world is at the apex of innovation — it's constantly evolving, ushering in cutting-edge inventions, and optimizing our everyday lives. Much of that innovation is happening at Intuit, the global technology platform that has developed software like TurboTax, QuickBooks, Credit Karma, and Mint. Lately, Intuit has been embracing one of the quickest-growing areas in programming: open source.

Meta's Apparent Firing Goof
The collaborative approach to the discipline, which makes source code accessible for feedback, contribution, and modification by other programmers, is becoming more relevant than ever, and changing the way that essential applications and systems are built. It's also helping uproot the way the industry itself is built, particularly when it comes to an area where the forward-thinking tech world is woefully behind-the-times: gender inclusivity.
To find out more about how open source is transforming possibilities both at Intuit and in the tech world at large, we spoke to a team of talented engineers who are leading the open source charge at Intuit, and decoding the glass ceiling while they're at it.
In 2018, Aliza Carpio, an engineer-turned-tech-evangelist who was in her 17th year at Intuit, saw an opportunity for the company to be even more of a vanguard for innovation, with a greater emphasis on diversity to boot. The pathway? Greater investment in open source programming. "Open source was always a part of Intuit, but it was a bit of a hidden secret—it wasn't formalized." Aliza explains. "One of our key values at Intuit is 'stronger together.' Open source is deeply entrenched in that value."
She joined forces with her colleague Rocio Montes, a staff software engineer in her seventh year at Intuit, who was also passionate about this collaborative form of programming. "A lot of our engineers wanted to participate, or were already participating, in open source," says Rocio. "They just needed the path in order to do it more and to make it bigger at Intuit."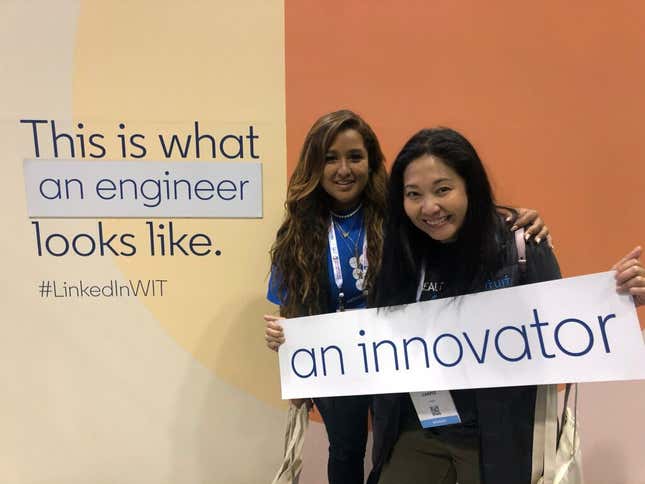 They designed workshops and seminars to provide educational and information exchange opportunities, spearheaded open source projects, created tools and automation to streamline the process for open sourcing projects, and organized hackathons and other innovation-generating events around industry-wide observances like Open Source Day (an all-day hackathon where participants of all skill levels learn about open source while contributing to projects designed to solve real world problems). Many of their initiatives also made efforts to address a critical issue in the tech community: underrepresentation of women in the field.

They were stunned to learn that, when looking at GitHub users with over 10 open source contributions, only 5.4% were female. "We said, 'We've got to change this world,'" says Aliza. "True innovation happens when there is all types of diversity at all levels. That was a big rallying cry for us. We asked what we'd need to do so that female engineers and non-binary people can look up and say, 'If that person can do it, I can do it too.'"
Given the democratic nature of open source, it's understandable that it would attract a diverse group of technologists at Intuit. "With open source, you're letting your work speak for itself," says Kendall Gassner, a software engineer and open source maintainer in her 2nd year at Intuit. "It doesn't matter who you are or what your role is."
Many women in the tech industry often experience a lack of representation in their education or in their leadership teams, which can affect the potential for upward mobility. "The gender gap has been an issue when I've tried to grow in my career and look up to other women to see how they behave in certain scenarios," says Rocio. "How do they call out issues, or try to fix things?" Rocio says that's where that lack of representation really hit home — she wasn't always able to see someone she could relate to in a leadership position, or as a role model.
The good news? Representation is improving, says Aliza, slowly but surely. "When I started at Intuit 19 years ago, I was one of eight women in a building of 350," she says. "Now, over 28 percent of the developers and data scientists at Intuit are women. I'm not saying that's a short amount of time—that's a freaking long time! But I do see more women in tech."
Nonetheless, she always has her eye on the areas where more progress is needed, and where the industry as a whole, and Intuit specifically, can make headway. "I think we still have ways that we can be more inclusive, and avoid thinking about gender as a binary concept." Aliza says she wants to uncover ways to include more people so that they feel like they can bring their whole selves to work.
It was that ethos — empowering people to bring their full selves to their teams and their projects — that guided Aliza and Rocio as they developed the program for Intuit's open source initiative. And just a couple of years into their efforts, they were able to gather hard data that reflected the fruits of their labor. "We still have a ways to go," Aliza allows. "But when we started our journey in 2018, we had zero female engineers maintaining open source projects. We're now at 15 percent."
For this talented group of engineers, open source has opened up new doors for major wins on a professional and personal level. "I just released a new project called Accessibility Snippets, which is a Visual Studio (VS) code extension that helps developers add accessibility into their products and components," says Kendall. Her project employs Accessible Rich Internet Applications (ARIA), a set of programming guidelines that dictates how to make the web more accessible for people with disabilities. "My favorite part of front-end is accessibility," she adds. "If you think about it, one in five people in America are living with a disability." For Kendall, the point is to make all of the web accessible.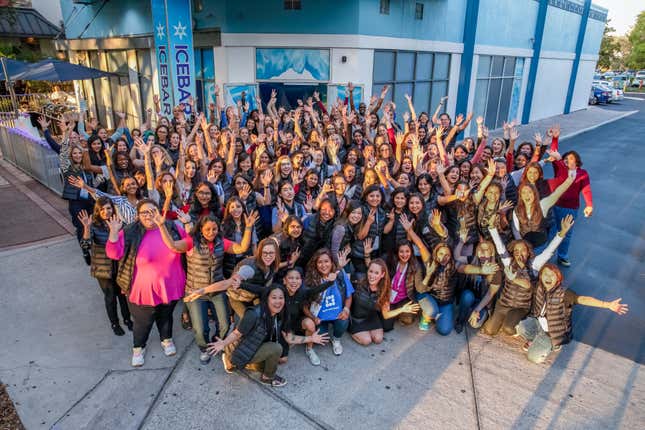 For Kareena Hirani, a software engineer and open source maintainer who started at Intuit in 2020, being part of the team focused on Argo—an open source tool that uses Kubernetes to manage developer workflows and deployments—has allowed her to expand her experience in open source. "This is my first time working in open source and interacting with the community, but I've gotten to develop a lot of key features and that's been a really cool opportunity," Kareena says. This work has also enabled her to share what she's learned with early career software engineers at last year's Grace Hopper Conference (a celebration honoring the pioneering female computer scientist), where she helped lead an "Intro to Open Source" presentation geared towards women interested in contributing more in this space.

A community-first mindset is a major motivator among the team at Intuit. But as Intuit's engineers explain, it also characterizes open source programming, thanks to its collaborative nature. "I view open source as a project you create for the community and with the community," says Kareena. "Even though you have your own roadmap of the features you want to develop and where you want the project to go, the community is always informing it, interacting with it, helping to build it, and telling you what they want out of it too. I see it as a labor of love between the programmers and the community."
Click here to learn more about how you can join this team of engineers working at the forefront of open source engineering at Intuit.
Rachel Mosely is a writer and editor based in Brooklyn. Her work has appeared in Cosmopolitan, Seventeen, Elle, and more.
The article is a sponsored collaboration between Intuit and G/O Media Studios.