Apple design VP Jony Ive told the Financial Times that Apple had invented a new kind of ultra-hard 18 karat gold for its line of luxury Apple Watches. Though rumors about the gold's bizarre molecular structure are false, Apple Gold is a real thing. Here's what the patent reveals about it, and a possible Apple Diamond as well.
Gif of making Apple gold for watches
Financial Times writer Nick Foulkes wrote that "the molecules in Apple Gold are closer together," which Ars Technica's Jonathan Gitlin dismissed (rightly) as absurd. But Apple gold is undeniably harder than regular 18 k gold. We looked at a patent application filed by Apple industrial designers last year for a "method and apparatus for forming a gold metal matrix composite." It describes several processes for making harder gold.
A Patent for Harder Gold
Apple Gold is made using a special process that involves blending gold powder with ceramic powder, then heating and compressing it, to create a substance that's harder and more scratch resistant than regular gold.
G/O Media may get a commission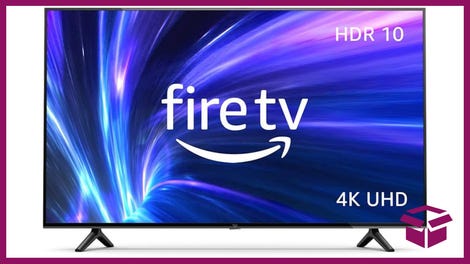 42% Off
Amazon Fire TV 50" 4K Smart TV
That said, "ceramic" doesn't quite cover what Apple will be using. In the patent, the materials listed stretch out over two lines. Your Apple gold could be mixed with "boron carbide, diamond, cubic boron nitride, titanium nitride (TiN), iron aluminum silicate (garnet), silicon carbide, aluminum nitride, aluminum oxide, sapphire powder, yttrium oxide, zirconia and tungsten carbide."
The patent describes several possible ways that the company might be melding ceramic and metal. One includes making a porous ceramic "preform" that will be filled in with a "gold network" to create the ceramic and metal matrix. Essentially, metallurgists would create a layer of ceramic and then squirt the gold into it, so that the gold molecules insert themselves between molecules in the ceramic. (This might be the process that led to the weird description in the Financial Times.) The material would be compressed and heated in a process called sintering until the metal and ceramic became a solid mass.
In the summary portion of the patent, we hear about another method by which Apple considered making the watch casings. After coating ceramic particles with gold, they could place "the gold and ceramic mixture into a die having a near net shape. The method additionally includes compressing and heating the gold and ceramic mixture in the die forming a gold metal matrix composite having a shape corresponding to the near net shape."
This process is called die-striking, and it's a common way to increase the hardiness of jewelry. A metal is placed into a mold, and compressed to increase its density and hardness. The process gets its name from the "die," the heavy, block-like mold used to press the metal into its approximate shape. Note that the shape created probably won't be its final shape. After the metal is made ready, it's not unusual for it to be bent into a better shape, or detailed.
Apple Diamond?
Another method in the patent describes using a "wetting agent" to cover diamond particles, then adding gold and compressing the entire thing. The wetting agent forms a carbide at the border between diamond and gold that binds them together. In other words, this patent for Apple Gold suggests that the company is also mulling over the idea of creating watches whose metal is a blend of gold and diamond.

Though this all sounds pretty futuristic, the material that Apple describes here sounds awfully similar to a scratch-resistant 18 k gold watch that Swiss manufacturer Hublot created back in 2011. Hublot also made their "Magic Gold" with ceramic, though they didn't use die striking in their method.
The point is that Apple is using pretty common techniques in the jewelry industry. Gold and diamond are also used in a lot of materials science applications, too — but usually you'd find them in microchips or industrial components. What's new is that Apple figuring out how to use metallurgy and materials science to generate even more extreme forms of luxury.
Is Apple Gold stronger than regular gold? Certainly. And Apple's gold/diamond material will be stronger too. But still, Apple Gold isn't really about making something that's functional. It's about selling something that symbolizes both cutting-edge science and wealth at the same time.
---
Contact the author at annalee@gizmodo.com.
Public PGP key
PGP fingerprint: CA58 326B 1ACB 133B 0D15 5BCE 3FC6 9123 B2AA 1E1A