Shane Black ponders whether Iron Man 3 is the end of an era. Ed Harris discusses his role in the post-apocalyptic train movie Snowpiercer. Greg Nicotero reveals how The Walking Dead will evolve in season four. Plus interviews with the stars of Oz the Great and Powerful and Once Upon a Time!
Spoilers from here on out!
Top image from Riddick.
X-Men: Days Of Future Past
Director Bryan Singer tweeted the latest casting announcement:

The Frenchman, who became the first actor of African origin to win the Cesar Award for Best Actor for his role in the 2011 comedy-drama The Intouchables, will make his English-language debut with the film. Like previous new addition Peter Dinklage, it's not yet known who Sy will play.
Elsewhere, Halle Berry has more or less confirmed with multiple outlets that she will be back as Storm, pending the finalization of some contracts. Speaking to Black Tree TV, she commented:
"Yeah. I'm excited too. The fans really love Storm, and so I'm really happy that it's worked out that way. No matter what my part will be or won't be, to be a part of that is always a good thing. I love it."
G/O Media may get a commission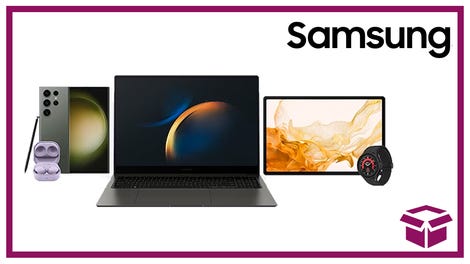 24 hour deals
Discover Samsung - Daily Deal
---
The Amazing Spider-Man 2
Gwen Stacy actress Emma Stone offers praise for the script, which was rewritten by Roberto Orci, Alex Kurtzman, and Jeff Pinkner from an original draft by Amazing Spider-Man writer James Vanderbilt:
"I'm in it, Andrew is in it. They just cast Dane DeHaan as Harry Osborn, who is such a great actor, I think that will be wonderful. And Shaeline Woodley as Mary Jane, who's also wonderful. So there's all that, and the script is very, very good. I'm very much looking forward to it.

I'm very happy the way our first one was received so well. It'll be cool on the next one to see how Gwen and Peter bridge that distance that was between us at the end of it. I think it all unfolds pretty neat. And I hope they continue letting Gwen be heroic. I think they might!"
[Cineplex via Comic Book Movie]
---
Guardians of the Galaxy
Game of Thrones costar Jason Momoa reportedly is still in contention to play Drax the Destroyer — the current rumor is that about half of the key decision-makers want Momoa even though he's holding out for more money, while the other half want to go with a cheaper option. The main alternative right now is reportedly Dave Bautista, a former WWE star who has recently landed roles in action fare like The Man with the Iron Fists and the upcoming Riddick. If neither of these two work out, Marvel Studios will reportedly choose "a complete unknown" for the part. Also, Real Steel/Lost actor Kevin Durand is reportedly in the mix for an unknown role. [Latino Review]
---
Iron Man 3
This interview with writer-director Shane Black comes from the French magazine Premiere, so this is almost certainly a case of Black's thoughts being translated from English to French and then back again to English. As such, this may not be a totally accurate reflection of his thoughts on how Iron Man 3 fits into the larger franchise and his writing process, but it's still interesting:
I have the feeling that the story that we have developed for Iron Man 3 actually concluded a trilogy, while [also] leaving the door open to a fourth. I had a lot of discussions on this subject: "Is that it is the last Iron Man for Robert?" Something tells me that it will not be the case, and will be seen in a fourth, or fifth ... But I can be a little excited...

When Marvel hires a director, the script of the film is generally already written. Except that they had someone who is a writer at the base ... This was a problem at first, because they had already hired Drew Pierce to write Iron Man 3. I was like, "But I do not need this Drew Pierce, what's the story?" (laughs) I finally agreed to meet him, and it was immediately heard. Today I am not only a fan of Drew Pierce, but I've also become a friend. He came [to my] home everyday, we asked our leaf and our pencil and brainstorming from morning to night. The script was really written for four hands. Excellent collaboration because they had already hired Drew Pierce to write.
[Premiere via Comic Book Movie]
---
The Wolverine
Director James Mangold tweeted a bunch of images from films that "inspired/influenced The Wolverine." The list includes:

He then followed these up with a pair of photos, one from Shane and the other from Chinatown, which in case anyone was wondering is my pick for greatest film of all time.
---
Riddick
Here's the latest photo from the film that Vin Diesel posted to his Facebook page. This one features Diesel and costar Dave Bautista, who you might remember from such stories as that Guardians of the Galaxy item a few paragraphs ago. [Facebook]
---
Snow Piercer
Apollo 13's Ed Harris discusses what drew him to Bong Joon-ho's upcoming sci-fi epic, in which the remnants of humanity survive a new Ice Age inside a gigantic train:
I saw three of director Bong's movies and I said, "I want to do this. I don't care what he's asking me to do because he's a really great filmmaker." His friend and fellow filmmaker is director Park, who did Stoker. I met director Park when I was in Prague. He came by the set and actually produced director Bong's film. He seemed like a really interesting guy, and Oldboy just blew me away.

Who are you playing in that?
I play a guy who owns and runs a train. You don't see me until the end. There's a revolution going on with all the poor people that starts in the back of the train and moves its way forward. They finally get up to the front where I'm at. It was trippy. The sets were unbelievable. They had these big train cars that they build on a soundstage, and the whole thing was on this gimble deal. I hope the film works. I can't see that it won't, but it was amazing. That was really a trip, working on that. His whole way of working is so different. He'll just shoot bits of a scene at a time. Normally, you'll shoot a master and shoot the whole scene on one person and then shoot the whole scene on another, but he'll shoot a little bit one way, and then shoot a couple lines another way. He just constantly gets the pieces that he knows he wants. And he had the editing thing down below the stage where the trains were, and the editor was cutting while he was shooting. It was out there.
[Collider]
---
Oz the Great and Powerful
Confirming that Mila Kunis is indeed playing the Wicked Witch, director Sam Raimi discusses how she approached her performance and why he didn't feel the need to play up its scariness:
I love making those horror movies, but I was really guided by Mila Kunis' performance and what her instincts were, in playing that character, and she decided that she would play her like a woman scorned. She wasn't really thinking about the fact that she was green. She was playing it as an innocent who fell in love and her heart was broken and she suffered, but she couldn't take the suffering and wanted to end that suffering, and her sister was all too willing to let that suffering end. It awakened something that was already there, but just fueled the fire, and that rage drove her. So, I wasn't tempted to make it more like a horror movie. I wanted her to guide us, and I would follow her with the camera.
[Collider]
Fellow witches Rachel Weisz and Michelle Williams explain how the elaborate costuming helped shape their performances:
Weisz: Sam is so up for exploration. He was making this really big-budget movie, and I can't even imagine the level of pressure he was under, but he was just up for an exploration, all the time. There were these incredible drawings of our costumes that were done by Michael Kutsche. My character looks a bit like a bird of prey, and she's slightly militaristic via Las Vegas. Because I was getting into character, Sam said to play around with Gary Jones, the costume designer. So, we spent a couple of weeks in a room and I cooked up this costume that I brought to the first screen test, where I looked a bit like the Duchess of Windsor. It was this little green dress and a little crown because there was a side of my character who just desperately wanted to be queen, and Sam looked at it and said, "It's just not right. You need to go back to the original thing." But, part of my process was me finding my desire to be queen. The dress turns from green to black, once I'm out to the audience as a bad girl.

Williams: I remember that it became very clear to me that Glinda needed to change her dress to go into battle, and that she needed something that she could move more freely in and that could look like armor, after we had already shot something of me in my other dress, doing something in battle. I went to Sam and said, "It's really important to me. I know what it should look like. Is there any way, please?" And Sam is so accommodating that he said, "If it means that much to you, then it means that much to me," and we got to reshoot that with the new dress.
There's more at the link. [Collider]
---
Evil Dead 4
Sam Raimi would like to make it clear that this weekend's comments about writing a new Evil Dead movie aren't entirely accurate, and basically he blames all of you for forcing him to get your hopes up:
Those guys made me say that. I am thinking about it but a crowd goes "Come on Sam, do it!" so I said "Okay, I guess I was talking to my brother about it." But I feel like I was pushed into saying that, a little bit. In the hallway today I joked with Ivan [his brother] "Get working on that script!" but I really don't know. I'm afraid that every time I talk about it people get really mad at me when I don't follow through with it. I would like to work on the script over the summer, that much is true. But the reason to come back and do it again is only that they're making me, those fans.
---
Wreck-It Ralph 2
Director Rich Moore says one concept they're kicking around for the likely (but unconfirmed) sequel is whether other versions of the title video game character could exist and interact. Either because there are other copies of the same arcade machine plugged in elsewhere, or because there are different versions — sort of like teaming up the title characters from Mario Bros., Mario 64, and Mario Galaxy. Which, now that I've mentioned it, is something I really, really want to see:
"Are there other Ralphs? What would happen if another Fix It Felix, Jr. game was plugged in? Are there other Ralphs that are more contemporary? Is there another version of the game that was made for mobile? Are there those kind of Super Smash Brothers types games where all the characters are gathered in a fighting game? What would that be like for Ralph to come face to face with those different iterations of himself? And it's created some really cool conversations, so I think that that is so funny you bring up because it's something we're playing around with right now... I'm at the point right now where it's kind of hard to answer that question [whether this will actually be in the sequel] because we're thinking about it right now and it's a very very interesting story. It's a complex issue that would make for a very interesting storyline. I really appreciate you bringing it up, because it means we're not the only ones thinking about it."
---
Doctor Who
We already saw the first promo image from the second half of season seven, which kicks off on March 30, but here's some words from head honcho Steven Moffat:
It's the 50th year of Doctor Who and look what's going on! We're up in the sky and under the sea! We're running round the rings of an alien world and then a haunted house. There's new Cybermen, new Ice Warriors and a never before attempted journey to the centre of the TARDIS. And in the finale, the Doctor's greatest secret will at last be revealed! If this wasn't already our most exciting year it would be anyway!
And here's the description for the mid-series premiere, the Moffat-penned "The Bells Of St. John":
Set in London against the backdrop of new and old iconic landmarks, The Shard and Westminster Bridge, 'The Bells of St John' will also establish a new nemesis, the Spoonheads, who will battle the Doctor as he discovers something sinister is lurking in the Wi-Fi.
---
The Walking Dead
Executive producer and makeup maestro Greg Nicotero discusses what to expect from season four, which begins production on May 6:
"I think there may be a wee bit less of the run and gun. And [we'll] get a little more into some of our characters. The challenge with a show like this, when you have a big ensemble, is you don't want any of the characters to get lost; it's important that we know what Carol's story is and that we know what Beth's story is. And when you're trying to service a lot of characters, it becomes challenging. Watching the first season of Walking Dead and seeing how grounded it was, that's really important to all of us. Andy Lincoln and I spent a lot of time going through the scripts and making sure we feel that they're grounded. Because that's what keeps our audience coming back. The walkers and the gore and the action and stuff, that's fun, that's the popcorn part of it. But if you don't have characters that people are invested in, you lose your audience."
There's a bunch more at the link. [EW]
---
Once Upon a Time
Star Jennifer Morrison discusses what's ahead on the show, starting with what the seer told Rumplestiltskin:
There's now this looming threat, basically, on Henry's life that no one's aware of, and it's something I think they're setting up to pay off over time. It's also interesting because the Rumplestiltskin/Mr. Gold character has really evolved - we've gotten to see two very different sides of this man, even in the Storybrooke world. He does have this love for Belle and he doeshave capacity to be good, and yet he's also got this capacity to be darker than anyone else. He's also made true on his deals with Emma, so oftentimes Emma does end up aligning with him, knowing it's like "the devil you know or the devil you don't." With him, there's a certain, almost bizarre "code of ethics" to his evil.

Has Emma unwittingly leveled the playing field with regards to Regina? Is Regina going to seize an opportunity to prey on Henry's hurt?
On some level. But unfortunately for Regina at this point, she is so wrapped up in her own sort of mess that's going on with her mother… and her failing at trying to not use magic … that she sort of misses seeing her opportunity. She does make a move to get him back, but she doesn't necessarily make the most strategic move based on the circumstances.

Adam told me that Emma's love life is going to become "really complicated" — care to elaborate?
[Laughs] I think it's becoming incredibly complicated, incredibly slowly. Nothing happens quickly for Emma in love, unfortunately. Neal has someone in his life (played by The Walking Dead's Sonequa Martin-Green), so even though Emma's saying she doesn't care for him, you see that glimpse of, "Oh, Ireally don't want to hear about this guy having someone he's in love with." In the meantime, obviously there's always been a connection, some kind of "kindred spirit" element, between Hook (Colin O'Donoghue) and Emma.
There's still plenty more at the link. [TV Line]
---
Additional reporting by Katharine Trendacosta.