Shane Black talks Predator and Doc Savage. Tom Hiddleston denies those James Bond rumors. Scott Gimple hypes up The Walking Dead's Negan. Plus, Marvel's Most Wanted and American Gods casting, and some timey-wimey pictures from next week's Flash. To me, my Spoilers!
Predator
Shane Black talks about Fox's approach to treating the movie, which got him on board with the project:
They said, 'What if we said to you we want to reinvent this, and really treat it with as much of an event status, or as much hoopla as we would the Alien prequel, which is coming out also? We really want to make this something. The kind of movie that people line up for.' I said, 'Really, you'll spend a bunch of money?' They go, 'Yep.' I go, 'Make it really scale, spectacle?' 'Yep.' 'Shit, that sounds interesting.'
---
Spider-Man
Zendaya has confirmed that she is joining the movie in a recently reported undisclosed role. [CBR]
G/O Media may get a commission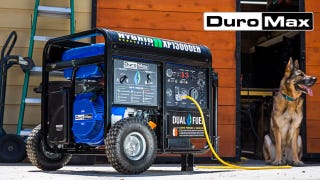 Black Friday Sale
DuroMax Generator Sale
---
Annabelle 2
David Sandberg will direct the follow up to the creepy doll movie. [Variety]
---
James Bond
Tom Hiddleston responds to recent rumors that he is being considered to replace Daniel Craig as James Bond, largely inspired by the fact that a) He currently plays a spy in the BBC series The Night Manager, and b) He's Tom Hiddleston:
I play a British spy in 'The Night Manager,' so I think people have made the link.

As somebody who grew up with Sean Connery and Roger Moore, when you mention it, there's a part of me that goes, 'Really?' You know, 'Are you kidding?' But I feel like who's going to be the next James Bond is one of the nation's favorite pub conversations. It's up there with who's going to win 'X-Factor.
---
Doc Savage
In the same interview in which he discussed Predator, Shane Black offers an update on the film, adding that he'd hope for someone like Dwayne Johnson to play the classic pulp comic hero:
'Doc Savage' is sort of in the ether now. We're hoping to make it sometime next year. I would very much like to do 'Doc' with a fellow named Dwayne Johnson if we can make that work. I made a decision that Dwayne is the guy.
---
Legends of the Hidden Temple
Former host Kirk Fogg has joined the Nickelodeon TV movie adaptation. [Coming Soon]
---
Hardcore Henry
Head on over to Coming Soon to see an exclusive TV spot for the first-person action movie.
---
Game of Thrones
Despite the fact that the show's incoming season will be the first that largely advances plots beyond George R. R. Martin's A Song of Ice and Fire books, David Benioff and D.B. Weiss say that the show won't actually spoil the moment-to-moment beats of future books, even if certain elements will be the same:
Benioff: People are talking about whether the books are going to be spoiled – and it's really not true. So much of what we're doing diverges from the books at this point. And while there are certain key elements that will be the same, we're not going to talk so much about that – and I don't think George is either. People are going to be very surprised when they read the books after the show. They're quite divergent in so many respects for the remainder of the show.

Weiss: What makes the books so great is that George doesn't make meticulous blueprints for every beat of this story and then fill in the blanks dutifully going from A to B to C, fleshing out an outline. At a certain point, we realized we were going to outpace the books and we kind of chose to see it as a great thing on both sides – there's this amazing world George has created and now there are two different versions, and there's no reason we can see why you can't be thrilled and surprised and dismayed by both of these different versions of this world.
[EW]
---
Supergirl
Former WWE wrestler Eve Torres expounds on her recently-announced role as Maxima:
Anyone who reads the comics knows Maxima comes to Earth in search of a mate among the superhero population — specifically Superman. She's denied by him and she becomes very angry and bitter. We'll see how that history plays out in the show — every adaptation is a little bit different, but Supergirl does a great job with the source material.
[WWE]
---
Marvel's Most Wanted

Oded Fehr and Fernanda Andrade have been cast in the series in undisclosed roles, according to Spoiler TV. The site also released what it describes as "tentative" key art for the show's logo.
---
The Walking Dead
Scott Gimple discusses Negan's characterisation on the show:
He's not a psychopath, and in some ways, he has this bizarre sort of empathy to him. It's bizarre that he actually does have some empathy and he does have a system and he does have, in some ways, even reason. There are a lot of moments that are so terrifying because you can't reason with him because he's made up his mind on something. But he does reason things out. He isn't just some psychopath. He's such an enjoyable character to read. He's been an enjoyable character to write, although a lot of it is Robert's writing from the book. I would just say you haven't seen anything like him on The Walking Dead.
[EW]
---
American Gods
A plethora of casting roles have been announced for the series. Sean Harris has been cast as Mad Sweeney, a "down-on-his-luck leprechaun" in the employ of Mr. Wednesday, Yetide Badaki will play Bilquis, a goddess of love struggling to find relevance and worshippers in the modern world, and Bruce Langley plays Technical Boy, a new god of technology eager to prove himself to the other gods. [THR]
---
Lucifer
Here's a brief synopsis for "St. Lucifer". [Spoiler TV]
When philanthropist Tim Dunlear is found dead, Lucifer explores his good side by becoming a benefactor for Tim's glitzy Los Angeles charity in the all-new "St. Lucifer" episode of LUCIFER.
---
Gotham
And likewise, here's a brief one for "Into the Woods". [Spoiler TV]
GORDON DISCOVERS A CLUE, WHILE PENGUIN HAS A CHANGE OF HEART ON AN ALL-NEW "GOTHAM" MONDAY, APRIL 11, ON FOX

In an attempt to clear his name, Gordon steals his case file and approaches Nygma for help. Meanwhile, Penguin discovers his step-family's role in his father's death, and awakens from his conditioning in the all-new "Wrath of the Villains: Into the Woods" episode of GOTHAM.
---
The Flash
A gallery of images from "Flash Back" has been released—head to the link to see more.
---
12 Monkeys
And finally, here are some images from the second season premiere, "Year of the Monkey"—you can find more at the link. [Spoiler TV]
---
Additional reporting by Gordon Jackson and Charlie Jane Anders. Banner Art by Jim Cooke.
Image: Game of Thrones.