There are some fantastic bargains to be had if you can live without the shiniest, newest gadgets—but diving into the second-hand market comes with its own set of potential pitfalls and problems.
The Boogeyman's Sophie Thatcher Reveals What Draws Her to Dark Characters | io9 Interview
Saving some cash on tech that's used or dated isn't a new idea, but the landscape is changing all the time, as new kit appears and disappears, and demand fluctuates. You're going to save less on popular gadgets than you are on the gear that nobody was bothered about in the first place.
The most important part of working out what a good price is (and sticking to it) is in research, research, and more research. There are also some common scams and safety rules to bear in mind if you're venturing off the beaten track with your tech purchases. Follow these steps, and you should be able to get something that makes you happy for a a price that won't make your bank account groan.
Being realistic
To begin with, understand what a good price looks like. As we've mentioned, some savings are going to be bigger than others: iPhones hold their value very well, as do most flagship phones. Rare items are usually going to cost more than something that can be picked up anywhere—as long as it's a gadget that's actually useful and working, of course.
With that in mind you need to be realistic about the sort of discounts you can get, otherwise you'll be sat on eBay for months waiting for the Samsung Galaxy S7 to drop to a level that it's never going to get to. At the same time, don't get pressured into buying over-the-odds for something, especially if you know another one will be along soon.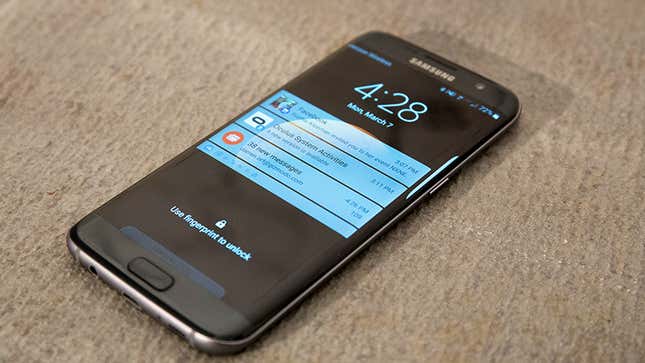 It's not just the product itself that sets the price, though—condition, accessories, packaging, warranty and so on all play a part. If the prices you're seeing are a little beyond what you have to spend, you might be able to get that figure down a bit by accepting some wear and tear or sourcing your own charger, for example.
"Research is key," Yanyan Ji, General Manager of second-hand marketplace Gazelle, told Gizmodo. "Take a look at what the original pricing of the device was, but also take into account how old it is and if the manufacturer has made a new model. Typically, once the new model comes out the price of the previous generation goes down, so you can buy it at a fair price."
Checking prices
It's not too difficult to work out what a realistic price actually is—compare a few second-hand sellers and put together an average, making sure you're comparing apples to apples in terms of device make and model, condition, and accessories. Run any search on eBay, and you can tick the Sold listings box on the left to see the prices your chosen gadget is currently going for.
We've listed a few potential marketplaces below, but most let you compare prices across different sellers, so you can quickly get a feel for how much you're going to have to spend. If it's too much, try looking for a lower-specced model, or the same gadget from the previous year's cycle. Fortunately for buyers, the market is flooded with used gadgets, so you always have options.
If you can find a seller that specializes in what you're after then you might be able to get discounts based on the sheer volume of kit these places are shifting. A

Time your buy
Timing is crucial: You should be able to get an iPhone 7 a lot cheaper the week after the next iPhone goes on sale this fall compared with the week before. Look at when your gadget-of-choice was launched, what else in the category has appeared since, and when it's likely to get replaced by something else.
Apart from that, there are seasonal fluctuations too, especially around the turn of the year. "When supply outstrips demand there are bargains to be had," says Matt Barker CEO of second-hand camera marketplace MPB. "January just after the new year is the best time to buy... the supply of second-hand gadgets surges after Christmas as unwanted presents get sold."
And just because you're buying second-hand doesn't mean you shouldn't look out for the same sort of special offers and bundle deals that apply to new goods. In fact you might get even better deals than you do with new gadgets if a seller is looking to get rid of some old tech quickly.
"Promotions can still be offered with second-hand devices so keep an eye out for key sale seasons like back-to-school or the holidays as you may get an even better deal on a device," adds Yanyan Ji. The same fluctuations in the market that affect brand-new tech affect used gadgets as well, so again it's a case of doing your research.
Avoiding scams
Beyond paying a suitable price, you also want to avoid getting ripped off completely, and there are ways to minimize the risk. Buying from a reputable second-hand gadget seller rather than the guy down the street is a very good start—you may have to pay more for the extra peace of mind, so it's up to you how to balance price with safety. Obviously the more expensive the tech, the more cautious you want to be.
Experts recommend looking for trusted payment gateways, including Braintree and PayPal, and buying from stores that use services like CheckMEND to flag up stolen goods. Buying with a credit card rather than a debit card can give you some extra protection in terms of getting refunds for faulty goods—check with your credit card issuer to see if anything like this is available for you.
If you are happy buying from someone just like you on eBay or Craigslist, check the relevant safety advice and make sure all angles are covered in terms of avoiding a scam. For eBay, checking a seller's feedback and studying the item description closely goes a long way to keeping you safe, while Craigslist says that dealing in person, locally, face-to-face, is enough to avoid 99 percent of scams.
When possible you also need to check your gadgets are in good working order before you buy. Lifehacker has a useful selection of tips for testing out a phone. Realistically though, you're going to need a few days and a few tests to spot any problems, which is why you should always double-check the returns and refunds policy.
Places to go