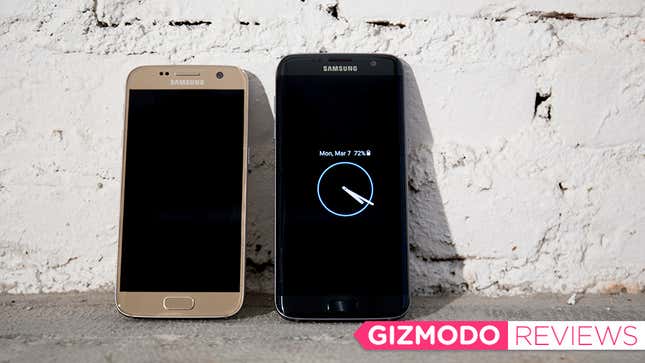 Samsung fucks up. A lot. Snooping smart TVs, insane VR demos—you name it. Even its most cherished gadget—the Galaxy smartphone—has seen its share of flaws. But with the seventh iteration of the Galaxy S, Samsung inches ever closer to a perfect smartphone.

Vizio's Latest TVs Go All Quantum
I don't use the term lightly. There's something positive to be said about almost every feature of this phone, from the camera and the battery to the display and processor. When I picked up the Galaxy S7 and S7 Edge back in early February, I knew Samsung had something here. I just didn't know what.

Now I do—and I'm impressed.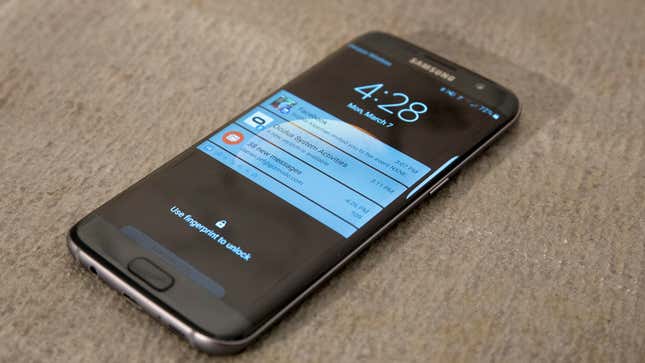 This phone hits you like "woah"
Aside from a less bulbous camera on the back, you could easily confuse the S7 with last year's S6. It's got the same glass-and-metal design, the same color palettes, even the font is the same—still etched in silver.
On the regular 5.1-inch S7, the round sides feel particularly iPhone-ish. The S7 Edge is somewhat different, with both sides of the screen sloping toward its metal bezel. But this year the Edge phone is Goldilocks—not too small like the S7 or too big like last year's 5.7-inch 6 Edge+. The S7 Edge instead comes in at 5.5 inches, and it makes a big difference, because the S7 Edge is the best feeling phone I've ever picked up. Samsung keeps elegance in design, but avoids being super slippery like the iPhone 6s. Though, alas, that sure-handedness comes at a very smudgy price. (Editor's Note: Our photographer nearly murdered this phone due to its persistent smudginess.)
But fingerprints aside, the Galaxy S's design has gone from lagging to leading. On the surface, Samsung's decided to double-down on the much criticized Apple-like design that premiered on the S6. It's impossible to deny that the iPhone's DNA is mixed in with the S7's makeup—just look at the speaker grill and bubble glass edges.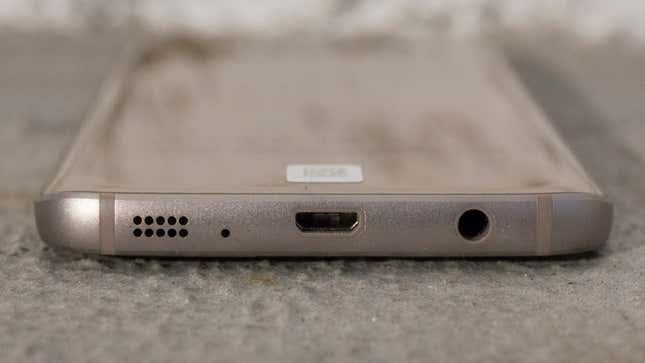 Fixing past mistakes
It's easy to dismiss Samsung's latest as "been there done that." Especially as it remains influenced by the iPhone's design. But the most amazing thing about the S7 is that it subtly improves on its own design and imbues the device with much-needed utility, like waterproofing and memory expansion.
I even dropped the phone in a sink full of water after overcoming what I can only describe as an innate, heart-pounding fear of purposely destroying such an expensive gadget. Though the S7 is near useless when submerged (water activates the screen's capacitive sensors), it's a million times better than being out $700+ and having a sore throat from screaming endless obscenities. While using the S7 Edge, I kept my phone perilously close to the edge of a sink or shower and didn't need to worry about water damage. It's the same amazing peace of mind I felt when using Sony's Xperia Z smartphones, the only other decent-looking waterproof phone out there.
Expandable storage was the other major feature abandoned on last year's S6. The S7 brings storage back and supports microSD cards up to 200GB. That's all thanks to its hybrid SIM tray—it squeezes a microSD card slot into the SIM tray. Yet Samsung's only half-committed to integrating microSD into the S7. The company left out a key feature from the latest version of Android. Flex Storage, also known as adaptable storage, allows Android devices to treat external SD cards like built-in storage. That means you can hold more than photos and videos on the card itself, and it encrypts the SD card and links it to the specific device, so it's much more secure.
So instead of some cutting edge hassle-free storage, you get the traditional "Would You Like To Save This App To External Storage" hassle. You'll still need it though. The S7 shoots 4K, which is always a storage eater. The S7 also takes photos gorgeous enough that you'll be scrambling for more room. Seriously. This camera is amazing.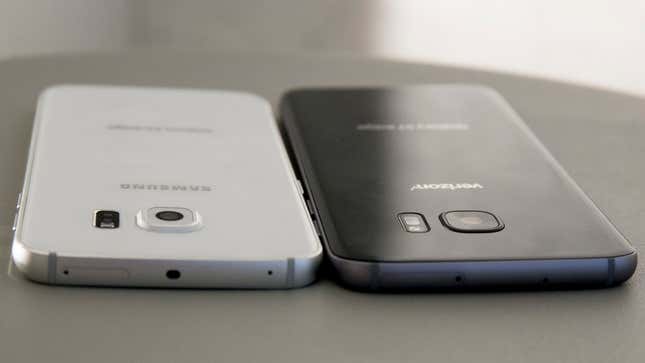 This camera is really amazing
In the beginning, the iPhone was the king of mobile photography and Android was great at catching blurry garbage photos you'd cringe at seeing on Facebook. It's incredible how much Android has caught up with iOS when it comes to mobile photography, and the S7 may be its biggest achievement yet.
From launching to using to shooting, the S7 nails it every step of the way. It keeps the quick camera opening feature introduced on the S6: you launch the camera app by double-tapping the home button. For Apple enthusiasts you can also open the camera by swiping up on the lock screen.
The Apple enthusiasts, and general photographers, will be pleased by the expansive shooting modes introduced in the S7. You can then shoot in a stripped down "Auto" mode that will often be good enough. Or you can opt for more control with "Pro." This option allows you to adjust nearly everything an actual photographer would want to adjust, including metering, focus, white balance, ISO, aperture, and other photo-y insider terms.
But what really matters are the results, and the S7 speaks for itself.
Take a look:
The photos I took wandering the city on a crisp day are nice, but it's in low-light where the S7, with optical image stabilization and an industry-first f/1.7 aperture lens, completely cleans up.
While both photos below still have a fair share of grain, the S7 picture is a much more pleasing shot because you can actually see the detail of the photo rather than most of it being cloaked in shadow on the iPhone 6s. That's because the f/1.7 aperture lens brings in more light than the f/2.2 found on the iPhone. The S7 even captures 95 percent more light than last year's S6, a camera we also loved.
The S7 also focuses incredibly quickly. Samsung attributes that to a change in the photo sensor. Each pixel now does double duty—capturing light and focusing at the same time. The cool tech term for this DSLR-level tech is Dual Pixel Autofocus. Learn it. Love it. Wear it out to parties and impress your friends.

Basically, you won't be greeted with a blurry nightmare when you're dealing with a moving subject or caught in less-than-ideal lighting conditions. Honestly, the S7 camera is the most fun and functional smartphone camera I've ever used. That's impressive because Samsung has consistently put out one of the best, and most entertaining, smartphone cameras available.
A TouchWiz OS that's worth a damn
But Touchwiz, Samsung's own software reworking of Android, doesn't have such a spotless "fun and functional" record as that camera. TouchWiz is hampered by history, and for a long time it was the laughing stock of Android user interfaces. It was ugly, it was clunky, and it was fat.
Samsung has a bad habit of creating apps no one wants or uses, shoving them onto phones, and making them non-negotiable. The S6 took a big step toward wrestling with the nagging impulse to bloat, and the S7 also fights that demon. And thankfully for all of us, it shows signs that it might be winning.
Samsung finally has a version of TouchWiz I actually want to use. It's implementation is very much akin to traditional (and more attractive) Android, and it's subtly cleaned up some areas, like the notification menu. Best of all, with 4GB of RAM and the Snapdragon 820 processor, this thing flies—most of the time.
We ran into one major problem. The S7 is as slow as a Jamaican bobsled team when it comes to opening big apps and detailed documents. I tested Marvel's Contest of Champions load time against the iPhone 6s and the S7 took several seconds longer to get the game going. Contest of Champions relies on online servers to load, so I tried a second experiment, opening up a NOAA nautical chart in PDF format on both phones. As you can see below, Samsung can't quite match the load speeds of iOS.
Aside from the sluggish performance by comparison (this thing is still stupid fast), Samsung continues the tradition of adding on more and more software features with varying degrees of usefulness. One is the S7's gaming tool, which is great if you're a big mobile gamer. Granted, you can find a lot of these features in Google Play Games and other apps, but the S7 makes them all super simple and puts them all in one place. The tool keeps track of all the games on your phone, and when you launch a game, a small bubble icon gives you access to things like recording, muting alerts, and locking the capacitive keys to avoid accidental presses.

But the big software feature for the Galaxy S7 is its Always On OLED display. Unlike some other features, it doesn't require an Edge to work, and, you know, it isn't complete shit. Instead it takes advantage of the S7's OLED screen and turns on only the pixels that need to be lit. So you get a nice, bright, ever present clock without worrying about wasting all of your battery.

But it's not nearly as great as the other big always on display, the Moto Display found on last year's Moto G and Moto X. Like Samsung's Always On OLED, Moto Display lets you see the time and some notifications on the lock screen. Unlike the S7, Moto Display also lets you use third-party apps, and it lets you check your notifications with a long press to the screen.
The S7 doesn't let you use third-party apps. It doesn't even let you use some of the built-in Android apps for Always On notification. You're stuck using the proprietary Samsung messenger and dialer, and even then you can't see who's calling or texting. Considering that I use Hangouts for all my digital missives, that's some major suckage, and it prompts flashbacks to that old Samsung TouchWiz life. It's a possibly cool feature that's hopelessly imprisoned in its own walled garden of usability—much like Samsung's "Edge features" on last year's S6.
Luckily, Samsung doesn't repeat its edgy S6 mistake. Last year's "Edge" features were completely superfluous and definitely not a reason to choose the Edge devices over the plain old S6. For 2016, Samsung attempted to make the Edge more than a "neat" feature that costs $100 more. It's added additional panels and brought third-party apps, like Yahoo Sports and News, aboard. It's also added a super cool macro feature, the "Tasks Edge." It works sort of like the popular Android app, Tasker, and lets you build macros into your phone, like automatically texting a person or getting a map to a popular location with a single button press.
But the big problem with the Edge feature is it still doesn't feel necessary. My homescreen is already a shortcut to the apps I use most. I don't really need a shortcut on top of a shortcut. We're a year into the Edge extravaganza and I'm still not seeing the point of the Edge application. I'm not sure Samsung does either.
But the Edge feature isn't TouchWiz's biggest consistent problem. No, that accolade goes to the glacial pace at which TouchWiz receives official Android updates. It continues to make it difficult to whole-heartedly recommend software that will a.) be late to update its device with the latest build of Android and b.) not even implement some of Android's best features, like adaptable storage. It's not a dealbreaker when considering the exceptional S7, but definitely a checkmark in the "cons" column.
But you know what isn't a con? The S7's battery.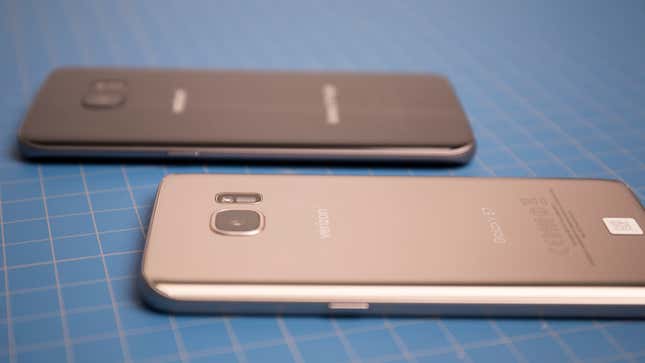 A phone that lasts for days
I took the Galaxy S7 Edge off the charger at 8am with its Always On Display turned on, and it died around midnight...THE NEXT DAY. I got two solid days, which I haven't experience on any phone before—even in smartphones where that's the entire selling point behind the thing.

Samsung talked up the battery life on the S7 and S7 Edge, and for good reason. Because even if you put the S7 Edge through the ringer—playing games, streaming Netflix, using GPS, etc—it'd still power through an entire day before dying out. It's easily the biggest technical achievement over the S6.
And it's a good thing, too. Samsung will not be bringing back a removable battery. And that sucks for some people. But phones like LG's new all-metal G5, which still sneak in a removable battery, sacrifice any kind of water or dust protection because of it. So while you may fear for your smartphone's battery health after a year or two, at least it won't fall victim to the elements.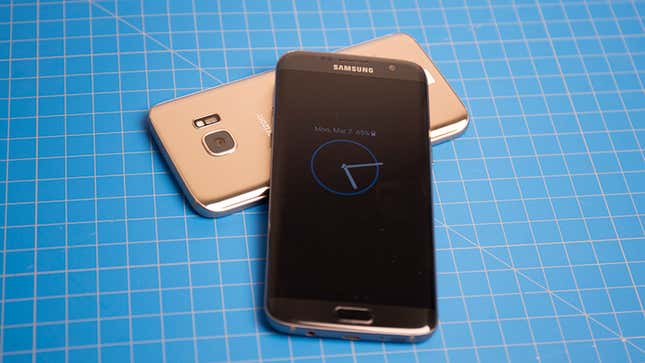 It looks great. Feels great. Lasts forever. Has a stellar camera. Packs in every conceivable piece of technology you could possibly want. And the entire thing is waterproof (up to five feet deep for 30 minutes). The Galaxy S7 is the best Android smartphone I've ever used.
It is all about refinement—fixing what was broken with the S6 while packing in more and more cool stuff. It's not perfect. A set of dual lens cameras could capture more, the always on display could have third-party support, and faster loads times would be appreciated. But this phone is the closest Samsung—or any other phone maker—has ever come to making the perfect smartphone.
This is the one to beat.
---
README
One of the few phones out there that looks good and won't shit the bed if accidentally dropped in some H20

A camera that slays the competition and an excellent "pro" mode for photography nerds

Fixes past mistakes by adding external storage, and at least packs in a giant battery as a mea culpa for ditching a removable one

A significantly better TouchWiz. It's no stock Android, but it's at least worth considering

Still not quite up to speed when compared side-by-side with the iPhone 6s
---
Spec Dump
Network: AT&T, Verizon, T-Mobile, Sprint

OS: Android 6.0 (Marshmallow) with TouchWiz

CPU: Snapdragon 820 processor/ Exynos 8890

Screen: S7- 5.1-inch 2560x1440 Super AMOLED (577 PPI) / S7 Edge - 5.5 2560x1440 Super AMOLED (534 PPI)
RAM: 4GB

Storage: 32GB + microSD up to 200GB

Camera: 12 megapixel rear camera (f/1.7 and OIS)/ 5 megapixel front camera (f/1.7)

Battery: 3000 mAh / 3600mAh

Dimensions: S7 - 5.61 in (142.4mm) x 2.74 in (69.6mm) x 0.31 in (7.9mm) / S7 Edge - 5.94 in (150.9mm) x (2.86 in (72.6mm) x 0.30 in (7.7mm)

Weight: S7 - 5.36 oz (152g) / S7 Edge - 5.54 oz (157g)

Colors: Gold and Black (S7); additional silver option for the S7 Edge
Price and Availability: Varies by carrier, $680 for the S7 and $770-800 for the S7 Edge, available March 11.
Notable Extras: Water resistance (IP68), MST/NFC for mobile payments, Qi and PMA (AirFuel) wireless charging, Always On display.
NOTE: We tested a US Galaxy S7 and S7 Edge on Verizon. Your experience may differ on another carrier. If you're not in the US, your phone might come with Samsung's Exynos processor, so some results may vary there as well.
Update: We did a complete test of the S7's waterproof claims, camera boasts, and battery longevity. Take a look below.
---
Contact the author at darren.orf@gizmodo.com.