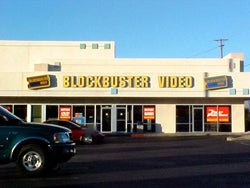 First off, thanks to everyone who tipped me off on Slot 2 cards for the DS. Much appreciated! I went with a M3 Lite Perfect, in case anyone was wondering.
I also took a stroll down to the local Blockbuster this weekend and traded in some games. For those of you, like me, who are sick of getting $5 for a pretty new game from EB Games, you can hit up Blockbuster and they'll give you quite a good deal on trading in games (as long as they don't already own a bunch of them). Sure, it's store credit, but with their rent-to-own program (better known as no late fees), you can essentially use it to buy a new-ish game with the credit. Nice!
Don't know how to comment? Here's how:
1) Click on the "Register" link on the top right of the page. Fill out the form by choosing a username, password and email for your eventual comment account.
2) Choose a post, click on it, and scroll to the bottom.
3) Fill in the comment.
4) Refresh the page to see if your comment shows up. If it hasn't within a day or two, try again with a better comment.