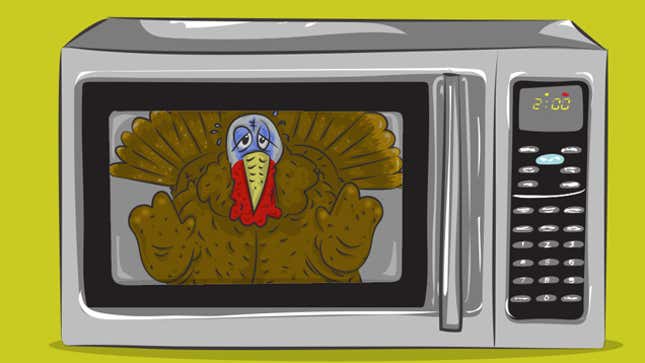 Thanksgiving is meant to be a time of reflection and solemn appreciation of the joyful bounties that our lives have bestowed upon us—or, more likely, a time to gorge on football marathons and good food. But who wants to spend every waking turkey day hour over a hot stove? Not you. Here's how you can cook an entire Thanksgiving feast using nothing but your microwave.
---
Turkey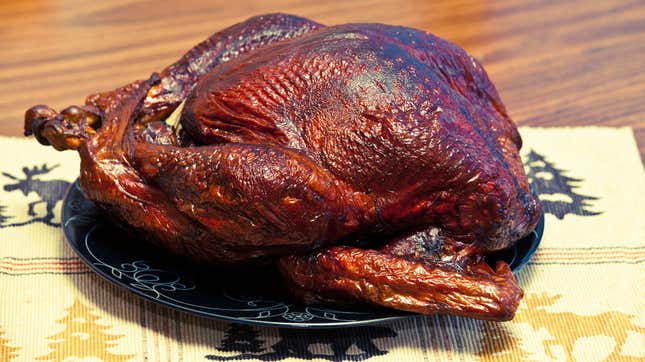 Image - Jason.Lee
They don't call it "Turkey Day" for nothing. Your bird is the centerpiece of the meal and better be done right—even if you are just nuking it. In fact, cooking a turkey in your microwave is, in some ways, even easier than conventional oven roasting (I'm looking at you, basters). So long as the bird fits inside the oven—with at least three inches overhead and another inch or two on either side—and doesn't weigh more than 12 to 14 pounds, you should be set.
Ingredients
1 turkey, small enough to fit in your microwave
1 microwave-safe roasting bag
spices and seasonings to taste
Prepare your defrosted turkey
Remove the giblets and set aside for gravy
Rinse the turkey thoroughly, inside and out, then pat the carcass dry with paper towels
Apply your preferred seasoning rub.
Place the seasoned turkey into the microwave safe roasting bag, close the bag (not completely, you need it to vent.
Note: do not stuff the turkey. If you want stuffing, cook it separately otherwise it throws the cooking time completely out of whack.
Cook That Bird
Set the bagged bird on a large plate in the microwave.
Cook for around 10 minutes per pound at 50 percent power—this will vary depending on the size of the bird and the power of your microwave so it's best to undercook it slightly first then add time as needed. The turkey's done when a meat thermometer jammed into its deepest bits reads 165 F.
Pull the bird out of its roasting bag and let stand for 15 to 20 minutes before carving.
---
Stuffing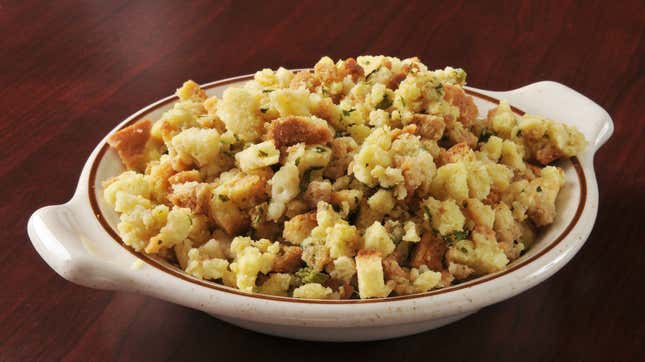 Image: MSPhotographic
Just because you can't cook it in the the bird doesn't mean your microwaved holiday meal must do without the bready deliciousness that is stuffing. And as Food.com contributor Northern_Reflectionz shows, you'll spend more time collecting the ingredients than you will actually cooking it.
Ingredients
8 cups breadcrumbs
1/2 cup minced onion
1 cup minced celery
1/3 cup melted butter
1 cup chicken broth
2 teaspoons salt
1/2 teaspoon poultry seasoning
1 dash pepper
Head over to Food.com for the full recipe.
---
Mashed Potatoes and Gravy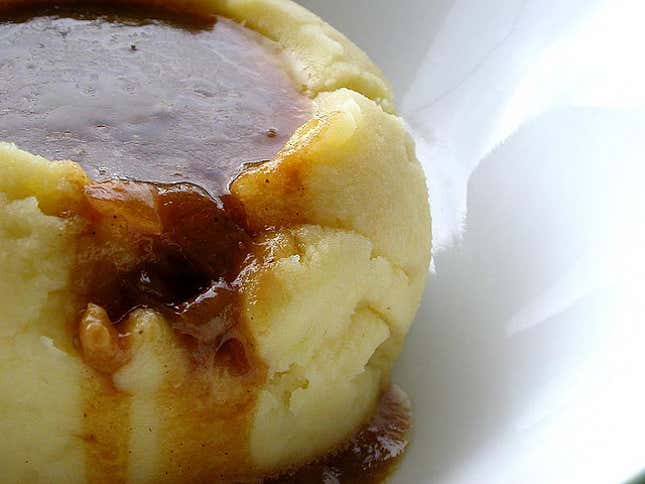 Image: chotda - Flikr

With even the best cooked bird, you're going to need some starches to help fill up your guests' plates. Luckily, making mashed potatoes in the microwave is just as easy on the stovetop. Here's what you'll need, get the full recipe on What's Cooking America
Ingredients
2.5 pounds potatoes, peeled, cut in chunks
1 cup milk (2% or greater yields richer, creamier product—you might even try with half and half)
4 tablespoons of butter
salt and pepper
How to Make Gravy
Whisk 2 tablespoons of all purpose flour into 2 tablespoons of turkey drippings. Add 1 cup of heavy cream, 1 cup chicken or ve broth, and mix until smooth. Cook on high for 3 minutes, then remove from the microwave and add salt and pepper to taste.
---
Cranberry Sauce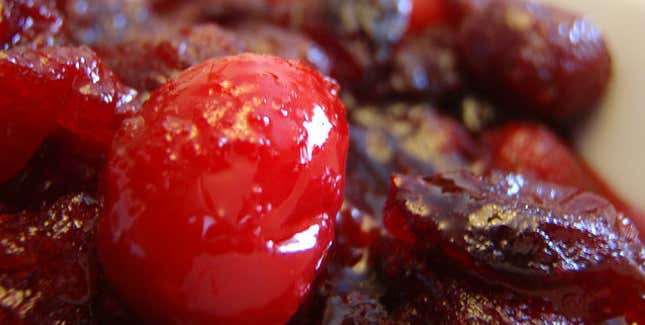 Image: i kwan - Flickr
What, you eat cranberry sauce out of a can? Are you some sort of philistine? Do you not realize how ridiculously simple it is to make fresh cranberry sauce right there in your microwave? Just check out this recipe from Food.com.
Ingredients
2 ounces cranberries, fresh or frozen
1 1/4 cups sugar (a little more sugar, if you prefer it sweeter)
1/2 cup orange juice or 1/2 cup water
1 teaspoon grated orange rind
---
Candied Yams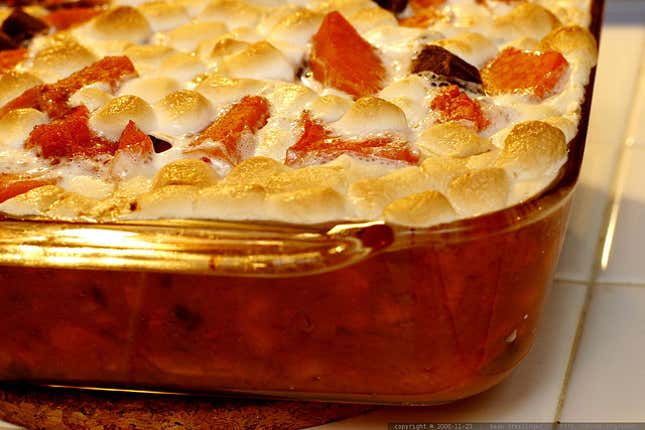 image: sean dreilinger - Flickr
It just wouldn't be Turkey Day without candied yams. And with this simple recipe from Cooks.com, you'll be able to put the dish together during halftime.
Ingredients
1 pound peeled & sliced yams (fresh or canned)
1/2 cup sugar
1/2 cup brown sugar
2 tablespoons cornstarch
4 tablespoons butter
1 cup orange juice
marshmallows to taste
---
Apple Crisp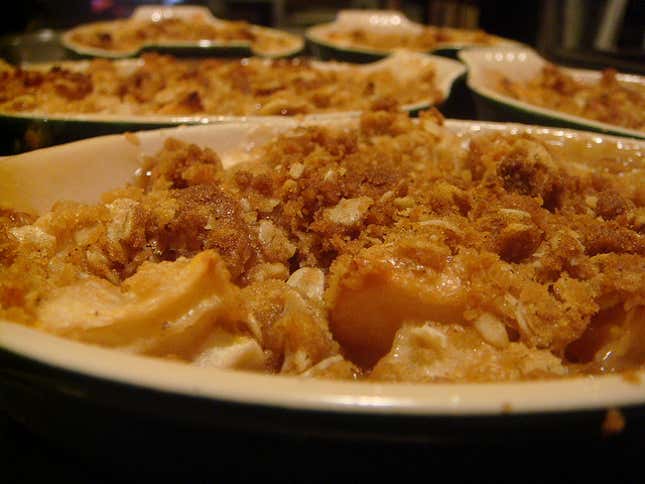 image: megan.chromik

No Thanksgiving meal would be complete without something sweet. But since you microwave likely doesn't come with a "bake" option, conventional pies are right out. Instead, treat your guests to this delicious Apple Crisp from All Recipes.
Ingredients
4 large Granny Smith apples - peeled, cored and sliced
1/2 cup butter, melted
3/4 cup packed brown sugar
3/4 cup quick cooking oats
1/2 cup all-purpose flour
1 teaspoon ground cinnamon
1/2 teaspoon allspice
Illustration by Sam Woolley