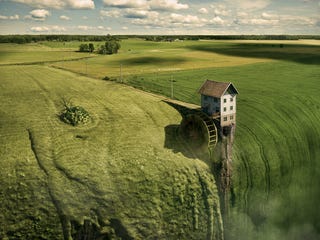 Photographer and retouch artist Erik Johansson produces some remarkable illusions. If you are curious about how his latest image—entitled Landfall—was put together then this video has a lot of the answers as Erik takes us through the process from concept to completion.
Also, have a look at Erik's other talented recent art below.

Erik Johansson is a professional photographer and retouch artist based in Berlin. He works on both personal and commissioned projects and sometimes creates street illusions.
You can visit his personal website, and follow him on Twitter or on Facebook.
You can also buy his prints here.
---
This is part of a series in which we are featuring really cool 2D or 3D illustrations and animations. If you are an illustrator or animator with high quality work, please drop me a line here.
---
SPLOID is a new blog about awesome stuff. Join us on Facebook