Perhaps you've been using the same browser since you first unboxed your phone, or perhaps you switch between them on a weekly basis: There are just as many choices for browsers on mobile as there are on desktop and each runs a little differently. Below we've run through every major browser available—from stalwarts like Chrome and Safari to newer browsers like Puffin.

If you want to know which browser is best for your needs read on.
---
Benchmarking browsers
Browsers aren't just about cool features. They're also about speed, and to that end benchmarking browsers can be a great way of sorting out the best one for your particular phone. It's even how we started reporting this story.
But benchmarks are primarily synthetic—which means after testing features the benchmarks provide you with a score rather than a time to completion. This means its easier for a browser to "game" the benchmark and get better scores than they might achieve in real world scenarios.
So you should make a habit of testing multiple benchmarks just to be safe. Fortunately most benchmarks are free and super easy to use.
G/O Media may get a commission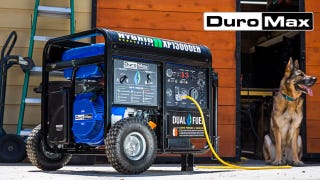 Black Friday Sale
DuroMax Generator Sale
For our tests we focused on two benchmarks in particular: The newer Basemark Web 3.0 and the old stalwart, Peacekeeper. Basemark test browsers by rendering content in HTML5, WebGL, JavaScript, and other web technologies, while Peacekeeper focuses specifically on HTML 5. T
his difference in what the benchmarks test resulted in some wildly different results with no one browser coming out ahead on our Android test device—a Nexus 6P. Though Chrome did manage to come in second place on both tests.
When we tested the browsers on an iPhone 7 Plus we also found no immediate winner—though Microsoft Edge managed second place in Basemark and first in Peacekeeper, which would, theoretically, crown it the winner. Puffin, meanwhile, was completely incapable of running Basemark on iOS.
What this means is that you should do your research before settling on any one browser, and you should be careful not to take any single benchmark as gospel when choosing the fastest browser.
---
App size: 182.0MB (Android), 59.4MB (iOS)

Probably the default choice for many due to the way it syncs everything from the desktop version of Chrome, pulling all your browsing history, bookmarks, login information and so on over to your phone regardless of which desktop operating system you use. It's as slick and speedy feeling as it is on the desktop, and you of course get the usual little Google-esque touches like the option to search the web using your voice.
Other features of note include the one-touch search feature (handy for looking up terms quickly), a data saver mode for optimizing webpage sizes (via Google's servers), and a download button you can use to cache whole sites for offline reading. As on the desktop, Google Translate is built right in, so you can get foreign sites in your language of choice.
As refreshing as it was when it first launched, the benchmarks we've run show Chrome isn't always the fastest mobile browser, and nor is it really the most feature-rich—it's the popularity of Chrome on the desktop, and its tight integration with everything Google, that makes Chrome for Android or iOS worth your time, and also makes it hard to switch from.
That's not to say the mobile version of Chrome is a bad experience: It's speedy, the on-screen elements are smartly laid out, and its uncluttered interface is particularly helpful on smaller screen sizes. However, it's really everything beyond the app that makes it a preferred choice for a lot of users, rather than what the mobile app itself has to offer.
---
Apple Safari (iOS)
The browser you may well be sticking with out of habit if you're on an iPhone, Apple continues to add new features to its mobile browser, most recently some intelligent blocking of ad trackers and tighter Siri integration. As with Chrome, Safari is more appealing if you use it on the desktop too, as a lot of your stuff gets synced across.
That even includes open tabs, thanks to the growing reach of iCloud, and it's easy to see why Apple loyalists wouldn't see any reason to switch, especially as Safari is so deeply integrated into iOS. Okay, it's not got the nicest-looking or most intuitive of interfaces, but it's fine, and you can be sure that Apple is less interested in tracking you're browsing habits than Google is.
Safari punched pretty well in our benchmarks, and features like the reader mode and the reading list are very useful. Ultimately though it feels like it's the same story as with Chrome—Safari is a good browser choice because of its tight integration with other Apple products, not least your phone, rather than anything that's actually in the app itself.
With the growing influence of Siri, that's only going to get more true over time. Considering the benefits of using the same browser on mobile and desktop, it's surprising that development of Safari on Windows has stalled, giving Windows users another reason to use Chrome on iOS.
---
App size: 53.9MB (Android), 56.3MB (iOS)

Once upon a time the alternative to Internet Explorer and now the alternative to Google Chrome, Firefox has the same cross-platform syncing tricks up its sleeve as Chrome does, so if you use it on the desktop it makes sense to use it on mobile too. It's got several other neat features as well—like the toggle switch for stopping video content from autoplaying.
Its thumbnail system for open tabs is a little nicer than Chrome's stacked cards approach, and as you would expect it's easier to switch to other search engines besides Google (from Bing to Amazon) on the fly. You've also got a wide choice of extensions you can add on mobile, from ad blockers to plug-ins that change the look and feel of the web as you go.
Firefox scores high on visual aesthetics, high on customizability, and has a lot of clever ideas to offer—that support for a vast number of extensions could be one reason to choose this over Chrome or Safari. In terms of raw benchmark scores it did pretty well in our iOS tests and not great at all on Android, but we'd recommend trying it out for yourself.
We were impressed with Firefox in the time we spent playing around with it, in terms features, but the question is: Does it do enough to make you want to switch from your default browser on mobile? Probably not—particularly if you're already well invested in running Chrome or Safari on your desktop machines.
---
Opera app size: 71.0MB (Android), n/a (iOS)

Opera Mini app size: 21.3MB (Android), 40.6MB (iOS)

Opera is the plucky, innovative underdog for Android, iOS, Windows, macOS, and just about every other platform out there, though for now it seems its engineering resources are focused on Android rather than iOS as far as mobile goes. In fact iOS users only have the lightweight, data-compressing Opera Mini to call on, rather than the full-fat version of Opera mobile.
The full Opera, on Android, opens with a Google Now-esque news feed which you can disable if you don't like it, and features a handy 'speed dial' view for jumping to your favorite sites. Browsing and searching is slick and clean, and as with the other apps you can create an Opera account to sync bookmarks and browsing history across devices.
The main Opera app includes a data saving option, compressing sites via Opera's servers before you get them, but on Opera Mini for Android and iOS the speed and data compression is the main selling point: It's ultra-compact and lightweight, though still includes ad blocking, offline pages, a simplified news feed, and a handy night mode.
In terms of benchmarks it was a mixed story for Opera, topping the Android list in Basemark and hitting the bottom of the iOS list in Peacekeeper. Like Firefox, it has some cool features, and runs fine, but unless you really love its data-saving or ad-blocking features, or use it on the desktop, it's unlikely to offer enough to tempt you to switch.
---
App size: 32.6MB (Android), 41.9MB (iOS)

Perhaps the browser that will be least familiar to you out of all of those listed here, Puffin promises one thing: Speed. It's earned a reputation for being lightning fast, and it certain feels faster than most as you tap around the web, with elements popping up almost instantly—by the time your eyes are focused on the page, you're ready to start reading.
All of which made us keen to put it through its paces in a few benchmarks, but here it proved the most troublesome of our browsers: It was the worst in Basemark on Android, by far and away the best in Peacekeeper on Android (something other sites have noted), refused to run Basemark on iOS, and was one of the worst in Peacekeeper on iOS.
That suggests it might struggle with newer web tech, but as far as our day-to-day browsing went, Puffin really impressed us with its nimbleness. On top of that, it has some really interesting features, like the gamepad overlay to help with your web gaming, and the advanced data saving tool that has individual settings for image and video quality.
If you really want the fastest page load times out there, Puffin could be worth a look (on Android), provided you don't need to sync all your stuff over from your desktop browser. It's got enough smart features packed away to make it a decent second browser to have installed on your phone too, just in case you need it.
---
Brand new to the fray, Microsoft Edge has just arrived for Android and iOS devices in beta form. Anyone can sign up for testing, but you need to install TestFlight on iOS, and join a waiting list for Android: We didn't make it to the front of the Android queue in time for this article but we could at least put the iOS version of the Edge browser through its paces.
Bearing in mind it's still very much a work in progress, there's reason to be optimistic about Microsoft's chances, at least in terms of the raw benchmark figures—on iOS it came top in our Peacekeeper tests and second in our Basemark tests. Whether you're actually going to find that enough of a reason to want to switch over is another question though.
All the standard stuff is here, from a reading mode to bookmarks, but really the main selling point of Edge on mobile is just how intelligently it syncs with Edge on desktop. If you use Chrome or Firefox across your desktop and mobile devices, then a few extra milliseconds of speed probably aren't going to be enough to get you to give Edge a try.
At least it's here for mobile now, and is slowly maturing in terms of both features and stability on Windows 10 as well. If you're a Microsoft loyalist and want to use Edge as you jump between phones and computers, then from our early impressions, the app can hold its own against the best. The browser should be available for anyone to try before too long.
---


Which browser app should you be using?
A little disappointingly, considering the hours we spent benchmarking and playing around with these browsers, the end conclusion was the one we thought we would get to before we started: The convenience of having all of your browsing life synced between desktop and mobile outweighs any kind of small speed increase or the odd cool or unique feature.
That means you're probably going to pick Chrome or Safari depending on the devices you use and how invested you are in the Google or Apple ecosystems. With apps like Twitter and Facebook having their own integrated browsers nowadays, and iOS making it tricky to use another browser anyway, there's even less of a reason to switch to something else.
Ultimately the likes of Firefox and Opera need to get users running their browsers on both desktop and mobile, and it's hard to break those kind of habits even if you can point to a benchmark victory or a dark mode feature. Puffin is impressive in some areas, but has no desktop equivalent, putting it as a disadvantage against the heavyweight apps here.
It's still early days for Microsoft Edge on mobile, but it has the Windows user base to make inroads in the market, and its apps look polished from what we've seen. We'd encourage you to regularly check out alternative browsers on your mobile and see how they fit you, but we can't promise that you're going to find any compelling reasons to switch to them.
---
How to make the switch
If, after all that, you decide that Puffin or Edge or any of the rest are more appealing than the browser that came with your mobile device than you'll need to make an attempt at a switch.
Apple being Apple, you can't switch the default browser on iOS, the one that opens when you tap a web link. Google does offer something of a workaround though: If you've also got Gmail for iOS installed, tap the menu button (top left) then Settings, then Google Apps, and you can set links inside Gmail open up in Chrome.
In the stock version of Android, you can set your default browser by opening Settings then tapping on Apps & notifications, Advanced, and then Default apps: tap Browser app and a list of the browsers currently installed on your device appears.