For this year's New York Comic Con, Dark Horse Comics Editor-in-Chief Scott Allie and artist Juan Ferreyra collaborated on a jam piece depicting various Dark Horse horror characters — such as Hellboy, The Goon, and the vampires from The Strain — tippling (booze and blood) at a creepy bar. Here's the artistic process that went into such a supernatural rager.
Scott Allie: When we started to plan this fall's horror campaign, back in March, I got the idea for an image featuring all the characters together in a bar. It was inspired in part by the promo photography for American Horror Story's first season, and the painting Las Meninas by Diego Velasquez. I did a rough sketch on the back of a script page from Juan's book Colder.
I thought just doing a bar was kind of dull, so I decided to shred the bar - [comic artist] Dave Stewart had been to Missouri after a hurricane a couple years ago and showed me a ton of photos, which made a big impression. I decided to have a graveyard in the background to get a more on-the-nose horror vibe, and then thought pulling it into the foreground would be cool. Does it make sense that the bar was apparently built on top of gravestones? No, but it gave it the surreal vibe I wanted to get across. It also doesn't make sense that Edgar Allan Poe and Lance Henriksen's character from To Hell You Ride would be in the same place at the same time, so reinforcing that unreality seemed like a good idea.
G/O Media may get a commission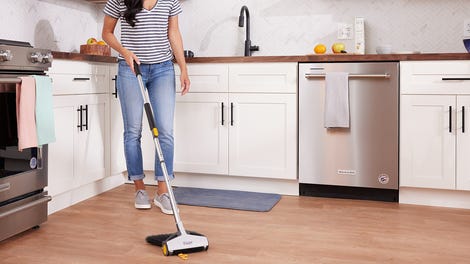 BOGO 50% Off
Flippr - BOGO 50% Off
I took a photo on my phone, emailed it to Juan, and asked him if he'd be willing to do a painting. I wrote up a description, to make my scribbled sketch make sense. And Juan was very nice. He wanted to accommodate my weird idea, but he was scrambling through deadlines on Falling Skies, and knew that this would be a lot of work. I said, Well, if I worked it out better, would that help?
He thought so, and I proceeded to go through a laborious process of digging up reference, taking pictures of the bar in my neighborhood, pictures of myself or my wife in certain poses, and then drawing all these pieces separately, reducing and increasing their sizes on a photocopier, and ultimately doing a large piece on vellum, inked with pigment markers with brush tips.
Along the way I decided against a Goya painting on the wall, thought about Poe, and wound up with an illustration from an old hardcover of Phantom of the Opera, featuring Poe's Red Death. I did one version with Spike in it, then another with Baltimore, did a patch to put Willow up in the sky, before we all decided the Whedon books didn't belong in the image. I sent the finished drawing, so to speak, and all the reference, over to Juan, who shared sort of every step of his process with me via email from Argentina.
Juan Ferreyra: When Scott asked me to do this piece with almost all the current characters on Dark Horse's horror line, I couldn't resist! It was a fun idea — I'd get to draw a bunch of interesting characters all from great creators and mix them up with Nimble Jack, a new character created for the comic Colder I'm working on with Paul Tobin.
So when I got all the info and sketches from Scott, I did a rough pencil sketch to see if everything was okay. On this first sketch, I also added some basic colors to show Scott my idea for a palette — everything would be blue or grey, and it would have some reds to make it pop a little here and there.
After Scott told me it was okay, I began doing more detailed pencils on the characters, leaving the background details for later. Notice that at this stage I erased a character that was on the foreground on the right — that was Declan Thomas, Colder's main character, but Scott thought he wasn't known enough to be included here, so we still kept Nimble Jack on the left.
Here I finished the background. I sent the piece to Scott for approval and waited for like four minutes to get his answer back.
Not being able to rest for a second, I continued now with the rendering of the shadows and lighting with the pencils.
After getting a positive response from Scott, I began with the coloring. I added the picture on the wall, a moon, some stars — everything was blue and almost everyone had a touch of red.
On the final step, Scott told me to add something to the wall, as it felt empty, so I made some wallpaper design. I also changed Lance Henriksen's To Hell You Ride character a bit. When I finished, San Diego Comic-Con was just around the corner, but I think it came out pretty good!
This piece will be on display at NYCC's Dark Horse Comics Horror panel on Friday evening at 6:15 PM.