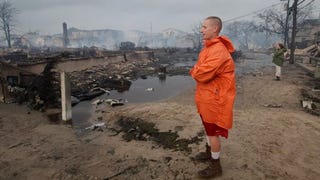 Just hours after Hurricane Sandy decimated the Eastern Seaboard, killing 17 and leaving more than 10 million without power, rescue and recovery efforts from North Carolina to New York City have already begun. Even if you don't live in the regions affected by this super storm, you can still do your part by donating money, blood, and sweat equity to charitable organizations-here's how.
Red Cross:One of the largest and oldest charitable organizations in existence, the Red Cross bears President Obama's seal of approval.
To donate money:
Call the Red Cross at 1-800-RED CROSS (1-800-733-2767)
Text REDCROSS to 90999 to make a $10 donation
Sent a check to your local RC chapter
To donate blood:
To volunteer:
If you live within driving distance of areas affected by Hurricane Sandy, sign up on the Red Cross website: http://www.redcross.org//support/volun….
Please note: It may take a while for the RC to get to your assistance offer and cannot accept all of them.
AmeriCares: Since its founding in 1982, AmeriCares has delivered humanitarian aid, medicine, and supplies to disaster survivors around the world. While AmeriCares receives much of its supplies from a network of medical clinics around the country, the organization does rely on monetary donations from the public.
To donate money:
If you are a medical professional and would like to donate your services or supplies:
Feeding America: Funded by grants from Allstate Insurance, Abbott Labs and Pepsi, FA is the nation's largest domestic hunger relief organization and is already preparing to distribute food, water, and other necessities to Sandy survivors.
To donate money:
To volunteer your time or donate food:
[SFist - Image: Frank Franklin II / AP Images]