After spending some time with HP's redesigned 15-inch Spectre X360, it seems to me the company's recipe for clawing its way back into the hearts of the people should have been obvious all along: lots of power and features in an attractive package for less money than the competition. Duh.
HP has had a rough few years. The only thing we've really liked from the company recently was its $200 Windows laptop, which despite being total garbage, was garbage at a price that was impossible to ignore. Meanwhile, the company keeps trying to do weird concepts like the HP Sprout, that scanner PC with no mouse, or last year's "luxurious" Spectre. When it's come time to recommend Windows PCs for regular users, Dell's XPS line is almost always our recommendation, and HP is rarely part of the conversation.
Which is why I'm so impressed with the X360, a very good 15-inch Windows computer that comes at a very good price.
An amazing price really. The model I reviewed has a 4K screen, Intel Kaby Lake i7500 i7 CPU, 16GB of RAM, Nvidia 940MX discrete graphics, and a 512GB SSD. Those are top-notch guts, but the computer sells for just $1500—several hundred dollars less than similar configurations from Dell or Apple. You can even special order a version with a smaller hard drive and less RAM for $1280, if you've really got to pinch pennies when picking up a high-quality 15-inch laptop.

G/O Media may get a commission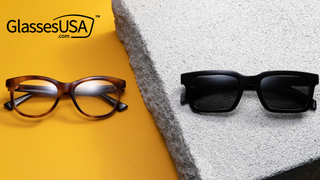 60% off frames
GlassesUSA.com Back to School Sales
More impressive than the price is the fact that the laptop is actually a pleasure to use. The new X360 has a handsome design with a much smaller bezel than last year's model. It's also got an aluminum body that manages to feel svelte despite being a tad thicker than its predecessor. It's gained the extra thickness to pack in a larger battery, which gave me 10 hours of mixed usage at 70-percent brightness.

You'll notice at this point that I haven't said much about the X360's convertible screen. The "360" part is actually the least interesting feature of the laptop. Sure, you can fold it over and use it with its included pen as a gigantic ass tablet, but in practice, this isn't what makes it worth your money.
The laptop isn't all good, though. I'm annoyed that HP added row of function keys to right side of the keyboard. As a touch typist, I felt myself off by a letter, which was extremely frustrating. The good news is, you'll get used to the extra keys. The bad news is it will take a few days.

Fortunately, the rest of the laptop experience is very good. I like that the X360 has two USB-C ports, an HDMI port, a regular USB, and an SD card slot, because it means I didn't have to grab an adapter when I needed to charge my phone. The screen, which works with either your finger or the included pen, is absolutely gorgeous and responsive. The display's colors are bright, and image quality was crisp and clear while playing both Civ VI or watching videos on Netflix. The stylus isn't as good as the experience you'll get on a Surface Pro or Surface Book, because it feels just a little more basic and its internals aren't as advanced, but it was able to keep up with my doodles and handwritten entries with ease.
In fact, the whole computer keeps up with most of my processing demands. I never felt like the laptop was dragging—whether I was running Gizmodo's Photoshop test, or chatting on Skype or tempting fate and leaving two web browsers with dozens of tabs open. This isn't going to be as beefy as a quad-core computer you could buy from Dell or Apple, but you're also paying at least $300 less, so it might not matter.
Traditionally, going cheaper means sacrificing build and quality, but HP is proving that you can still get a lot of really good computer for a really low prices. If you're looking for a 15-inch laptop that won't break the bank, has a great screen, decent port selection, and costs under $1500, the HP X360 should definitely be on your list.
README:
The extra function keys on the side of the keyboard is annoying, but the keys themselves feel great
This isn't a small laptop. It's thicker and longer than the XPS 15 and the 15-inch MacBook Pro with Touch Bar, but it never feels bulky.
The screen is gorgeous and the touch screen is responsive.
The discrete graphics are a nice touch, especially at this price, but don't expect to do any serious gaming on this thing.
In addition to the ports, a USB-C to Ethernet and USB-C to USB-A dongle was included in the box. That's nice.
Only one of the USB-C ports is backed by Thunderbolt 3, which limits some of the expandability.
The charger is USB-C. Use the non-Thunderbolt port for max performance for other stuff.