HP's Spectre 13 is a mixture of innovation and repetition. Its singular obsession is a familiar one: make a laptop as thin as functionally possible. The result is a luxe machine worthy of your attention—but not necessarily your money.
This glossy slab of processing power is simultaneously one of my favorite Windows machines I've tested and one of the most anxiety-inducing. The Spectre 13 is a conundrum wrapped inside carbon fiber and polished gold aluminum. It's undeniably chic and channels that thirst for fancy, most obvious in its gold and black design. HP even made a solid-gold variant and a whole new logo specifically for its more pricey machines.
HP isn't hiding anything. The Spectre 13 is a premium laptop, and it wants you to know it. All that luxe for a little less than $1,200.
But the Spectre isn't good looking in the way that most highly regarded gadgets like HTC smartphones, Dell XPS laptops, Apple gadgets are. In a world of brushed silver aluminum, the Spectre's gold details are daring. During my week with the laptop, that bling was actually its most polarizing issue. HP offers no other color variants, unless you want to drop mega cash on that solid gold monstrosity of a computer. So gaudy black and gold is all you've got.

Its other major design issue is that back end. In terms of form and function, the rear of the computer is much more important on the Spectre 13 than most others. The rear serves as an anchor point for the hinge, which is how HP was able to make this 10.4mm computer so crazy thin. (It's almost 7mm thinner than Apple's Macbook Air.) The rear also houses three USB Type-C ports, the only ports on the entire machine. In terms of design, however, this piece of hardware is an OCD person's worst nightmare. In only a week, I've polished and polished and polished and somehow more fingerprints magically appear.
G/O Media may get a commission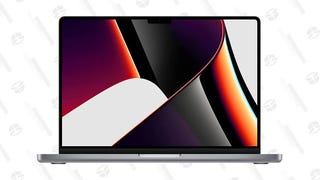 Save $300
2021 14" 1TB MacBook Pro
Despite its required taste, I'd still place the Spectre 13 among the best-designed laptops available, if only to awe at some of the internal engineering required to make a laptop so thin yet so powerful. Most super skinny laptops run a Core M, which is great for browsing but not much else. The Spectre 13 is running a more powerful Core i5/i7 processors which is perfect for 98-percent of your computing needs. Yet a Core i5 and i7 gets a lot hotter to compensate with all that processing power, so HP developed what it calls a hyperbaric cooling system in order to ditch bulky heat sinks and make the Spectre 13 even thinner.

That quest for thinness also means HP has ditched many of the new features that makes Windows, well, Windows. Like Windows Hello, the super useful image-based system that uses your front camera for logging a Windows machine via facial recognition. It axed that feature so that the screen could be thinner (and flimsier).
The very thin screen is also completely devoid of touchscreen capabilities. HP's reasoning is very Apple-like: most laptops people buy don't have touch interfaces. Apple's laptops certainly lead that pack, but MacOS Sierra isn't optimized for touch, while Windows 10 is. Windows 10's anniversary update this summer will also be very touch-focused, and now HP's premium priced Spectre will be left out in the cold. Many users might be okay missing out on the touchscreen, but it feels like HP's omitted a lot of the more forward-thinking features of Windows 10 in order to make the Spectre as Macbook-y as possible.
In an apparent quest to entice would-be Macbook users to Windows 10, the HP Spectre is a great laptop, both design and function. Although not as light as Samsung's Notebook 9, the Spectre 13 is coming in well under 3 pounds, and since it's so thin, it can also slip in most bags comfortably. The few times I had to lug my old 4.5-pound MacBook Pro home from work, the Spectre seemed all the nicer.

HP's also managed to squeeze a great keyboard into such a skinny body. While not the most luxurious typing experience ever, HP kept a respectable 1.3mm of key travel and avoided the common pitfall of most ultrathin laptops like Apple's Macbook and Microsoft's Surface Pro. Those suck to type on; the Spectre 13 does not.
However, the Spectre 13 still suffers from one of the Windows collective's hardware headaches. The touchpad on the Spectre 13 is small and simply not as responsive as what I've experienced on other machines. I wouldn't go as far as to say that it's the sole reason I'd avoid this computer, but it certainly is a solid mark in the cons column.
That leaves us with the one thing that makes most people cringe at a laptop this thin. HP says you can get about 8.5 hours of local video playback on the Spectre 13. Since this is 2016 and most people stream stuff, we tested the HP Spectre with another Windows machine near its price range, Samsung's new Notebook 9, and streamed 10 hours of Nyan Cat (on mute thank god) with each computer running at the same brightness (200 nits). The Spectre absolutely crushed the Samsung machine in comparison, getting eight hours compared to the Notebook 9's six.
In my day to day, the results were a little more depressing. One evening, I unplugged the Spectre 13 around 7:00pm and did a mixture of nonstop work/streaming Orange is the New Black (you know, for breaks), and it didn't even last until midnight. Best keep your charger handy.
Overall, HP's has something great with the Spectre 13, and it's mission to pack a powerful chip in such a slim design is an admirable one. But for $1,170 (for the Core i5 base model), it's still a hard sell for most people. Even if you think the Spectre is the most beautiful laptop you've ever seen, you're still using Windows 10, minus some of its better features. But if you want a Windows machine that looks and works like a Apple computer, then the Spectre 13 is your guy.
README
It's remarkably thin and great as someone constantly commuting.

It's so thin, that certain parts—like the display itself—feels flimsy.

Big fan of the keyboard, not a big fan of the trackpad. It's simply too small and frustrating compared to Macs.
An OCD person's nightmare. At least include a polishing cloth, HP!

Port placement wasn't such a big deal, but I didn't love relying on a bunch of dongles to connect to stuff.

The display, while only full HD, is actually quite lovely, even if a little bit on the saturated side.

The hinge is great for making this thing so thin, but is can be a little wobbly compared to most laptops in its class.

Video: Mandy Mandelstein