It's safe to say we've hit the third generation of netbooks. They're nice now. The HP Mini 5105 strikes at Asus Eee Seashell's fancily contoured plastic with aluminum and magnesium. Oh yeah, and 95-percent chiclet keyboard that feels fantastic.
The weird, chewy line between netbook and notebook gets blurrier with a standard 7200RPM hard drive that has an accelerometer in it for sudden motion protection, like on real laptops. Though that faster hard drive means you'll need the fatter six-cell battery to get their claimed eight hours of battery life, not the standard four-cell pack.
It's still got an Atom processor inside, so it's not gonna be as fast as a Core-powered notebook by any means, but thankfully, even though they showed it off with Vista, you'll have other OS options that won't make it unusable.
It'll start at $449 late next month. That's at the high end of the netbook prices, but at the same time, as strange as it is to say, this is actually a high-end netbook (if you still believe in the term "netbook," anyway). Course, we'll have to beat it up more extensively before we can actually call it tops, but it's looking pretty good so far.
HP Blends Functionality, Durability and Style with New HP Mini PC

PALO ALTO, Calif., June 24, 2009 – HP today unveiled its top-of-the-line Mini PC for on-the-go professionals who demand a stylish, yet durable fully functional companion PC.

The HP Mini 5101 features a sturdy, lightweight anodized aluminum display enclosure with a black, brushed finish. Complementing the aluminum is the use of magnesium alloy in the lower case of the Mini frame. Soft-touch paint on the base and palm rest further advance the PC's look and feel. This combination of materials, an industry first in the netbook category, not only delivers an eye-catching design, but also improves durability.

Furthering the stylish look of the HP Mini 5101 is a newly designed, spill-resistant keyboard that is 95 percent of a full-size QWERTY keyboard. It features a visually open and spacious keyboard design with keys raised from the surface. HP DuraKeys, a clear coating over the keys, makes the keyboard 50 times more resistant to visible wear than keyboards without it.(1) In addition, the mouse buttons are located in the traditional space below the touchpad, making for a familiar user experience.

"HP Mini PCs have no equal when it comes to industrial design, use of innovative materials and overall feature sets," said Ted Clark, senior vice president and general manager, Notebook Global Business Unit, Personal Systems Group, HP. "The HP Mini 5101 is truly a work of art, a sophisticated companion PC crafted for the trend-savvy mobile professional who needs functionally, durability and style."

Starting at 2.6 pounds,(2) the fully functional and durable HP Mini 5101 is an ideal companion PC for the on-the-go professional. It features a large 10.1-inch diagonal LED display available in either WSVGA or high-definition (HD)(3) resolutions. Customers can also choose either the four-cell battery for lighter weight or six-cell battery for longer battery life. When configured with the optional six-cell battery, the HP Mini 5101 delivers up to eight hours of battery runtime.(4)

Mobile professionals can stay ultra-productive with the HP Mini 5101 PC's small, low-power Intel® Atom processor, which enables the unit to run cooler, use less power and improve battery life. A fast-performing 7,200 RPM hard drive comes standard with the unit. Alternatively, an optional Solid State Drive (SSD) is available in either 80 or 128 gigabytes.

An optional, integrated Gobi-powered HP Mobile Broadband module allows users to conveniently access the Internet, corporate intranet, email and other critical information around the world.(5) Other wireless technologies include integrated Wi-Fi Certified WLAN(6) and optional Bluetooth® 2.0. An integrated 2-megapixel webcam allows for easy still-image capture, web-conferencing or video-enhanced instant messaging(7) with no additional hardware.

HP QuickSync software, planned to be available as a web download in September, allows quick synchronization of the HP Mini with notebooks or desktops so users can avoid maintaining multiple documents, media files and email. Information also can sync to portable storage devices.

The versatility of the HP Mini 5101 can change how students learn and is the practical answer to providing each student continuous access to a PC in one-to-one computing. Its suite of wireless, (6) multimedia and security capabilities allows students to learn wherever they have Wi-Fi access – from the classroom, to the library, to their homes.

The HP Mini 5101 is built to last, featuring HP 3D DriveGuard, which offers a three-axis digital accelerometer chip that sends a signal to shut down the hard drive upon sudden movement or shock. The HP Panel Protection System includes a scratch-resistant acrylic LCD cover and magnesium hinge bracket for added durability in demanding environments.

The HP Mini 5101 has been engineered for reduced impact on the environment by eliminating or reducing substances of concern, using fewer resources and reducing energy consumption. Configurations of the HP Mini 5101 are ENERGY STAR qualified and are identified as HP Mini 5101 ENERGY STAR on HP websites and on www.energystar.gov. In addition the Mini 5101 is EPEAT Gold registered in the United States.(7)

New accessories designed for use with the HP Mini include a USB 2.0 port replicator that adds a variety of audio, networking and USB ports to allow greater productivity. A lightweight, functional messenger bag designed specifically for the HP Mini or a neoprene slip case offer added protection for professionals while on the go. Other accessories available for the HP Mini include a USB 2.0 docking station, external optical drive and USB-powered external speakers.

More information on HP Mini 5101 product specifications, images and other HP mobility solutions is available in an online press kit at www.hp.com/personal.

Pricing and availability
The HP Mini 5101 starts at $449(8) and is expected to be available in late July.
G/O Media may get a commission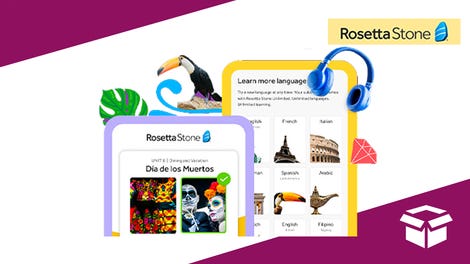 Extra 20% off
Rosetta Stone Lifetime Subscription - All Languages
[HP]