Laptops are about compromise. You can't fit everything inside. Thin machines always mean less processing power, or maybe less battery life. If you ask me, the HP Omen makes the wrong compromises. But gosh, does this gorgeous gaming laptop do so many things right.
What Is It?
The HP Omen is one of a growing number of thin gaming laptops. Laptops like the Razer Blade. Laptops you might actually feel comfortable carrying around before you sit down to play. For $1500, this 15-inch laptop comes with a 1080p screen, a quad-core Intel Core i7 processor, and GeForce GTX 860M gaming graphics. Not too shabby. Oh, and it also happens to be HP's first gaming laptop ever. No kidding!
Design
Let's face it: most thin gaming laptops look like black MacBook Pros. That's not a terrible thing, but it means that the HP Omen looks amazing and intriguing by comparison. It's got a design all its own, one that's all angles. It's more Blade-like than the Razer Blade, with sharp edges that taper down to the base of the machine. The entire laptop is a wedge, in fact, and combined with the big exhaust vents in the back, it looks like HP shrunk one of the traditional giant, wedge-shaped gaming machines down to size. Which, by the way, is just 0.78 inches thick and 4.68 pounds light. It fits comfortably into the laptop pocket of my Tenba messenger bag.
G/O Media may get a commission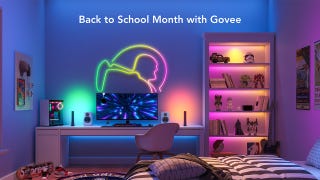 Back to School
Back to School Month with Govee Sale
But it's not just shrunk down; it also feels incredible to the touch. It's easily the most premium gaming laptop I've laid hands on. The chassis feels rock solid, an aluminum unibody design that doesn't flex or creak. There's incredible attention to detail everywhere, from the shiny embossed "Hewlett-Packard" logo on the lid that only catches light at just the right angle, to the three sets of tiny tactile triangles which texture some of the laptop's key surfaces.
The lid lifts on its shiny chrome hinge—blued on both ends as if forged in flame—with just a single finger because HP's engineers got the hinge tension just right. And though I don't personally care to have all my ports around the back of the machine—four USB 3.0, HDMI, Mini DisplayPort and a headset jack—I know many gamers appreciate that choice.
By default, the Omen isn't particularly subtle about being a gaming machine. The entire keyboard, speakers, power button, and even the rear vents glow red, like they're on fire or at least smoldering. But you can easily turn that all off, or even change the various lighting zones to display most any color you'd like. I've got a nice cerulean setup I'm rather fond of, a royal purple for when I'm feeling like a boss, and one that highlights the all-important WASD keys in red while the rest of the keyboard glows blue, green, and yellow.
Using it
Here's my beef with the HP Omen: it doesn't seem to be a crazy powerful gaming machine, and it doesn't feel like a great work laptop either. Being okay at two things is a much less satisfying compromise than being great at one. I spent a whole lot of time testing out both modes, hoping that this time a company had found that perfect blend of work and play. This ain't it.
I know because I spent a solid week working from this machine, and took it along as my sole gaming computer on my Christmas vacation. Both experiences left me unsatisfied. And yet! The Omen has so many saving graces that I can't help think it would make the right person happy.
Let's go down the list. Screen? Fantastic. Bright and colorful, nice and responsive to touch if you get the touchscreen model, and the 1080p resolution is perfectly fine. At 15.6 inches, 1080p means a lot of real estate to play with, compared to the 3200 x 1800 and 4K screens popping up on other premium laptops—which have to be scaled down to an effective resolution of more like 1600 x 900 so icons don't look Polly Pocket tiny. It's also key for gaming because the Nvidia GeForce GTX 860M graphics chip isn't really powerful enough to drive intensive games higher than 1080p anyhow.
Keyboard? Pretty damn fine. Plenty of travel on these chiclet keys for a laptop this thin, and enough cushioning to keep my fingers from bottoming out. Touchpad? Super wide, nice and smooth, though I often have issues with the inertial scrolling and pinch to zoom. It's also a little painful to click down. I'd definitely use the touchscreen for web browsing or diving through documents, or better yet a mouse.
The speakers, though, are a travesty: Beats Audio should be ashamed to be associated with sound this tinny, given the company's reputation for bass. I tried adjusting all the sliders, but no amount of software post-processing can help. Even my most synthetic tunes sounded bad.
Battery? Now, I know what you're going to say: who cares about the battery life of a gaming machine when you need to plug it in anyhow? I have two answers for you: 1.) This is a thin laptop you might like to carry around and, you know, get some work done on when you're not gaming, which is way less likely if that laptop only lasts 3.5 hours on a charge. That's the best result I got from the Omen, and one of the worst I've seen from a laptop this size and price. 2.) The power adapter is a big chunky brick you won't want in your bag.
I'd be willing to forgive those black marks if the Omen was an absolute gaming beast... but it's merely a good midrange gaming laptop. HP brags how the awesome cooling system blasts the laptop's GeForce GTX 860M graphics chip to stay super speedy while keeping the laptop nice and cool—which is partially true, it doesn't make my palms sweat and my fingertips burn like the latest Razer Blade!—but a GTX 860M is a mid-range laptop graphics chip by today's standards, and that means you're not going to run the latest games at the best settings.
I found Tomb Raider ran well at 1080p and high settings, Bioshock Infinite at 1080p and very high, and Borderlands 2 was buttery at 1080p and maximum. Those are good results! But newer games like Titanfall and Far Cry 4 were rough even at 1080p and low settings, even though I had the $2,100 version of the Omen with 16GB of RAM, a super-fast solid state drive and 4GB of video memory.
The other thing to note about that cooling system is it kicks in all the time, even when I'm just browsing the web. It doesn't get nearly as loud as when gaming, sure, but it's loud enough to be a little annoying.
Like
If you like gaming laptops, and I do, this one is a knockout. It looks and feels fantastic.
The Omen boots faster than any other computer I've ever used, full stop. It's incredible. Five seconds flat, at least before I loaded a whole bunch of software to test. It's thanks to fast PCI-Express solid state storage and what must be an incredibly minimized startup procedure.
Super customizable for all your gaming needs. You can set different profiles to each Fn+Number combination that not only change the lighting, but configure six dedicated macro keys, change the function of each F-key and disable the Windows keys and the touchscreen so you don't accidentally do something stupid, and even max out the fan speeds to further cool the system. Not that I noticed a performance difference there.
No Like
The blasted right-angle power jack makes no sense for this PC. The cord's always either blocking one of the USB ports or one of the vents, and it's constantly wiggling itself out of the machine. Worse, if it's hanging partway out of the power socket, the Omen seems to think it's a weaker AC adapter and throttles the whole computer.
Those terrible speakers.
That terrible battery life.
That HP doesn't offer more powerful graphics chips for this machine.
Should You Buy It?
Not yet. If you're the kind of person who can afford to buy a new $1,500 laptop every year and absolutely need it to be thin and play games and yet never need to use it for work... then I guess so, sure? But a lot of people expect a pricey laptop to be their primary do-it-all computer. The combination of noisy fan and difficult trackpad gestures and very little battery life make casual and work use tough. And it's not a potent enough gaming machine for the money HP's asking.
That said, if your heart's set on a thin, powerful gaming machine, they all have their issues. The Razer Blade has faster, more capable graphics, but not capable enough to really take advantage of its crazy high-res screen. It also gets pretty hot to the touch. The Alienware 13 is cheaper and nearly as powerful as the Omen, but it's not as well built and the slightly weaker dual-core processor could be an issue in some games. Borderlands 2, for instance, runs smoothly on the Omen even with PhysX effects enabled, but struggles on the littlest Alienware.
What you should really consider is that the HP Omen is shipping just as more potent chips are coming to market. Intel's new, slightly more power-efficient Broadwell processors are here. More importantly, so are Nvidia's GeForce 900M series graphics. Gaming laptops with those are already starting to hit stores. Hopefully, it's only a matter of time until HP upgrades the Omen with those components too. Remember, this is HP's first gaming laptop. I can't wait to see what the next version will offer.