HTC's zapped its flagship One design with its embiggening rays, and scaled the One Max up to gigantic proportions. At 5.9-inches, it's in that scary land where it's either a really large phone, or a phablet. We're not quite sure HTC knows what it is either.
On sale by the end of this week, the One Max brings with it the latest Sense UI (5.5), which features a new-and-improved BlinkFeed (you can now add your own RSS feeds, plus Instagram, Tumblr and Google+!); an even more voluminous BoomSound pair of speakers (Beats, as expected, is nowhere to be seen), and HTC Zoe video highlights can now use your very own music tracks.
Sitting alongside the 4.3-inch One Mini and 4.7-inch One, the One Max's design more closely resembles theOne Mini, given its removable aluminium back requires a plastic bezel, rather than flush screen design like you see on the One (which we adore so much). Unfortunately the addition of a removable back doesn't bear with it the fruit of a swappable battery, but you'll be pleased to hear of the presence of a microSD card slot, at the very least. (Internal storage is either a 16GB or 32GB choice.) Interestingly, HTC has ditched Dropbox as its baked-in cloud storage partner, so the One Max only comes with 50GB of free Google Drive storage (for two years), which we'd argue is actually a more natural fit anyway.
Inside, it's running on a quad-core Snapdragon 600 processor with 1.7GHz CPU, and is 4G LTE compatible, with NFC support. The camera is exactly the same as you can see on the HTC One, save for one glaring omission — image stabilisation. Given the phone's 217g heft, we're not sure why that feature is missing, as it's a rather cumbersome hold.
One of the more novel additions to the One Max is the fingerprint scanner, located on the back below the camera lens. Users swipe up and down (which isn't quite a natural as swiping left and right), to lock and unlock the screen, but also launch three of your favourite apps, which can be customised by scanning individual fingers.
G/O Media may get a commission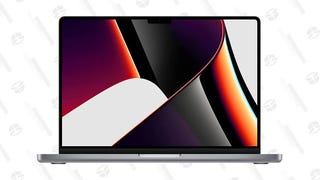 Save $300
2021 14" 1TB MacBook Pro
While the embedded battery has a capacity of 3300mAh, there's the option of springing for an £80 case for the One Max, which actually includes a 1200mAh battery for recharging the Max on the go. [Gizmodo UK]
---
Gizmodo UK is gobbling up the news in a different timezone—so check them out if you need another Giz fix.