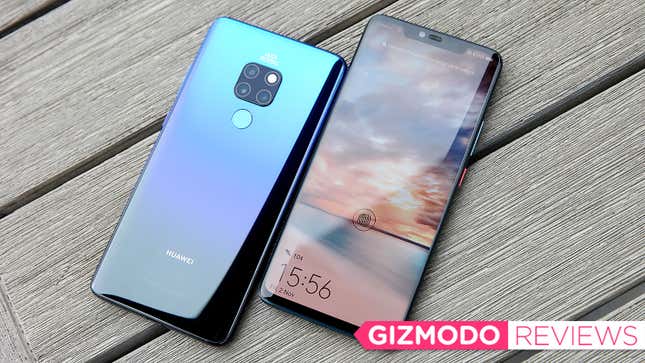 If we judged the new Mate 20 and Mate 20 Pro like Olympic figure skaters, they'd no doubt earn 10s across the board for technical merit. That's because even though they don't have a built-in stylus, Huawei's new flagship phone duo offers almost every other feature you could want, and I don't just mean the easy shit.

Apple's Vision Pro Seems Powerful, But Who Is It For? | Future Tech
We're talking full-on 3D face-scanning, a fingerprint sensor built into the screen, three cameras in the back (including one with a 3x zoom on the Mate 20 Pro), and even reverse wireless charging that can be used to top off your other gadgets. And with even more striking color options, a sleeker chassis, and class-leading specs, the Mate 20 earns high marks for artistry and execution too.
I mean, just look at them. Especially when clad in Huawei's signature twilight paint job, it's not hard to imagine the Mate 20 out on the ice pulling off double axels and triple toe loops. Huawei even paid attention to little details both inside and out when it comes to things like the phones' brightly colored power buttons, or all the improvements in Huawei's EMUI 9 skin for Android. Unlike the Galaxy Note 9, EMUI is based on the latest version of Android 9 Pie and includes tweaks to help cut down on menu bloat, handy options like a built-in dark theme, and multiple ways to customize your UI.
That said, it's a little disheartening to see apps like Booking.com and eBay pre-installed out of the box, especially on phones that start at around $1,000. I also noticed that when trying to search for key features like Huawei's Performance Mode, I wasn't able to find it by using the search bar in the settings menu. So despite Huawei's efforts to streamline the endless options in a phone and make things easier to find, there's still a room for refinement left in Huawei's routine.
As for the various Mate 20 models, the Mate 20 Pro is the more luxurious of the two. Even though it offers a slightly smaller 6.39-inch screen (versus 6.5 inches for the standard Mate 20), the panel is OLED rather than LCD and slightly higher resolution, which results in sharper and more vibrant pictures and images. In a vacuum, both screens look good, but side-by-side, the difference is obvious.
But more importantly, the Mate 20 Pro is the one loaded up with tech. It's got more base RAM, an in-screen fingerprint reader that feels even snappier than what you get in a OnePlus 6T, and a useful notch that includes a 3D infrared dot projector that scans your face in much the same way Apple's Face ID. For people worried about security, this is a significant upgrade over the simpler 2D face recognition found on almost every other Android phone.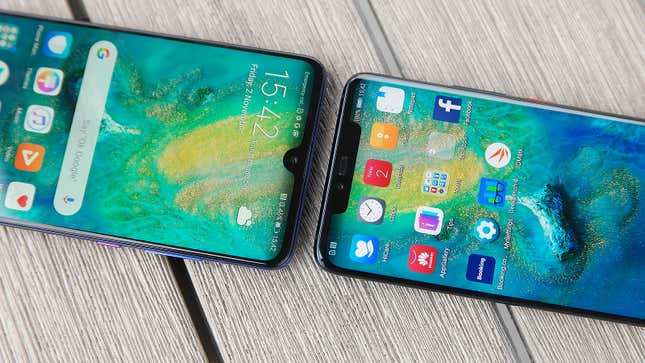 And it's not all sparkly sequins and shiny tech either because the Mate 20 duo also sports an IP68 rating for dust and water-resistance and Huawei's new Kirin 980 processor and even built-in IR blasters for people who like being able to use their phone as a TV remote. It's the second time Huawei has pulled this stunt, but I still find it annoying that only the standard Mate 20 offers a headphone jack.
Both Mate 20s also offer outstanding endurance, with the standard model posting a battery life of 15 hours and 15 minutes on our rundown test. That's a full hour better than a Galaxy Note 9 (14:11). And while its more expensive sibling didn't fare quite that well, thanks to an even larger 4,200 mAh battery, the Mate 20 Pro has enough juice to offset its higher-res screen and more power-hungry components and still pump out a superb time of 14:06.
In normal usage, this means both phones will almost always have an excess of energy, so Huawei figured out a way to make those reserves useful by including reverse wireless charging too. And while finding the sweet spot to charge up other devices like wireless earbuds or even other phones can be a little finicky, this feature is something I'd love to see on more phones in the future. It's so easy. Just go in the battery settings, hit the toggle for reverse charging, and them slam a Qi-compatible device onto the Mate 20's back. No wires required.
But the highlight features in Huawei's long program are its triple camera in the back. For this review, I spent most of my time using the Mate 20 Pro, as the standard Mate 20 features an almost identical setup and similar image quality to what you get from the P20 Pro Huawei released earlier this spring. But the Mate 20 Pro steps things up with a new wide angle lens for all your big, open landscape shooting needs, the same 40-MP main camera as before, and a new 8-MP cam with a 3x zoom.
Just going by image quality alone, the Mate 20 Pro is almost certainly the Pixel 3's biggest photo rival. But when you add in the capabilities of those extra lenses and sensors on top of all of Huawei's software tricks, the Mate 20 Pro has the biggest and most robust photo toolkit of any phone on the market. The number of photo modes alone is staggering, with Huawei offering options for things like light painting, timelapse, document scanning, and more. There's even an underwater mode designed for use with a special waterproof case, so you can snap pics while swimming. And if it wasn't for Google's newly released Night Sight mode, Huawei's night mode would boast the most impressive low-light capabilities on the market.
When it comes to the Mate 20 Pro's claimed 3x zoom though, I discovered something peculiar. According to its specs, the zoom lens features an 8-MP sensor, but when you hit the 3x button in the camera app and snap a pic, the resolution of the resulting image is 3648 x 2736, which is effectively 10 megapixels, and the same size as the pics you get from the phone's main cam. This makes you wonder how much data the Mate 20 Pro's 3x zoom lens is actually gathering, and how much info the phone is getting from the other lenses on back. What's even stranger is that the wide angle lens doesn't seem to suffer from this, as images captured by it are 5120 x 3840, which matches up with its 20-MP listed spec.
It's possible that much of the heavy lifting is shared between the 40-MP main camera and the 8-MP zoom sensor, and that Huawei is using some sort of computational photography to hit that 3x zoom, but at this point, it's pretty safe to say that the Mate 20 Pro's zoom isn't purely optical in nature. I've reached out to Huawei for more info on Mate 20 Pro's zoom camera, and will update the review if I hear back.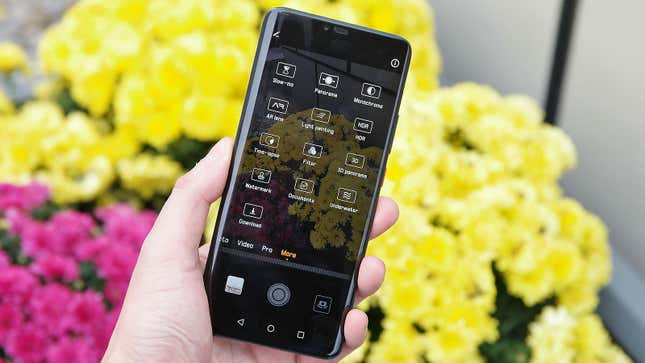 But perhaps the biggest issue with the Mate 20 Pro's picture taking is when Huawei's AI photo tuning gets overly aggressive. It's distracting enough when you see colors pop in and out as Huawei's machine learning algorithms detect things like food or flowers, but in a shot I took of some apples, Huawei's Master AI made them look damn near radioactive next to a shot captured by a Pixel 3. Thankfully, you can dismiss these enhancements if things look wonky, or disable Master AI entirely using the toggle in the setting menus. I wouldn't do that, though, because when it works, pics snapped by the Mate 20 Pro defy their humble smartphone origins. It's that good.
Really, after checking out the Mate 20 and Mate 20, that goodness permeates both devices. Even with all their innovative tech, you don't run into bugs or errors that you might expect from something this cutting edge. The Mate 20's biggest downside is price, which starts at around $1,000 for the standard version, and goes up to $1,200 for the Mate 20 Pro.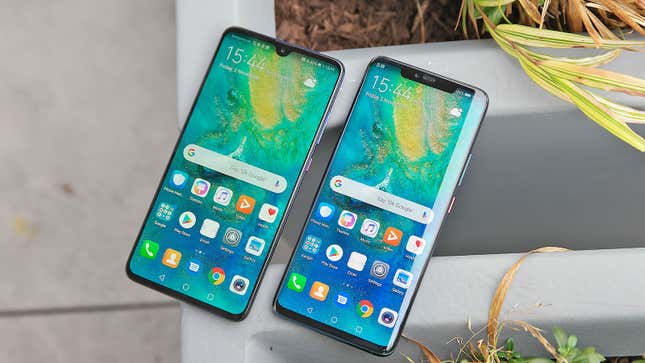 However, like some of the most memorable figure skating moments, there's one last wrinkle when it comes to the judging. That's because after questions concerning Huawei's security and trustworthiness by organizations including the FBI and CIA made earlier this year, Huawei didn't make a U.S. specific variant of the Mate 20 like it has for its previous three Mate-series phones. Technically, you can still buy the phone through retailers like Amazon, but only as an unlocked international model, which means the phone may not support carrier-specific features like RCS or wifi calling.

So for many Americans, instead of the Mate 20 being a welcome and even more technically advanced alternative to the Apple and Samsung duopoly, the phone will probably end up with a DQ. That's a feeling that stings like a cheap shot to the knee because the Mate 20 is a seriously good phone, but one that us here in the U.S. won't be able to fully appreciate.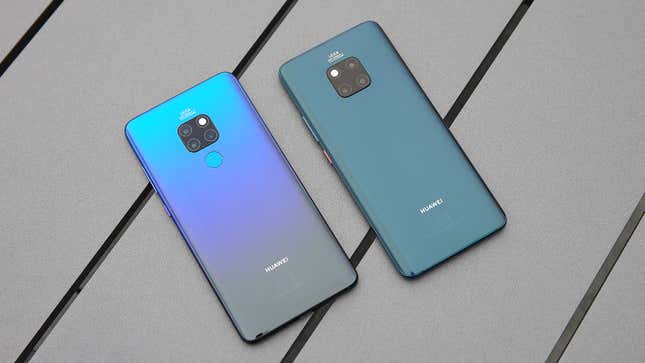 README
The Mate 20 Pro has more techy features (in addition to some clever camera tricks) than any other phone made this year.

Huawei still puts out the best color options of any phone maker.

Both phones offer fantastic battery life, with the standard Mate 20 (15 hours, 15 minutes) beating out the Mate 20 Pro (14 hours, 6 minutes) by about an hour.

The main differences between the Mate 20 and Mate 20 Pro is that the Mate 20 has a 6.53-inch 2244 x 1080 LCD screen (versus a smaller, but higher-res 6.39-inch 3120 x 1440 OLED screen) and a headphone jack, but lacks the in-screen fingerprint reader, 3D face scanning tech, and 3x zoom found on the Mate 20 Pro.

In the U.S., the Mate 20 and Mate 20 Pro will only be available as unlocked international phones, so support for carrier-specific features like wi-fi calling or carrier aggregation may be spotty.