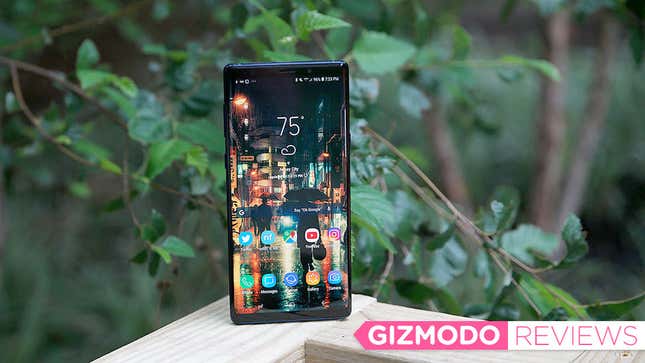 Since the beginning, the big honking screens on Galaxy Note phones have been their most memorable characteristic. But as the rest of the smartphone world caught onto the jumbo display trend and screen sizes from various makers started to converge around six-inch displays, the throne on which Samsung's Note phones lorded over lesser devices just didn't have the same kind of sway. So now, the question is: What's the purpose of a big ass flagship handset in 2018, especially one that starts at pearl-clutching price of $1,000?

Vizio's Latest TVs Go All Quantum
The answer is to give you everything. It's as if on the Note 9, Samsung took the ridiculous excess of a stretch Ferrari limo, added back in the performance that prancing horse logo is supposed to deliver, and then went over everything with the kind of attention normally reserved for overly-tweezed Michelin star meals. So instead of getting what would otherwise be an S9+ with an S-Pen jammed up its butt, the Note 9 represents a top-to-bottom improvement on how much you can cram in a phone and what it can do.
The Note 9 now sports a 6.4-inch display (0.2-inches larger than the S9+) that manages to look even more vibrant and colorful than any other phone screen on the market, which is quite impressive since Samsung is already the manufacturer responsible for the displays in its Galaxy phones and the iPhone X. Meanwhile on the inside, Samsung provides 6GB of RAM and 128GB of storage standard, with the option of upgrading to an even higher-specced model with 8GB of RAM and 512GB of storage for around $1,250 (depending on where you buy it). That means better multitasking due to less closing of background apps, and the freedom to download and install whatever you want without fear of running out of room. Add in a microSD card slot that can handle another 512GB or more, and you're looking at a phone that can hold north a 1TB. Yes, this is way more than anyone actually needs, but when you're paying this much, there's no reason to skimp.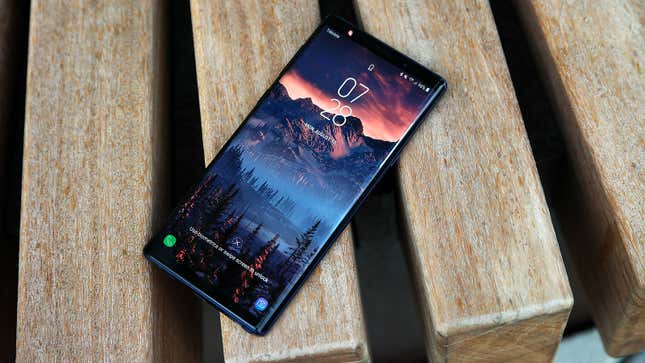 Samsung also paid attention to little things like Note 9's thermal management, and installed carbon fiber heat spreaders that are three times larger than the ones in the Galaxy S9 and Galaxy Note 8. That means in addition to letting the Note 9's Snapdragon 845 processor run more freely, resulting in slightly higher scores in Geekbench 4 (9,012 for the Note 9 vs 8,414 for S9+), the Note 9 can also sustain that performance for longer periods of time.
So after running my initial benchmarks, I tested this by taking the Note 9 and a Galaxy S9+ out for spin involving a few rounds of Fortnite, repeated runs of 3DMark's Slingshot Extreme graphics test, and downloading a few torrents, all back to back. Basically, anything I could to stress out the phone and turn up the heat. Then, I ran Geekbench one more time to see how much each phone's performance had been impacted. The Note 9 fell a bit down to 8,053 (a drop of around 10 percent), while the Galaxy S9+ suffered significantly more, with its score falling over 25 percent to 6,171. That said, it seems graphics performance doesn't benefit quite as much from the Note 9's improved thermal management, because when I ran 3DMark Slingshot Extreme Unlimited one more time, both phones posted nearly equivalent marks of 4,974 for the Note 9, and 4,923 for the S9+, down from 5,021 and 5,033 respectively.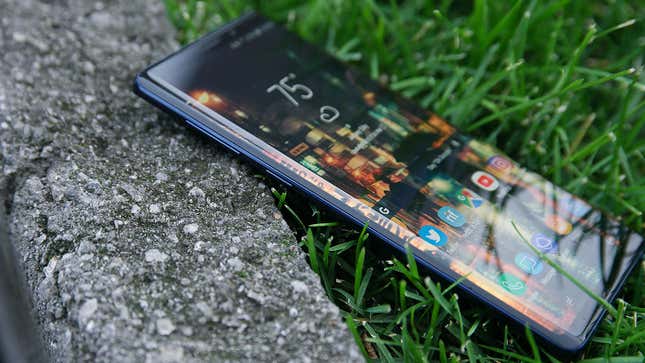 I do wish Samsung had done something, anything to change up the Note 9's design. Aside from a selection of new colors including ocean blue and lavender purple (which is essentially the same as the lilac paint job seen on the Galaxy S9), the main difference between the Note 9 and last year's model is an almost imperceptible increase in heft.
Physically, the Note 9's 12-MP dual rear cameras are also more or less unchanged, though Samsung says it has rebuilt the phone's image processing from the ground up, while also adding two new features to the phone's camera app. The first is Samsung's scene optimizer, which like we've seen on previous Huawei and LG phones, uses image recognition to detect objects in your shot, before adjusting the camera settings accordingly. At this point, the idea of using machine learning to help achieve optimal results isn't exactly new, but the practice does help improve the quality of some of the most frequently snapped types of pics.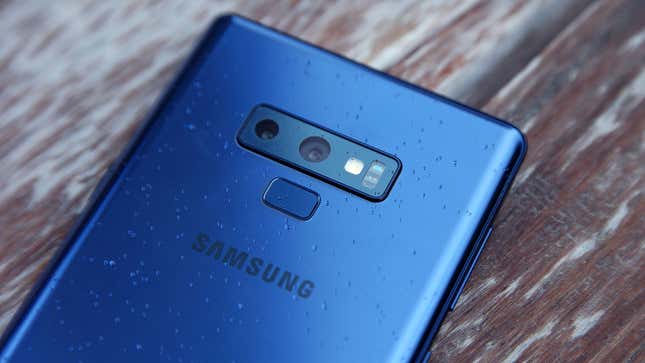 However, to all those people who continue to swear up and down about how the Pixel 2 is clearly the best smartphone camera, just stop it, it's not. Between the iPhone X, the Pixel 2, the Huawei P20 Pro and the Galaxy Note 9, there isn't a single smartphone that beats out its competition 100 percent of the time, or depending on the match up, even 75 percent of the time. I will say, that with Google's advanced HDR+ processing, the Pixel 2 tends to has a slight advantage over Note 9 in bright, daytime situations. However, in low light, I ran into multiple situations where the Note 9 out shot a Pixel 2 XL.
Take for example a shot of a nearby church in which the Note 9's pic is superior across the board with richer colors, less noise, sharper details, and better exposure. And with those spotlights pointing up on the sides, this scene wasn't really all that dark. In another photo of a diner shut down for the night, the Note 9 once again captured a significantly better looking image, with much less grain and clearer objects, especially as you look into the background. In both situations, the Note 9's scene optimizer correctly identified that it was a nighttime pic, which when combined with the phone's wider max aperture of f/1.5 resulted in wins for Samsung.
But what impressed me the most was when I tried to take a shot in the rain. This time, both phones captured fantastic looking shots that if I had seen them more than a year ago, I would have been floored to learn they came from phone cameras. Picking between the two is basically a toss up. The Pixel 2 XL did a better job of preserving the texture on the concrete parking garage in the back, while the Note 9 did more to eliminate the heavy yellow tint in the center of the frame, and something the Pixel 2 can't match is the 2x optical zoom on the Note 9's second rear camera.
However, the Note 9 wasn't always impeccable. Note the second to last image in the slide show above. You can see how the Note 9 absolutely missed on both white balance and at recognizing a piece of cake.
Flaw detection, noting when an image is bad and telling you to try the shot again, is a nice bonus, but I think Samsung could have taken the feature even further. Right now, the Note 9 can tell if a picture is blurry, the lens is smudged, the photo is backlit, or if someone blinked while taking the picture, and then alert you that you might want to try again to avoid ending up with an unsatisfactory pic. But what I'd really like to see is for the phone to take that info, and then adjust its camera settings like it does with scene optimizer so the Note 9 could increase shutter speed to cancel out motion blur, or turn on the flash to prevent backlighting from making your subject look underexposed. Flaw detection is an interesting trick, but after using it, I'm already seeing how it could be so much better.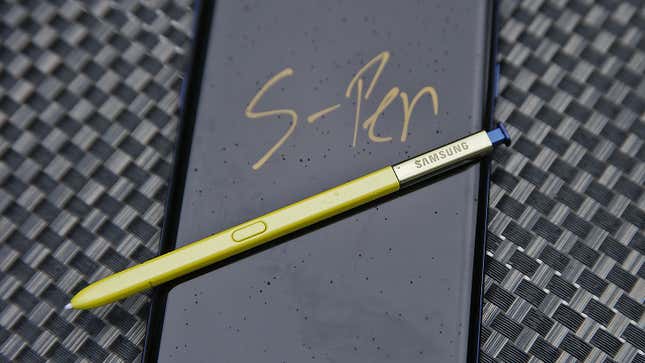 When it comes to the Note 9's other signature feature—the S-Pen—Samsung thankfully hasn't forgotten to include its usual assortment of Air Command abilities. It has all sorts of functions including built-in translation, one of the simplest methods of making gifs on a phone, and a myriad of ways to make sketching on pretty much anything a blast. But Samsung didn't stop there, because now the S-Pen comes with Bluetooth low-energy so it can be used like a tiny remote.
In the Note 9's settings, the S-Pen's button can be configured to open a number of apps, while also performing additional contextual functions like long-pressing to switch between front and rear cameras when taking pictures, or a quick press to simply snap a pic without needing to actually touch the phone. And while it might sound like a small thing, I really like the S-Pen's ability to pause music or YouTube videos with a single press, just because now, switching between working and relaxing, when necessary, is that much faster. And for high-powered business types, the ability to control Powerpoint slides using the S-Pen is another helpful skills. No more relying on other people's unfamiliar equipment or a second person to make sure your presentation goes smoothly—you've already got what you need.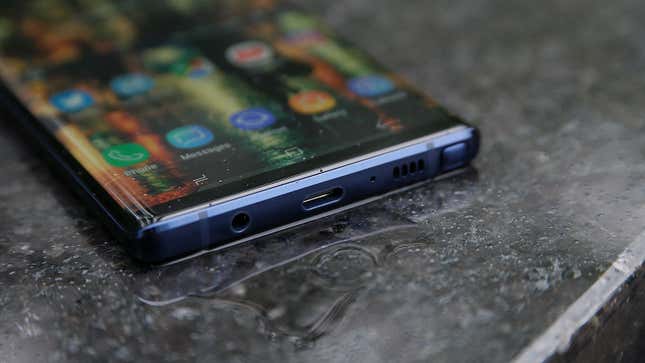 This brings me to the Note 9's Dex mode—the mode that lets you connect the phone to a monitor and use like a PC. It has been refined and is now even easier to setup. Unlike previous attempts at turning a phone into desktop on the S8 and S9, the Note 9 only needs a simple USB-C to HDMI adapter to take advantage of a nearby external monitor. Officially, Samsung says its $50 dongle and older Dex pads are the only fully supported ways to do this, but technically any adapter should work. From there, you just need to connect a Bluetooth mouse and keyboard, and then all of a sudden, you have a full desktop environment to play around with.
If you ask me though, Dex mode is actually the best way to clown on people in Fortnite, particularly other mobile players who are forced to fight back using sad, unresponsive touchscreen controls (though to do this, you will need an adapter with more ports that lets you hook up wired peripherals). And while Huawei's P20 Pro offers similar desktop functionality via a USB-C to HDMI adapter, Dex mode's better UI is truly the closest any company has ever come to achieving the dream of having a phone that can transform into a real computer at a moment's notice. And even though I know it would probably result in a massive waste of money, I kind of wish Samsung would make a laptop dock for the Note 9 like HP did for the Elite x3 or Motorola for the weird and wonderful Atrix.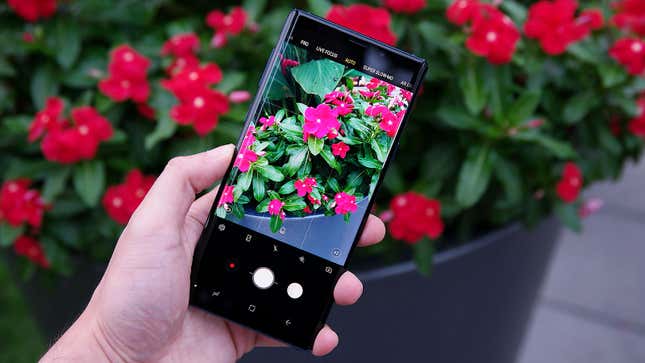 Ok, so this is all fun and great, but what about the Note 9's battery life? I admit, I may have sandbagged a bit, but I wanted to save the best part for last, because the Note 9's battery life is incredible. With a time of 14 hours and 11 minutes on our rundown test, the Note 9 is the second longest-lasting phone we've ever tested, behind only the Asus Zenfone 4 Max— which was a handset designed with only one goal in mind: longevity. Last year, Samsung went with a battery on the Note 8 that was actually 200 mAh smaller than what you got on an S8+. But for 2018, Samsung increased the size of the Note 9's battery by almost 15 percent when compared to the S9+, and it's made quite a difference.
Unfortunately, this also reminds me of the Note 9's biggest flaw: the lack of Android 9 Pie. With the timing of Google's new OS getting released a few days ahead of the Note 9's debut, I was hoping it meant Samsung's had worked with Google to get the newest version of Android running on the Note. But instead we get Android 8.1. What a bummer, because aside from handy new additions in Pie like App Actions, better volume controls, and more, the idea of Android 9's Adaptive Battery letting the Note 9 last even longer per charge is tantalizing proposition. And based on the schedule for when the Note 8 got Android 8 Oreo, it'll be at least a few months before the Note 9 gets Android 9.
The one thing I still need more time with is Bixby, because while Samsung showed how its voice assistant has been improved with better natural language recognition and the ability to buy tickets or book a restaurant without needing a specific app, less than a week isn't enough to see how much smarter it's gotten.
So what does $1,000 really get you? Here goes: The Note 9 boasts the biggest, most captivating screen, blazing performance, top-tier photography, and some of the best battery life you can get in a phone. Then you pile on things like the S-Pen, Dex mode, massive optional storage, more RAM than an average laptop, and important supporting components like a headphone jack, wireless charging, IP68 water resistance, and more, and what you get is big phone that's at the top of its class. Nothing else out right now has as many tools, tricks or feature as what Samsung smashed into the Note 9. And while its price tag means this isn't a device for everyone, for the people who want to push the limits of what a phone can really do, the Note 9 is here to give them that opportunity.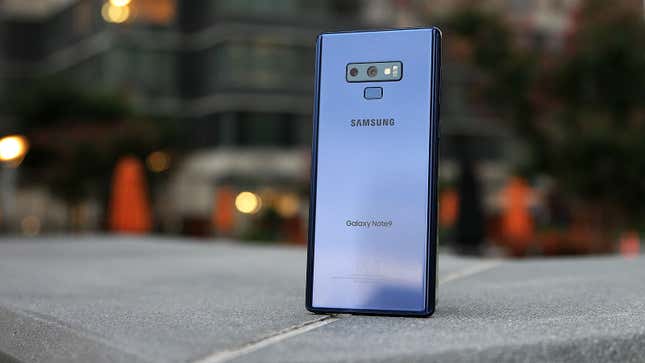 README
The Note 9 features 6GB of RAM and 128GB of storage standard, but you can get a higher-spec model with 8GB of RAM and 512GB of storage. That's more than an average laptop.
Samsung's new scene optimizer helps fine tune your photos and makes the Note 9's cameras even better rivals for the Pixel 2, while flaw detection alerts you when you take a bad shot.
The S-Pen's remote functionality has potential to be much more than a simple gimmick, but will need support from third-party devs to get there.
The Note 9 has ridiculous battery life. It's time of 14 hours and 11 minutes on our rundown test is the second longest time we've ever seen, behind only the Asus Zenfone 4 Max.
Starting at $1,000, this thing ain't cheap, but between the S-Pen, massive specs, its dual cameras, big screen and Dex mode, it is the most full-featured phone on the market.
The Note 9's desktoplike Dex mode is even easier to use, and only requires a simple USB-C to HDMI adapter to function, though officially Samsung only claims support for its first-party dongle.
SPEC DUMP
Android 8.1 Oreo • 6.4-inch 2960 x 1440 Super AMOLED display • Qualcomm Snapdragon 845 processor • 6GB of RAM/128GB of storage (upgradable to 8GB/512GB) • microSD card slot • 8-MP front camera • dual 12-MP rear cameras with a 2x zoom • IP68 water resistance • Qi wireless charging • 4,000 mAh battery • USB 3.1 Type-C port • headphone jack • Bluetooth 5.0 • 802.11 a/b/g/n/ac wifi • 6.37 x 3.01 x 0.35-inches • 7.09 ounces • available in ocean blue and lavender purple in the US, midnight black and copper available internationally