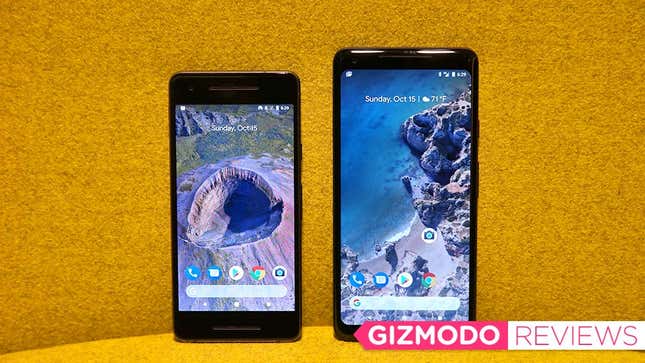 When Google released the Pixel last year, it was taking a stand. No longer would Google hardware be tainted with the brands and logos of other companies, even if behind the scenes, Google still needed help from those same companies to actually build its phones. And despite designs that were almost offensively ugly, a lack of standard flagship features such as water-resistance and expandable storage, and massive supply chain problems that made it hard to actually buy one months after its initial release, there were bright spots like the Pixel's excellent HDR photo mode and an untainted Android experience.

Meet Microsoft's New Surface Laptops
But now, 12 months down the road and with $1 billion of newly acquired tech and personnel, it's imperative for Google to take the next steps in maturing as a device maker if it wants to makes those bets on homegrown hardware actually pay off.
And at first glance, it seems like Google is delivering. Both the 5-inch Pixel 2 and 6-inch Pixel 2 XL come with IP67 water-resistance, colorful OLED screens, Qualcomm Snapdragon 835 processors and 4GB of RAM, which is pretty much identical to what you get from every other high-end Android phone. Around back, both phones also sport a new, matte finish, with care taken to ensure that even the little circle on the fingerprint reader gets a matching texture, while still retaining what has, for better or worse, become Google's signature rear glass window. It's a more fined take on the original Pixels ham-fisted design that's kind of attractive in its simplicity. But after that, things start to fall apart.
Little details like the reversed camera locations on the Pixel 2 and Pixel 2 XL and the varying treatments on the Google logo chip away at the pair's cohesive family resemblance. And then you flip the two around, it becomes a story of two very different phones. The bezels on the standard 5-inch Pixel 2 are massive, and easily the biggest on any flagship phone released in 2017 aside from the iPhone 8. On top of that, the Pixel 2 lacks the curvier glass edges of its larger sibling, which when combined with its 16:9 aspect ratio (versus the 18:9 screen on the Pixel 2 XL), gives the standard Pixel 2 a clunkier, chunkier appearance that looks dated from day one.
What's even worse is that the standard Pixel 2's 2,750 mAh battery delivers significantly less battery life than the 3,520 mAh battery on the larger Pixel 2 XL. On our battery rundown test, the Pixel 2 lasted just 8 hours and 59 minutes, almost 15 minutes short of the Galaxy S8's time of 9:12 and more than two hours short of the Pixel 2 XL's mark of 11:17. This is real shame, because based on size alone, the standard Pixel 2 is easily a better fit for my hands and other people who prefer smaller phones. However, the disparities between it and the Pixel XL 2 makes the larger phone the much better buy even when you consider the latter's $200 higher price tag.
By comparison, the Pixel 2 XL looks like it has been hitting the gym. It's slimmer bezels and higher screen-to-body-ratio makes it looks leaner. However, even the 2 XL isn't without its problems. When viewed off-axis, the Pixel 2 XL's POLED screen has a noticeable blue tint, which is something you don't see on the standard Pixel 2 and when viewed head on, images on the Pixel XL 2 can sometimes have a slight greenish hue too.
I'm annoyed by Google's decision to eliminate the headphone jack from the Pixel 2's list of features. Even with the wireless connectivity and the inclusion of a 3.5mm dongle in the box, I think it's still too soon for phone makers to be axing the headphone jack. On the flipside, the return of front-facing stereo speakers is welcome addition, and I'm glad that at least one company is keeping the legacy of HTC alive (especially since HTC can't seem to get it together).

So if their design isn't anything special, what do the Pixel 2s have to offer? The software. Without any skins, bloat or other alterations to Android getting in the way, the Pixel 2 puts the full force of Google's smart programming in your hand. Whether it's Google Photos silently editing and creating custom albums based on the photos you shoot, or at-a-glance notifications providing helpful updates on the weather, your commute, or other timely info, the pure Android Oreo 8.0 that you only get on Pixel devices is the closest thing we've seen to a smart OS.
New for this year is a revamped home screen layout which puts a Google search bar at the bottom of the screen (and critically closer to your fingers). And if you're too lazy to type, now you can simply squeeze the side of the phone to summon the Google Assistant and voice your queries instead. Google calls this feature Active Edge and while it's a bit of gimmick, it's also a nice alternative to having to call out vocally to Google every time.
That said, I have to knock Google for restricting the Active Edge to Google Assistant. It's pretty much the same tactic that got people riled up when Samsung added a dedicated Bixby button to the side of the Galaxy S8. So let me be clear: Google did a great thing when it added a new way for people to interact with their phones, and then it did a bad thing by locking it down instead of making it into a customizable feature.
It's not the first phone you squeeze to control (that's the HTC U11), but the Pixel 2 is the first phone with Google Lens, which can analyze pictures you've taken and tell you whether the flower you just shot is a peony or a garden cosmos. And while it doesn't work every time, or might not always be precise as you'd like (e.g. when it identifies a Ferrari 458 as just a "supercar"), when it gets things right, it's downright impressive.
Speaking of photos, the Pixel 2's 12-megapixel rear camera still does wonders considering it's f/1.8 aperture and single camera setup isn't exactly the fanciest system. In both bright light and normal low-light conditions, the Pixel 2 is every bit of a match for the Galaxy S8 and iPhone 8, and sometimes, thanks to its superb HDR+ mode, the Pixel 2 is better. Take for example the above shots of some lovely autumn pumpkins. While the S8's photo is good, and hardly worth complaining about, the Pixel 2 did even better, capturing richer oranges and more details on their gnarled stems.
Or check out this shot of some delicious Cantonese chicken. While the iPhone 8's pic might look more well exposed at first, things like the teapot and rice bowl in background are blown out, something the Pixel 2 manages to avoid.
The one area where the Pixel 2 starts to lag is in extreme low-light environments, such as scenes lit only by candlelight. It's here where the Pixel 2's hardware hits it limit, which results in softer, less detailed, and often noisier photos than what you'd get from its competitors.
This camera lacks in low light, but usually it's good enough you don't have to think about the photos you're taking, and, in a way, that's really emblematic of what seems to be Google's overall approach to its homegrown hardware. Like a microwave or a washing machine, the idea that a device's specs and hardware get out of the way and take a back seat to whatever you're actually trying to get done. Then Google's software can step in quietly to give you a helping hand when it can, which is surprisingly often).
Hell, the most interesting new feature on the Pixel 2, the Active Edge pressure sensor, is something you can't even see, you just have to squeeze and know that the phone will respond. I just wish Google hadn't punted on the standard Pixel 2's design and battery life so hard. The second-gen Pixel XL is kind of handsome in a simple, stoic way, especially on that black and white model with the orange power button. Meanwhile, the regular Pixel 2 feels like it got neglected. Either way, you're not buying this phone for its build or its style, you're getting it because you think Google's software has the answers. And more often than any of its competitors, it does.
README
The Pixel 2 XL is easily the better looking of the two, and its battery life is noticeably longer too.

New Pixel homescreen layout puts a Google search bar beneath the traditional quick launch icons.

Google still has the best HDR photo processing, but both phones still struggle in very low light scenarios.

The Active Edge pressure sensor can only be used to summon the Google Assistant.

Neither model have microSD slots, wireless charging or a headphone jack.

SPEC DUMP
Pixel 2
5-inch 16:9 1920 x 1080 AMOLED display • 2,700 mAh battery • 5.7 x 2.7 x 0.3 inches • 5.01 ounces • available in black, white and blue
Pixel 2 XL
6-inch extra widescreen 18:9 2880 x 1440 POLED display • 3,520 mAh battery • 6.2 x 3 x 0.3-inches • 6.2 ounces • available in black, and black/white.
Both models

Android 8.0 Oreo • Qualcomm Snapdragon 835 processors • 4GB of RAM, 64GB or 128GB of storage • front-facing stereo speakers • 802.11 a/b/g/n/ac wi-fi • Bluetooth 5.0 • eSIM • Active Edge pressure sensor • IP67 water-resistance • USB Type-C port • included 3.5mm to USB-C adapter