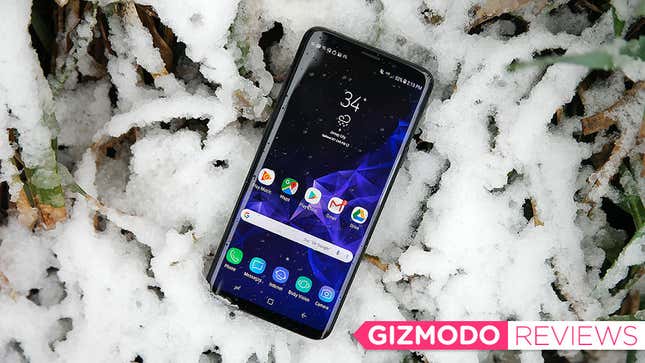 Let's not beat around the bush, the exterior of the Samsung Galaxy S9 is essentially a carbon copy of the S8. Yet, even with all that sameness, Samsung's balanced no-notch design seems more considered than before. It doesn't feel needy like a lot of the new iPhone X copycat handsets I saw at MWC. And what makes the S9 even better is that Samsung's flagship comes with the best guts you can get in an Android phone right now. I can't help it, I'm a little bit in love.
The Boogeyman's Sophie Thatcher Reveals What Draws Her to Dark Characters | io9 Interview
The guts are good
So let's start with the easy stuff. The S9's screen is simply the best in the business. Not only has peak brightness improved to 605 nits (that's more than 10 percent brighter than the 540 nits I got from the Note 8's display), colors are vibrant, images are sharp, and when it comes to other phones, I just don't really want to look at them anymore. The only thing that really comes close is the display on the iPhone X, which as it happens, is also made by Samsung.
Then there's the S9's new stereo speakers, which are the first ones Samsung has put on any Galaxy phone. Like other handsets, it splits audio between the bottom-firing speaker and the earpiece. The latter functions a bit like a tweeter, offering up richer highs while helping balance out the mids, so that the bottom speakers can focus more on pushing out a not insignificant amount of bass. This means these speakers, while still not comparable to headphones or standalone speakers, actually sound pretty good.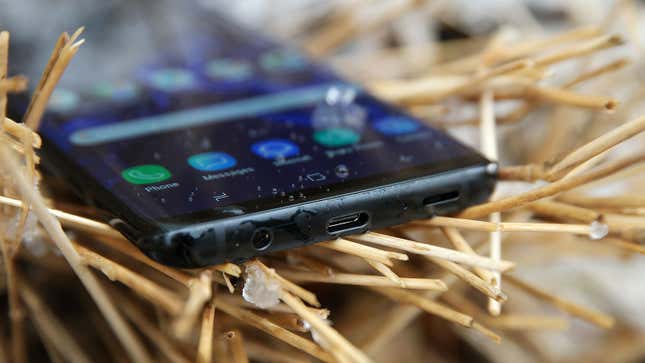 On the inside, as the first phone sporting Qualcomm's new Snapdragon 845 processor, the S9 is setting a new standard for what great performance Android should be. Everything just feels snappier, from launching apps to flipping through different pages on the home screen, to the point where I was wondering if Samsung did some sneaky stuff like speed up the S9's UI animations. But after seeing the benchmark numbers posted by the S9+, it's clear there wasn't really a need.
Across both compute and graphics tests, the S9 performed 25 percent better than last year's top marks. On Geekbench 4, the S9+ hit 8,414, versus the Huawei Mate 10 Pro's score of 6,766 or the OnePlus 5T's score of 6,752. Meanwhile, on 3DMark's Slingshot Unlimited graphics test, the S9 scored 6,497, compared to 5,143 for the OP5T. And if you're like me who often finds themselves living and working off your phone, the speed at which the S9 switches between even the most cumbersome of apps is downright delightful.
The S9+'s new chip has also had a serious impact on battery life too. Despite having a 3,500 mAh battery which is the same size as the power pack in last year's S8+, the S9+ lasted more than an hour and a half longer en route to an impressive time of 12 hours and 27 minutes on our rundown test. Going strictly by the numbers, that's better than every phone I reviewed last year, aside from the Asus Zenfone 4 Max's time of 16:13. But that phone's only talent is its ridiculous longevity.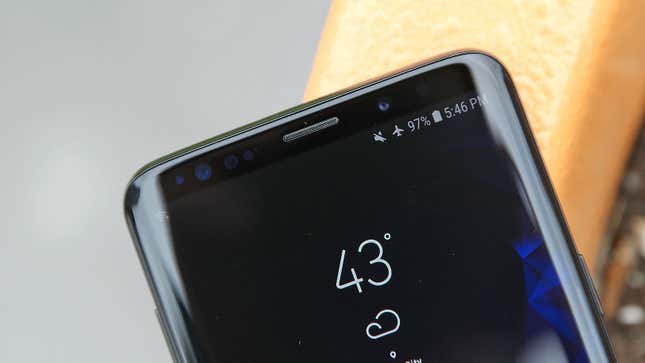 The S9 actually has lots of other nice traits besides long battery life. Like Intelligent Scan. It's Samsung's response to Apple's FaceID on the iPhone X. It's also clever, if not really all that new. Basically, Samsung took the face unlock and iris recognition tech from last year's S8, which could be used independently but not at the same time, and made it so that both functions worked together on the new S9.
Now, if for whatever reason face unlock doesn't work, the S9 then automatically gives your irises a go, before letting you into your phone. Over the better part of a week and half, I never had any real troubles with it, though it still isn't quite as smooth as the iPhone X's implementation and its sophisticated IR projector. It's more likely to be spoofed with a mask or really high quality photo and the fact that Samsung itself won't let you use Intelligent Scan with Samsung Pay or it's Secure Folder says something about much it trusts the feature. To me, it's a bonus, but not anything to brag about.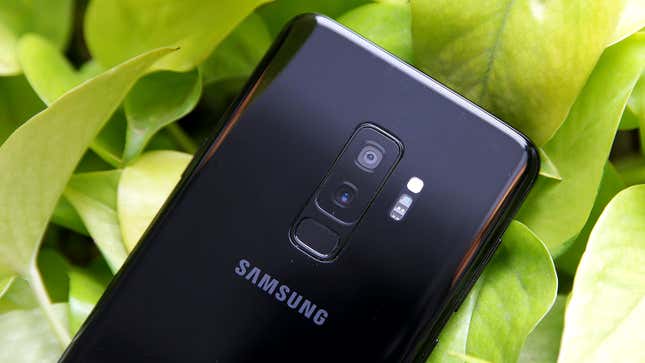 The camera is great
Now onto that S9's new rear camera. For 2018, Samsung is trying to beat the rest by putting the first-ever adjustable aperture camera on a smartphone. Technically, it's really a neat feat, letting the camera switch between a super wide f/1.5 for when you really need every last bit of light, and f/2.4 which lets you stop down and better control how many photons are hitting the camera's sensor in bright daytime shots. However, unless you're someone who is constantly fiddling with manual camera settings in pro-mode, the differences between the two apertures are hard to discern.
In the right conditions and when the subject isn't too far away, sometimes you can notice a difference in depth of field, which is the distance between the nearest and farthest things that appears to be in focus. But in auto mode, the S9 will just choose the whatever setting works best, and it's almost always right. So most people won't notice when the camera's aperture changes.

That said, don't assume the S9's camera has failed to improve. It's better. In well-lit scenes, the S9 can totally hang with the Pixel 2, even with Google's often praised extra-special HDR processing. When I took a sample shot of lower Manhattan using both phones (see above), the biggest difference between the two pictures was how the movement changed between the two sets of pics. The photos were essentially the same.

So then I went back at night and took the exact same shot. That's when the S9+ pulled ahead. With both handsets on auto (including HDR), Samsung's version was clearly the winner. Say what you want about the powers of computational photography, that tech has it's limits, and there's still no substitute for high quality optics.
With a f/1.8 aperture, the Pixel 2 XL just wasn't able to pull in as much light, which resulted in a noticeably grainier and softer shot than what the S9+ produced. In fact, I was so shocked that after getting home and checking out both pics on my desktop monitor, I set up another head-to-head photo test to make sure everything was set up correctly.


And in this intentionally poorly-lit face-off, the S9+ impressed even more. Between the Pixel 2 XL and the S9+, their shots look wildly different. Samsung's new camera is a goddamn low-light champ.

Later, I went back to shooting more traditional pics, and I do have to say that the Pixel 2 does have a slight edge in color saturation over the S9, but the difference isn't anywhere close to the phones' low-light discrepancies. The takeaway? Starting now, if I have to choose one phone to shoot something, the S9 is my pick.


Additionally, the larger version of Samsung's new flagship (the S9+) also sports a secondary 12-megapixel camera with a 2x zoom that we first saw on the Galaxy Note 8. It's not a must have feature, but being able to push in just a bit closer makes me feel a little more OK when I decide to leave my real camera at home.
The S9 can shoot slow-mo at up to 960 fps now too. For a short time, this feature had me trying to turn every little thing into a time-slowed video, and when it works, it's pretty fun. You just have to know the limits, because 960 fps is basically the same as shooting with a shutter speed of 1/960th of a second, which means only well-lit stuff ends up looking good.
Bixby is better, but AR Emojis are bad
Even Bixby, Samsung's digital Assistant, which yes, still has its own button on the left, has gotten in one some of that sweet, sweet camera action. Now you can use it to try on makeup, or guesstimate how many calories are in a piece of food. And to my surprise, both of these features are good enough to give you a decent idea of what you're working with. I just wouldn't call them scientific.
Yet for me, the best of these enhancements is Bixby's translation feature, which lets you point the camera at foreign words before the S9 overlays understandable text on top without much of a wait. It's not perfect, but it did help me make a more informed lunch purchase while stuck in the Barcelona airport.
Only the S9 isn't all speed and incredible battery life and camera performance. We need to talk about the one area where Samsung is obviously chasing the pack: AR Emojis. By using the S9's front camera, you can create little avatars based on your face that you can dress up, change their hair, or create shareable gifs that capture your reactions. But it's just a gimmick. They kind of look like Nintendo Miis in a cartoony sort of way, and the clothing choices are super limited and dorky looking.
For anyone wondering if AR Emoji's better than Animoji's? I don't know, and I don't really care, they are just different. Trying to decide between phones based solely on their ability to perform AR trickery is absurd.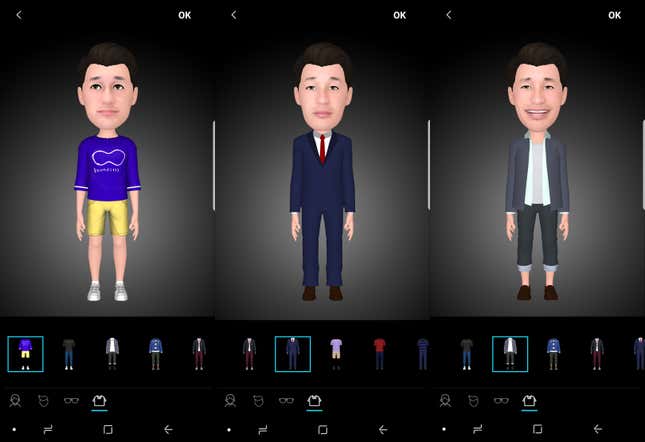 It's an amazing phone but...
AR Emojis aside, this phone sounds great! But is the S9 worth upgrading to? If you've been using the same phone for two years or more, definitely. However for people who own an S8, the decision isn't quite as clear. For the past year, I've spent most of my smartphone time spent switching between a regular S8 and a Pixel 2 XL. And as much as I like the S9's improvements, spending $720 or more after just 12 months is hard to justify (though I maintain the same could be said of almost anyone thinking about a one-year upgrade). You've got to really want it.

And if you really want it the S9 has the most tricks in its bag. You get almost all of the nifty features Google includes in Android, along with optional dual cams, a smarter, more helpful iteration of Bixby, and a new generation of silicon that makes the phone feel snappy as fuck. There's a lot of things I like about the Pixel 2 XL, but after spending prolonged time with the Galaxy S9+, I'm really struggling to find any major reasons to go back to it. I don't particularly care that Intelligent Scan isn't as secure as FaceID, and I admit that AR Emojis kind of suck too. However, the S9+'s superb battery life, class-leading low-light photography and the best display ever made easily cancel that stuff out. It's clear, Samsung is back out in front.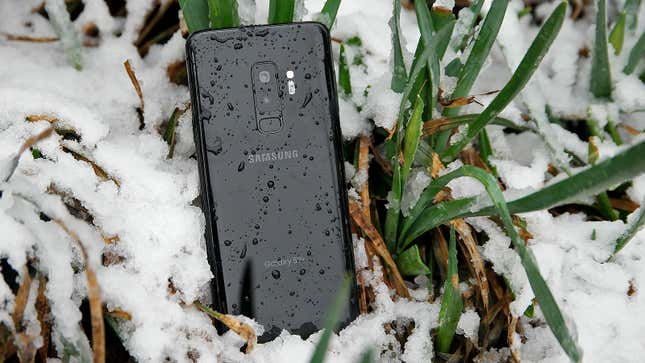 Note: This review was tested using only the S9+, I will report back after I have a chance to check out the standard S9 as well.
README
The S9 looks essentially the same as last year's model, though Samsung did move the rear fingerprint reader to the middle of the phone.
The S9's performance is about 25 percent better across the board, and its battery life is way better too.
In real low-light environments, the S9's f/1.5 camera tops even the Pixel 2.
The new additions to Bixby feel a bit gimmicky, but can still be pretty handy.
The main difference between the S9 and S9+ not related to their size is that the S9+ comes with an extra 2GB of RAM standard, and has a second rear camera with a 2x zoom.
AR Emojis have a real love or hate look about them.
SPEC DUMP
Runs Android 8 • Qualcomm Snapdragon 845 processor • 6GB of RAM (4GB on the regular S9) • 64GB of RAM • 6.2-inch 2960 x 1440 AMOLED display • 8-MP front cam • 12-MP f/1.5-f/2.4 main rear cam, secondary 12-MP cam with 2x zoom • max slow-mo at 960 fps at 720p • stereo speakers • microSD card slot • headphone jack • IP68 certified • 6.22 x 2.91 x 0.33-inches • 6.67 ounces • available in black, lilac purple and coral blue (titanium gray is no available in the US at the moment)