It's been six months since the iPhone X release, and one thing holds true: It's still expensive. However, as much as I hated myself for buying a $1,000 phone, and as much as I hated myself for loving it, spending half a year with the iPhone X has revealed some new truths. One, Jony Ive is right when he says Face ID is more important than it seems. Two, Apple's grasp on excellent quality control is slipping. Three, once you've fallen in love with the iPhone X, there's no turning back.
The iPhone X is so easy to love. But even the most lovable things have detestable flaws. Out of the box, the iPhone X is a weird mutant of a device. It looks (sort of) like an iPhone, and you can interact with it (sort of) like an iPhone. But a few major differences between this iPhone and the generations of devices before it are immediately noticeable. The screen spans out to the whole device. The Home button is gone. Swiping in weird ways is the new way to navigate the device. That means that, at first, the simple Apple-ness of no-duh interaction seems absent. These basic facts confirm that the iPhone X is different, but I was surprised at how quickly I learned new behaviors. Over the course of a few weeks using the phone, different started feeling good.
Face ID blew my mind first. Apple was not the first to introduce facial recognition technology to a device, and Face ID really did feel like a gimmick when Apple announced it. But the technology works incredibly well, so much so that it's transformed how I use my iPhone. Ninety-nine times out of a hundred, when I look at my phone, it unlocks in less than a second. I look at my phone wearing a hat, and my phone unlocks. I look at my phone wearing a hat in the dark, and my phone unlocks. It doesn't unlock for anyone else—for now, at least. It doesn't unlock when I do something wild, like hold my hand in front of my face. The phone unlocks so effortlessly that the feature seemed to disappear. I just don't think about unlocking my phone any more.
This magic trick doesn't work so well for everyone. In talking to friends and coworkers, Face ID can be inconsistent. Some of my friends say it works about half the time, and they have to use a passcode the other half. That said, Face ID is still the thing you can get on the iPhone X that you can't get on other models, and, for me, it's a transformative feature. As an added bonus, Face ID makes it seamless for me to see notifications and then unlock their contents with a glance. All this adds up to a phone that's simply delightful to use.

G/O Media may get a commission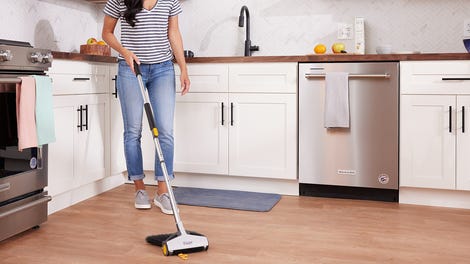 BOGO 50% Off
Flippr - BOGO 50% Off
In terms of everyday use, I was also floored by how fast the device does its computing. It's been reported that the iPhone X's A11 Bionic chip makes the device more powerful than a MacBook Pro. Which is awesome, but I'm not doing a lot of video-editing on my phone, so I'm surely not comprehending the chip's true might. I play a lot of Sim City, and I'm happy to report that the game loads maybe twice as fast than it did on my old iPhone 7. This means that the real indication that the iPhone X is a powerhouse is how I never really feel like I'm waiting around for the device to do its thing.

One thing that did take time was learning a bunch of new gestures, but it was honestly easier than I thought. My two favorites are the two simplest: touch-to-wake and raise-to-wake. It's so easy to check your phone now! Meanwhile, in the absence of a Home button, there's a host of swipes that let you navigate the device. The flick-up-to-go-home is probably the most natural one, and it's actually fun, so much so that I find myself trying to do it when I used older iPhones now. (It doesn't work.) Swiping the bottom of the screen to switch apps is also slick, although I didn't really make a habit of doing it until after I'd had my phone for a few months. Not all the new gestures are great. Force-quitting is specifically shitty, because it's not only unintuitive but also cumbersome.
Oddly enough, the rest of my complaints about the iPhone X revolve around the hardware. This $1,000 device looks brilliant when it comes out of the box, but through daily use, without a case, it got banged up pretty fast. The display proved to be particularly prone to scratches, an issue that has been reported elsewhere. Some of the scratches are so bad, I can see them when the display is on, so I'd say this is more than a cosmetic problem. The scratches on the display glass are particularly weird because, despite the fact that I always lay my phone down with screen up, the back glass is virtually flawless after six months. The protruding camera lens surely helps keep the back glass safe, but the difference in how much they've worn really makes it seem like Apple used different kinds of glass on the front and back.
Another issue I had with the pricey device is strictly cosmetic. On my space gray model, the stainless steel edge has a smoky finish over the chrome. I've recently noticed, however, that the finish is chipping or flaking off, sometimes where there doesn't even appear to be damage. It reminds me of the issue I had with my iPhone 5's crappy finish, and I'm not the only one experiencing this issue, either. Again, this issue is strictly cosmetic, but it's frustrating to spend a lot of money on a gadget that ends up feeling fragile or flawed after a few months.
I know, I know. "Put a case on it," you're thinking. "Hide all of that beautiful industrial design under a slab of leather or silicone. Put tempered glass on the display so that it feels horrible every time you touch it." I've never liked cases for my own simple reasons, and I'm certainly not going to start now. Why would I, when the iPhone X is so beautiful without one? At least at first it is.
Even with the blemishes, my iPhone X experience amounts to a collage of positive experiences. I get the beautiful big display in a phone that fits handily in my pocket. When my dog does something cute, I can grab the phone and use the optical zoom to get a close up of her little puppy face quickly enough that I don't miss the moment. I can watch The Godfather and not get upset by the too-tiny picture. (I've watched whole trilogy on my iPhone X.) I can switch between my calendar and my text messages and an airline app and plan a trip on the go without wanting to lose my mind. It's as if the iPhone X soothed so many pain points about using a smartphone often. The device isn't perfect, but again, it is a delight to use.
At the end of the day, the iPhone X almost feels like a forever phone, something I'll never need to upgrade. The flaky edge and scratchy screen are annoying, but I could always use my AppleCare and get them replaced. (I already tried to get Apple to replace the scratch-prone screen, but the Genius Bar told me the scratches were my fault and wanted $30 for the screen replacement.) In terms of guts, however, I can't image Apple will come out with new hardware that's meaningfully different any time soon—Face ID being an example of a meaningfully different, new technology. I also believe the rumors that Apple will bring the edge-to-edge display and the notch to lower-priced models, and that the iPhone X form factor will become the new standard.
It would be fantastic if my iPhone X lasted more than a couple product cycles, too. It was expensive! The 256GB model I carry in my pocket cost over $1,200. If I went back in time to November 3, when the iPhone X was released, I'd buy it again in a heartbeat. If, in an alternate universe, I were still using my iPhone 7, I'd think twice about buying a new iPhone right now. Apple typically announces new phones in September which close enough on the calendar that I'd probably wait and see what was next. But believe me, what's next for Apple almost certainly looks a lot like the iPhone X. It might not be called the iPhone X, but that doesn't matter. If it works as well as the iPhone X, you're going to want it.