Last fall, Apple broke tradition by launching three iPhones instead of its usual two. But even more than that, Apple's bold $1,000 handset had a weird name and new facial recognition tech that no one had really seen before. Now, reports from CNBC and others are saying the iPhone X is going to get killed off later this year and people seem to be panicking.
Before you get all worked up too, consider this: The iPhone X was probably never meant to hang around for more than a year.
The first big clue is it name. The X (which is supposed be pronounced "10") was an homage to the original iPhone debut back in 2007. And when Tim Cook announced the iPhone X last fall, he said Apple was there "to reveal a product that will set the path for technology for next decade." Sure, actual sales for the iPhone X aren't going quite as well as some had hoped. But it's a $1,000 phone. What did people really expect?
The iPhone X was and is a showcase—a clean break from the iPhones of yesteryear, that acknowledges its past while looking towards the future. Apple ditched its long-standing TouchID sensor for face-scanning sensors, included a nearly bezel-less OLED display for the first time ever, and even implemented new gesture controls and navigation techniques that, for many iPhone fans, seemed unintuitive and very un-Applelike.
So when you read things from analysts saying TSMC (the company that manufactures the A-series processors used in iPhones) has an "over supply of chips" and that Apple is not buying components for any future iPhone X models, it's not really a big deal.
G/O Media may get a commission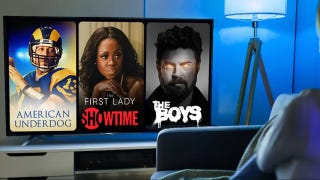 UNDER $1
99¢ Prime Video Channels
Apple comes out with a new chip every year, so if there are lot of A11 Bionic processors sitting around somewhere, and while that may not be great for Apple's bottom line, you have to remember that TSMC is probably also working on an A12 (or whatever Apple is going to call it) for the next batch of iPhones. Apple may not need anymore of last year's CPUs.
As for speculation about AMS, which makes parts used in FaceID, and its production falling to zero assuming the iPhone X gets killed off, well frankly, that idea is kind of ridiculous. Even before the iPhone X came out Apple was bullish about the tech. Last October, Apple SVP of Hardware Engineering Dan Riccio told Techcrunch that FaceID was "something that we could burn the bridges and be all in with."
Furthermore, Ming-Chi Kuo, the world's top analyst when it comes to projecting Apple's next moves, said way back in November that Apple is planning to release three new iPhones in 2018, all of which sport FaceID. Sure, some details like pricing or how many cameras each of the three new models may have are still up in the air, but the use of FaceID isn't one of them.

The iPhone X is supposed to be a limited-edition tribute to the first 10 years of iPhone, so really, it should go away. After all, there are a lot more interesting questions about the next crop of iPhones worth pondering. Where does FaceID go next and how long is Apple going to stick with the notch? What kind of new tricks will the A12 processor be able to do? What is Apple even going to call the next round of iPhones, now that its traditional naming conventions are all screwed up?
Those are the things we really want to know. If the iPhone X fades away before the end of 2018, it will merely be an afterthought, because the vision of the future it showed will still be around. So let's not get too hung up on the X, okay?