Hurricane Walaka spun up over the weekend in the central Pacific Ocean. It's turning into a powerful storm, though it will likely miss Hawaii and shuffle off into the ocean. But it will occupy a special place in history.
Wakala is the last name on a set of lists created in 1982 for Central Pacific hurricanes. It took 36 years to get to the end of the 48 names. But we made it, folks. The basin's next named storm will be Akoni, going back to the start of the very first list.
The names in the Central Pacific operate a bit different than the more familiar Atlantic hurricane names. The Atlantic has six lists of 26 names that run from A to Z that are swapped out year after year. The Central Pacific has four lists of names that are alphabetical, but don't include every letter of the alphabet. And rather than starting a new list for every calendar year like the Atlantic, the Central Pacific has just let the four lists run their course.
It's taken so long to run through all 48 names because the Central Pacific is one of the sleepier tropical cyclone basins: Upper level wind conditions just aren't that conducive to storms spinning up. The last storm to form in the Central Pacific was 2016's Hurricane Ulika.
Eric Blake, a forecaster with the National Hurricane Center, told Earther that El Niño can help create conditions more favorable for storms to form in this basin. Though we haven't reached a full on El Niño—which is characterized by warm waters in the Pacific and weaker upper level winds—we've been in an El Niño watch since June, and those conditions could have aided Walaka's rise.
G/O Media may get a commission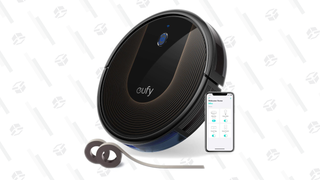 48% Off
Eufy BoostIQ RoboVac
Walaka is closing out the list of named storms with a bang. It was officially named on Saturday, but it exploded on Sunday night, intensifying from a weak Category 1 with winds of 75 mph to a major, Category 3 hurricane with winds of 125 mph in just 12 hours. And with extremely warm water in its path, it's likely to intensify even further.

The storm is headed north and Johnson Atoll, an uninhabited, abandoned military base, is in its path. It's unlikely Hurricane Walaka will have any lasting impacts except as a quirky note in the history books.